Amidst the coverage surrounding T.O.P as of late, the date of his fellow bandmate's solo comeback had been looming for a few weeks. The solo comeback was scheduled for June 8 as he kicked off his World Tour today in Seoul as he made his awaited solo return with his 2nd Mini-Album entitled 'Kwon Ji Yong' which contains 5 songs in total and will be available in USB form as a unique alternative to the typical CD version.
The leader of BIGBANG had switched the title track that was initially 'Bullshi*t' to 'Untitled, 2014', which displayed a hidden and more vulnerable side to the confident on-stage persona that we've all been accustomed to seeing. We covered the latter track in a song review, which you can read more about here!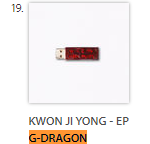 Earlier this year, Zion.T was the first soloist to enter into the UK iTunes charts with IU being the first female soloist. And even with many groups who have received similar support, such as contenders  GOT7, BTS, WINNER, MONSTA X and Seventeen all scoring high in the charts and showing that there have fans in the UK, G-Dragon remains to be the first solo performer to grab #19 on the UK album charts on iTunes, the highest for a soloist so far.
[UPDATE] The UK based G-Dragon twitter account @GDragonUK had uploaded a picture around the time the album was released and hit #6 on the chart! An even better achievement for the artist!
GDs new album is currently #6 on the UK iTunes Top Albums Chart!!!!! @IBGDRGN pic.twitter.com/4uCAuMKxi5

— G-DRAGON UK (@GDragonUK) June 8, 2017
---
G-Dragon certainly did not disappoint, especially with his known reputation to dominate local Korean charts even as a featuring artist, as he broke PSY's record of achieving 33 #1's. Within a day or so, the BIGBANG leader has already reached 44 number #1's worldwide. Additionally, he was the first to receive a debut real time all-kill following the chart reform and continued to reign as his album had gotten a certified all-kill on the charts which again shows his dedicated fanbase and makes him every bit the successful international soloist artist in K-Pop history.
What were your thoughts on his album? It's definitely encouraging to see how much support he has received here in the UK, which although has not been included in the line-up of his current tour, brings up the possibility that he could expand the concert? We can only hope that could be the case!