They're back with their second comeback of the year, Red Velvet released a special summer album 'The Red Summer'! It's been received well from domestic charts as well as on an international basis, so far they have gained #1's from several Korean music charts such as Melon, Genie, Bugs and more!
The latest addition to the girl group's discography entered the UK iTunes Album chart since it's release and has jumped from #86 and is sitting at it's current peak of #26! Which is the same place they had earned from their 4th Mini Album 'Rookie' earlier on in the year.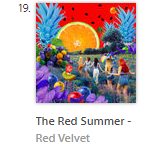 [UPDATE] As of July 10, they've now moved to #19, a personal best for the girl group!
The M/V has already reached over 4 million views so far and it serves as a refreshing, upbeat dance song as the video sends a throwback to the old style of a television shopping channel and mixes it with a modern twist to match the summer vibes! You can watch the M/V linked in below!
You can purchase the album on iTunes here for £3.99 and also listen to it on Spotify too!