The 4 member boy group made a swift comeback today with their 2nd Single Album 'Our Twenty For', which features the double title tracks 'Love Me Love Me' and 'Island'. Both songs look to be continuing the good summer vibes they started off with in April!
Following WINNER's success earlier in the year with 'Really Really', which climbed up the MelOn chart to #1 within hours of it's release is a clear sign of how well received the song was! Not to mention how they also won NO.1 of the week on music shows such as Music Core and Inkigayo! The album 'Fate Number Four' that was released in April initially charted at #25 but still kept going up, which you can read more about below!
See more: [NEWS] WINNER's comeback album enters UK charts!
As of today (August 4th), WINNER's album has been rising all day on the charts from #57 until it reached it's highest peak so far on the UK charts at #16! If you haven't bought the album yet and would like to support WINNER, you can purchase the album on iTunes here for £1.99 and also on Spotify when it's available!
The M/V's for 'Love Me Love Me' and 'Island' have been linked in below, with a combined view count of over 2.7 million views!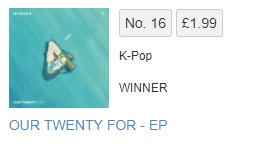 ---