It's 7pm on 1st September 20017 and approximately fifteen minutes until KARD will head on stage and be greeted by a wealth of screams from an 800 strong crowd. But until then, the audience are keeping themselves occupied, singing along to the infectious melodies found in "Don't Recall", "Hola Hola" and "Oh NaNa", as well as songs by other artists such as Ariana Grande.
It's an impressive turnout for KARD; the London leg of the Wild Kard Tour in Europe sold out on the day of release. The South Korean co-ed group only made their official debut last month, but have been releasing a steady stream of impressive tracks from their debut EP Hola Hola since December 2016. Their second-ever single, "Rumour" charted at number one on iTunes in thirteen countries, including Brazil, Vietnam and Australia. There's clearly something about them which captures the interest of people from around the world, who speak a host of different languages. In part, it may be the sincerity of the group, which is created by their active participation in the creation of their music. All of the members have credits in the lyrics and music of "Living Good (Special Thanks To)", with B.M. also helping with the track's arrangement. But  the one thing on everyone's mind is that KARD have only released six songs to date. How will they fill a two-hour long show?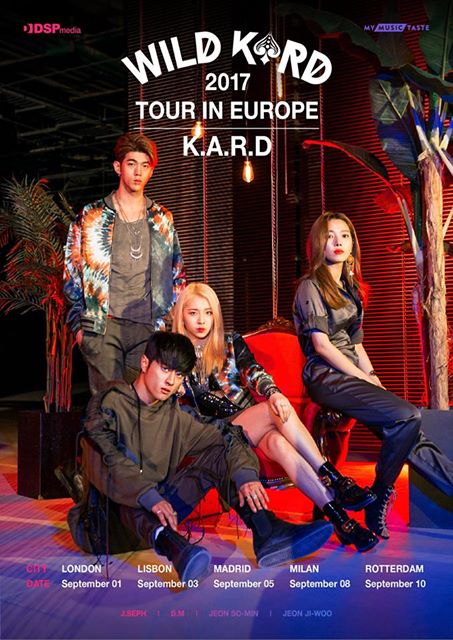 There is a deafening scream when Ji-woo, So-min, J.seph and B.M. kick off the show with the English version of "Don't Recall". It's an interesting choice of opening track; it is neither their first nor most recent single. However, the fans are not concerned, as they cheer each member on and sing along to the words enthusiastically. There was even a group sing-along to the instrumental segments after the choruses. This is followed by a performance of their debut single "Oh NaNa". The crowd excitement fails to die down, and they have every lyric at the tip of their tongues. The musical interlude in the chorus is greeted with more  cheers, and it is this support that the group feed off of the entire night. B.M. sings along with other members – without his microphone – throughout the duration of the song, and the quartet have a large, genuine smile across their faces. Despite it being roughly four in the morning in South Korea at this time, the group don't show any signs of jetlag, and they work hard and remain upbeat, perfectly mastering their choreographies and vocals. Although So-min is slightly more timid than the rest of the group, the crowd sing with her, and her delivery improves.
The group then sit down for a Q&A, featuring fan asked questions. This gave the concert a meet-and-greet atmosphere, with KARD even singing "Happy Birthday" to one lucky fan! B.M. frequently translated the other members, giving the activity an even more intimate feel. J.seph and So-min often waved at the audience, taking their time to engage with those on the first floor balcony too. This section of the event went really well, with the crowd hanging onto the super-rookie group's every word. When the MC asks "what were your first opinions of each other?", the crowd gives an anticipating "oooh!" in response to the question.
This is followed by several song covers. The four members perform Rihanna's "Monster", with a striking choreography featuring a small solo dance by B.M. at the end. The vocals and choreography went well together, and it was a total success. J.seph and Ji-woo then proceeded to cover another Rihanna song; this one being "Bitch Better Have My Money" from the album Anti. The song contrasted to the fun, happy-go-lucky atmosphere previously created. Unfortunately, the style of the song worked against them, and this was further highlighted by So-min and B.M.'s duet of Ariana Grande's "The Way", with its slightly cheesy lasso-and-pull choreography number and glittery white outfits.
There was a real sense of providing each member with equal opportunity to shine, as they were introduced into the songs one at a time. However, this felt slightly repetitive at times, and some of the cover songs could have been improved with the implementation of harmonies. "Empire State of Mind" offered plenty of moments where Ji-woo and So-min could have sang as a pair, but these were not used. The vocal harmonies in their second performance of "Don't Recall", which followed shortly after, were very good, and it was a shame that this didn't happen more frequently. The backing tracks help lifted up the performances, and did not wash out the vocals. Although the audience had heard "Side to Side" twice before the show started, they eagerly sang along again.  "Empire State of Mind" was a phenomenal choice of song in order to progress to a brief, but well organised charades-styled game, as it calmed down the incredibly energetic atmosphere which filled the University of London Union.
They finished with "Living Good (Special thanks to)", which is a reworked and mostly re-written version of former label mates ZAM's "I Won't Stop". It's the song the audience are the least familiar with, but they take it into their stride, and KARD do well to accommodate this. On stage, they come across as friendly and approachable, and their consistent engagement with the audience helped solidify this belief. KARD really deliver on this track, and offer some of the night's best vocal deliveries. They are confident, and B.M., So-min, Ji-woo and J.seph are all a credit to the group, bringing something unique to the table.
With the show having sold out and there even being a petition demanding a second London date, it's not hard to believe B.M. when he tells the audience "we'll definitely be back here". It's a solid show for a group that have only just debuted, and it's exciting to think about what they'll be back with. Hopefully that will include a set list filled to the brim with their own songs. It's early days for the rookies, but things look like they can only get better.
Buy tickets to any of the other dates on the tour, as well as to their upcoming America and South America tours here.