A sea of fans made their way into a large venue, already buzzing with anticipation and excitement – every seat taken as fans of NCT DREAM eagerly awaited the arrival of the group. Each fan adorned in neon green – the group's official fan colour- and clutching their NCT lightsitcks, prepared for the exciting night to come.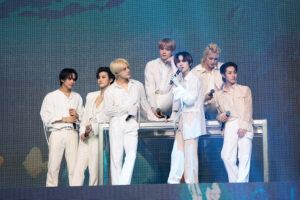 NCT DREAM, a seven member unit of the Korean boy group NCT, performed their first ever UK show last night, impressively selling out the OVO arena. Cheers from the crowd kicked off  a successful night, with the boys themselves talking about how much they enjoyed it.
The show began with two VCR videos of the members, introducing them one by one, along with the concept for the concert – dreams. A countdown from ten had the entire venue holding their breaths, waiting, atmosphere ready to burst as it continued. Screams erupted, signaling the highly anticipated start of the show, Members appeared one by one, building more and more excitement until they started with a bang, performing their hit Glitch Mode.
Continuing the strong streak, DREAM performed several more high power, hard hitting songs, creating an electric atmosphere- a buzz that could be felt in every corner of the arena. The set list came to an impressive 28 songs, from soft, power vocal led ballads, to energizing  EDM songs and everything in between, there truly was a song for fans of any genre. Between songs, the members took time to interact with fans, and discuss how excited they were for their first London show, and how appreciative they are of their fans. Introducing themselves in a mix of Korean and English, DREAM were able to show off their individual personalities and let their colours shine through, as well as how they gel as a group.
A crowd pleasing set list consisted of their biggest hits, both new and old, including some unexpected titles, such as 'Trigger the Fever'. The vocal line, consisting of CHENLE, RENJUN and HAECHAN serenaded fans with 'sorry, heart..' followed by a lively performance of 'Saturday Drip', performed by the groups rap line (MARK LEE, JENO, JAEMIN and JISUNG). Other songs, such as their debut 'Chewing Gum' and more recent tracks, such as 'Dreaming', combined each of their talents to give show stopping performances truly leaving fans in awe.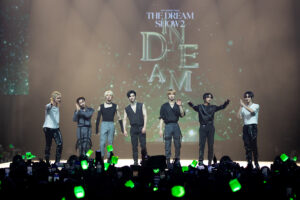 Nearer to the end of the show, after one of many impressive costume changes, NCT DREAM took to the stage to say their goodbyes and discuss their experiences of the show and their time in London (and of course try out the accent). After their heartfelt messages to fans, DREAM performed a few more songs, seemingly not losing their energy, and keeping the electric atmosphere up to the very end. Appropriately for their first ever UK show, NCT DREAM performed the English version of Beatbox for the first time.
Ending the show in true high energy, dream fashion, they ended the concert with their rendition of H.O.T's candy, giving a truly unique experience.
Overall, the show was perfectly paced, engaging and carefully planned out to give fans the best show possible. NCT DREAM put energy and passion into each performance, creating an unforgettable night, with incredible performances. Each song gave an entirely different vibe, meaning there was not a moment to be bored. The members kept fans captivated and their hearts beating, adding to the phenomenal atmosphere. The event left a huge impression on every fan who attended, giving them fond new memories, to see them through until the group hopefully returns again in the future. Each song, and each moment had its own highlights, showcasing each member's unique talents and skills, in an fresh and exhilarating way, from dance, to rap and vocals. Excitement and anticipation leading up to the concert truly paid off, with an intense concert from start to finish, and thoroughly enjoyable for all fans, from all walks of life.