The SMTOWN sweethearts – Red Velvet – have returned once more. This time with 'Bad Boy', let's take a look at their fashion here.
Here's the MV:
The looks shown in this video are starkly contrasted, with a mix of cute and girly and rocker feminine. There are also some styles here that give you a very 90s vibe. All of these outfits are quite bold, so you can either go for it in full or simply incorporate a single of the statement pieces into a more casual look.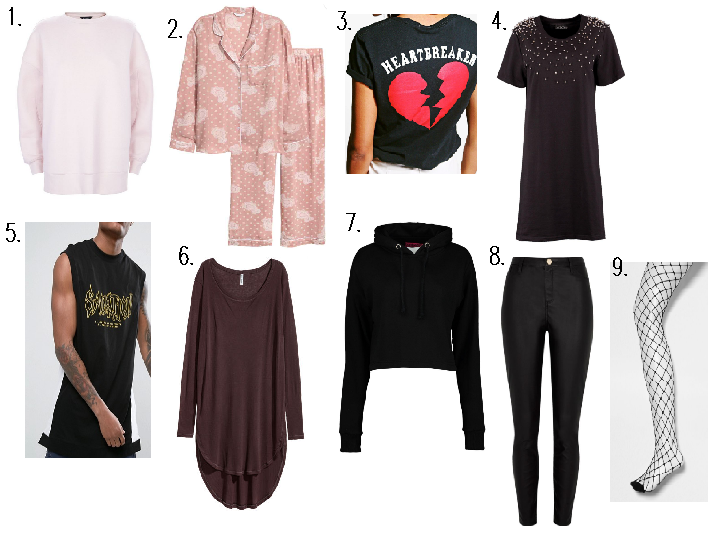 Pale Pink Slouchy Sweatshirt – New Look: £15.99
Pyjama Shirt and Bottoms [Pink/Patterned] – H&M UK: £24.99
Kayleigh Heart Breaker Back Slogan Choker Tee – boohoo.com: £8
Emily Embellished Longline T-Shirt – boohoo.com: £15
ASOS Super Longline Vest With Side Panel & Salvation Print With Colour Block – ASOS: £4
Long jersey top [Plum] – H&M UK: £17.99
Megan Cropped Overhead Hoody [Black] – boohoo.com: £12
Black Faux Leather Molly Skinny Fit Trousers – River Island: £40
Black Wide Fishnet Tights – River Island: £6
To complete this style, light coloured trainers would look great with the baby pinks, and of course, black and chunky boots always complement faux leather and rocker looks.
Fishnet tights are also really on trend lately, but they will not be for everyone, so normal opaque tights would work just as well. As for jewellery, silver is probably the best choice here, but don't be afraid to experiment with more chunky trinkets if you really want to be eye-catching!
[Sources: New Look Website, H&M UK Website, boohoo.com, ASOS Website, River Island Website].