Former Miss A member and JYP darling Suzy has recently released an MV for her track 'SObeR'!
The singer, often dubbed the 'Nation's First Love' in South Korea, has a very unique style of dress in this video, which we are going to explore today.
Here's the MV:
Suzy wears a lot of bright, block colours here and often mixes and matches them. If you are not brave enough to do this yourself, of course you could always choose one block colour item and pair it with blacks or whites in order to tone it down a little.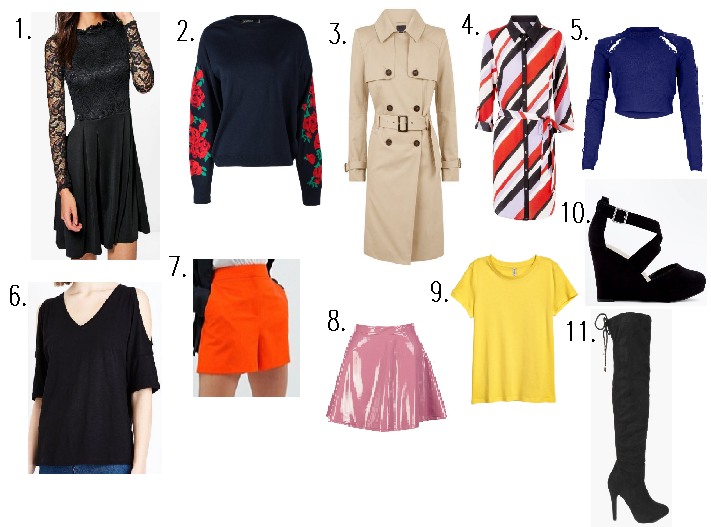 Tall Suzu Lace Panel Skater Dress [Black] – boohoo.com: £20
Phoebe Floral Intarsia Balloon Sleeve Jumper – boohoo.com: £15
Stone Double Breasted Belted Mac – New Look: £39.99
Parisian Red Stripe Diagonal Shirt Dress – New Look: £24.99
Bright Blue Cut Out Cropped Long Sleeve Top – River Island: £36
Black Organic Cotton V Neck Cold Shoulder T-Shirt – New Look: £7.99
ASOS DESIGN Tailored A-Line Shorts [Orange] – ASOS: £18
Ines Vinyl Skater Skirt [Nude] – boohoo.com: £12
T-shirt [Yellow] – H&M UK: £3.99
Wide Fit Black Comfort Suedette Strappy Wedges – New Look: £27.99
Isla Stretch Over Knee Pointed Boot – boohoo.com: £25
Suzy also goes for some very daring over the knee heels in this video, but ankle boots or wedges would also be a great choice.
To finish, go for a black choker and some chunky silver necklaces or earrings.
[Sources: boohoo.com, New Look Website, River Island Website, ASOS Website, H&M UK Website].