SHINee are well known for their bold fashion choices and trend-setting ways. Given their recent MV releases, who better to focus on for our Get the Look?! This time, we are checking out the video for 'I Want You'.
Here's it is:
A big part of this look is the layering of bright colours and patterns. The classic Hawaiian shirt even makes an appearance, showing that SHINee can pull off pretty much anything!
The members do incorporate some more casual items into their looks here though. For example, skinny denim jeans are paired with trainers and Key is shown wearing a simple yellow hoodie.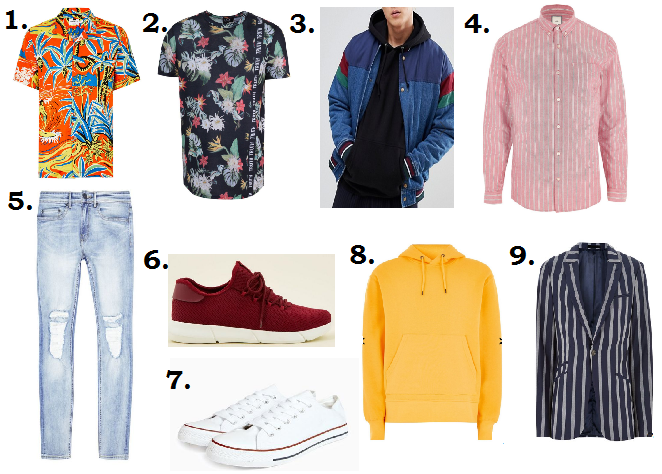 Red Surf Hawaiian Short Sleeve Shirt – Topman: £30
Slogan Floral Sublimation T-Shirt With Curve Hem – boohoo.com: £9.80
ASOS DESIGN Denim Varsity Bomber Jacket In Blue – ASOS: £24
Red Stripe Long Sleeve Oxford Shirt – River Island: £8
Pale Blue Light Wash Ripped Jeans – New Look: £24.99
Burgundy Knitted Runner Trainers – New Look: £19.99
Canvas Plimsolls – boohoo.com: £8.40
Yellow Overhead Hoodie – Topman: £25
Navy And White Stripe Muscle Fit Suit Jacket – Topman: £30
Despite their psychedelic concept, you can see that this look is quite easy to recreate for yourself. You can also layer it up with a denim or bomber jacket if things get chilly, so take a leaf out of SHINee's book and don't be afraid to be bold with your clothing!