Girls' Generation (A.K.A SNSD) have made their long-awaited comeback as sub unit Oh!GG!
This is a group consisting of the members remaining with SM Entertainment after Seohyun, Tiffany and Sooyoung decided not to renew their contracts with the company.
This week, we will be using their first MV 'Lil' Touch' as a guide for our style inspiration!
Here is the MV:
A point of interest in the video's fashion is the girls' use of sheer fabrics. Sheer clothing is a great way to add a daring femininity to your look, but you can still dress it to look as modest as you want (without showing too much skin).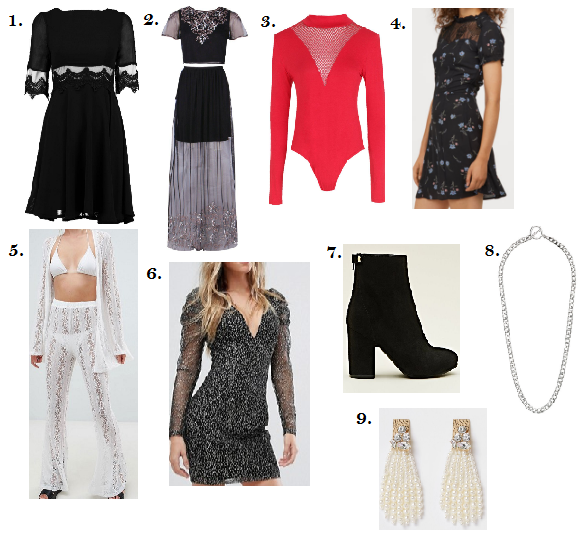 Lace & Mesh Insert Skater Dress – boohoo.com: £12
Boutique Mesh Embellished Skirt & Crop Co-Ord [Black] – boohoo.com: £27
Tall Mesh Insert Plunge Bodysuit [Red] – boohoo.com: £10
Dress with a Lace Yoke [Black/Floral] – H&M: £24.99
ASOS DESIGN Crochet Lace Beach Co-ord Kimono [White] – ASOS: £25
Boohoo Mesh And Sparkle Plunge Neck Dress – ASOS: £12
Black Suedette Block Heel Ankle Boots [Black] – New Look: £27.99
Metal Necklace [Silver] – H&M: £6.99
Gold Tone Faux Pearl Tassel Stud Earrings – River Island: £12
The sheer panels are placed on very light and flowing fabric. The looks shown here are perfect for a night out or a special occasion.
You can complete the look just as the girls do – with tassle earrings, chunky jewellery and black, block-heeled, ankle boots.