Fans are still reeling from the news that Hyuna and Pentagon's E'Dawn have been axed by Cube Entertainment.
Today, Cube Entertainment announced that they're dropping both Hyuna and E'Dawn from the label; a month after the pair confirmed their relationship in August.
"We decided the trust is broken and cannot be saved so we are kicking the two out of the company" – Cube Entertainment

source: Korea herald 
Hyuna and E'Dawn are part of the subunit Triple H along with Pentagon's Hui and were promoting their latest album – Retro Future – when netizens suspected that the two idols might be dating. Hyuna later confirmed the rumours with a post on Instagram; evoking an explosive reaction from fans. The backlash eventually caused both Triple H and Pentagon's promotional activities to be cut short.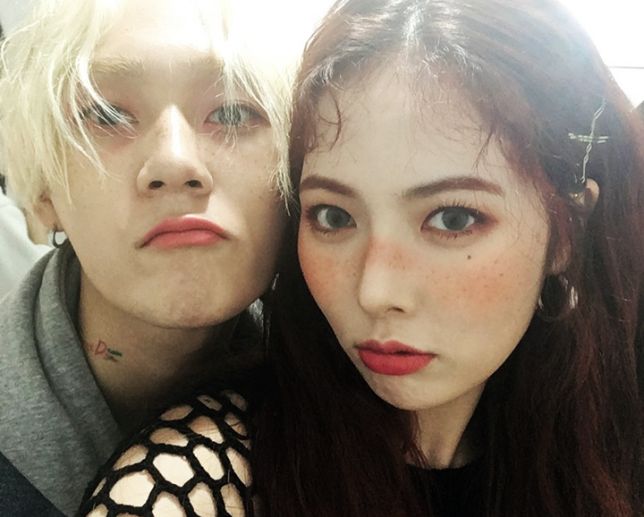 This wouldn't be the first time that fans have condemned their favourite idols for dating. 
When F(x)'s Sulli went public about her relationship with Dynamic Duo's Choiza, she was virulently attacked by fans, some even burning and destroying pictures of her in anger. Her career subsequently plummeted forcing her to take a hiatus from the entertainment industry. SNSD's Taeyeon even apologised to fans at an airport after the news of her relationship with EXO's Baekhyun surfaced. 
This begs the question: Are idols expected to remain single? Forever waiting for the approval of fans to date or get married?
The industry is largely to blame for creating this unrealistic fantasy through the way they market their talent. Kpop is built on the image of perfection – from their looks to their personality – idols are manufactured to be desirable. However, when an idol gets into a real-life relationship, the fantasy disappears and the idol is no longer desirable.    This is why the control over dating is integral to the Kpop industry.
Got 7's Jackson revealed on the variety show, Dating alone, that he has a three-year dating ban written into his contract. Former members of 2NE1, Sandara Park and Park Bom, were infamously victims of a dating ban, despite being mature women in their late 20s.
While some idols try to appease fans after a dating scandal breaks, either by apologising or remaining quiet on the issue, others have fought back against the criticism. In 2015, FT Island's frontman Lee Hong Ki took to Twitter to tell disapproving fans to not concern themselves with his private life.
ㅋㅋㅋㅋㅋㅋㅋ You haven't known me for that long, huh??? ㅋㅋㅋㅋㅋㅋㅋㅋㅋㅋ Don't like me as someone of the opposite sex (boyfriend), I've said that for a while now. If you hate me for this, then bye ㅋㅋㅋㅋㅋㅋㅋㅋㅋㅋㅋㅋ

Source: Seoul Beats
So what do you think about the Hyuna and E'Dawn situation? And do you think it's the responsibility of the industry to stop marketing idols this way or is it down to the fans?