Here's a look at a few of the Korean culture and K-Pop events going on this week!
Frieze Week Artist Talk: Yunchul Kim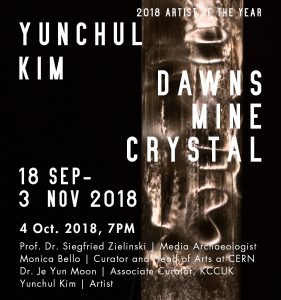 DATE: Thursday 4th October 2018
TIME: 7pm
VENUE: Korean Cultural Centre UK,
Grand Buildings,
1-3 Strand,
London,
WC2N 5BW
(Main Entrance: Northumberland Avenue)
RSVP: e-mail info@kccuk.org.uk
PRICE: Free (booking required).
PANEL
Yunchul Kim – Artist
Prof. Dr. Siegfried Zielinski – Media Archaeologist
Monica Bello – Curator and Head of Arts at CERN
Dr. Je Yun Moon – Associate Curator, KCCUK
This panel is part of KCCUK's 2018 Artist of the Year exhibition 'Yunchul Kim: Dawns, Mine, Crystal' – which is showing at the KCCUK until Saturday 3rd November 2018.
Find out more about the exhibition here.
K-POP Night Freshers KRUSH

DATE: Thursday 4th October 2018
TIME: 10pm
VENUE: The Ballroom,
15 Orange Street,
Canterbury,
Kent
CT1 2JA
TICKETS: https://www.fatsoma.com/canterbury-vibes/ip1sakw5/krush-canterbury-s-k-pop-k-hip-hop-international-music-night
PRICES: Standard Release – £6 + £1 fee
VIP Exclusive – £8 + £1 fee
"Canterbury's K-Pop & K-HipHop International Music Night!"
Be sure to follow the Facebook Event page to keep updated. You can also like the Krush K-Pop Night Canterbury Facebook page
There is also a competition detailed on the Facebook Event page which gives you the chance to win a bottle of Champagne and 3 VIP Tickets!
K-Music Festival 2018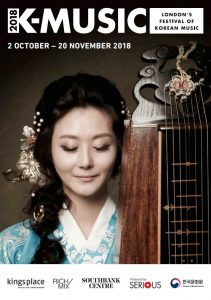 DATES: Tuesday 2nd October 2018 – Tuesday 20th November 2018
TICKETS: https://serious.org.uk/events/series/k-music
A reminder that the K-Music Festival officially starts on the 2nd! So, get involved with the performances set across the city of London over the next two months. Events are listed below:
SSING SSING
Sunday 30th September – PizzaExpress Jazz Club (Soho), W1D 3RW
Tuesday 2nd October – Purcell Room, Southbank Centre, SE1 8XX
E-DO
Tuesday 9th October – Rich Mix, Shoreditch, E1 6LA
URBAN SOUND
Friday 19th October – Kings Place Hall 2, Kings Cross, N1 9AG
AHN SOOK-SUN
Saturday 3rd November – Purcell Room, Southbank Centre, SE1 8XX
NEAR EAST QUARTET + KYUNGSO PARK
Monday 19th November – Purcell Room, Southbank Centre, SE1 8XX
YOUN SUN NAH
Tuesday 20th November – Queen Elizabeth Hall, Southbank Centre, SE1 8XX
Find out more from our previous article on the festival here.