Today, we are taking our 'style inspo' from Stray Kids and their MV for 'Get Cool'!
Here's the video, if you are unfamiliar:
I thought using this MV from Stray Kids would be great right now as they are wearing a variety of knitwear, coats and jackets. Perfect if you are looking to restock your winter wardrobe!
Some of the guys mix it up completely, wearing a lot of clashing colours and styles, while some go for a more matched up and refined look. When it comes to winter clothes, many think that practicality beats style. You are often more concerned about keeping warm than looking good. Plus, mixing up your winter wear also gives a really cute and cosy vibe. Having said this though, there are certainly ways to keep yourself in great style and maintaining warmth at the same time – I suppose it just depends on where you fall in your own tastes.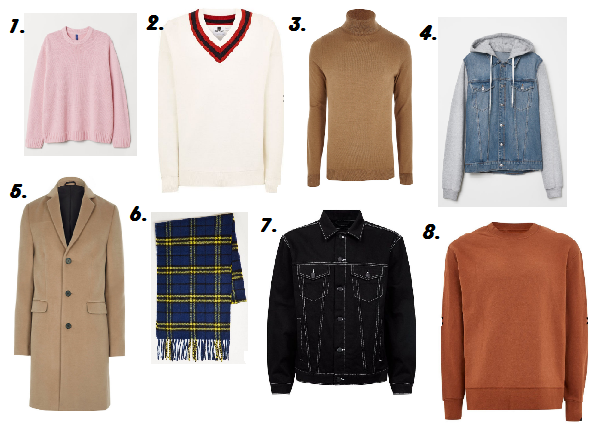 Knitted Jumper [Light Pink] – H&M: £17.99
White Drop Shoulder V Neck Jumper – Topman: £25
Camel Slim Fit Roll Neck Jumper – River Island: £22
Hooded Denim Jacket – H&M: £34.99
Camel Button-down Overcoat – River Island: £80
Blue And Yellow Check Woven Scarf – Topman: £16
Black Oversized Denim Jacket – New Look: £17
Rust Sweatshirt – Topman: £16.50
The beauty of knitwear and coats is that they are so low-effort, but still look good. You can pair these suggestions with jeans and trainers/boots and you are done! No need to mess about.
Thankfully, for both men and women, there is a huge variety of jumpers, cardigans and coats to choose from. In bold or muted colours, oversized or tight fits and all kinds of thicknesses – there's something for everyone.
I would recommend going into physical stores to give the winter wear a feel before you buy, especially if you have sensitive skin that cannot handle rough fabrics (like me!) or are quite particular in what you like. However, online shopping is still good, especially if you a very familiar with a brand and know what their clothing is usually like.