MyMusicTaste have announced the European stops for DAY6's 'Youth' Tour!
The band will be touring six cities in January: Moscow, Madrid, Berlin, London, Paris and Amsterdam. Check out the full dates below and ticket information below!
Moscow
When: 18th January 2019, 8PM
Where: GlavClub Green Concert
Ticket Vendor: Brightside Concerts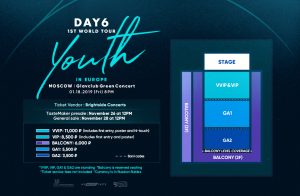 Madrid
When: 20th January 2019, 7:30PM
Where: La Riviera
Ticket Vendor: Vayentradas
Berlin
When: 22nd January 2019, 8PM
Where: Columbiahalle
Ticket Vendor: Eventim and Konticket
London
When: 25th January 2019, 7PM
Where: O2 Forum Kentish Town
Ticket Vendor: Ticketmaster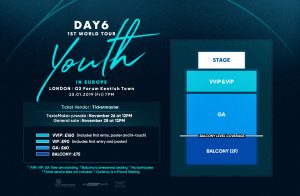 Paris
When: 27th January 2019, 7PM
Where: Casino de Paris
Ticket Vendor: Casino de Paris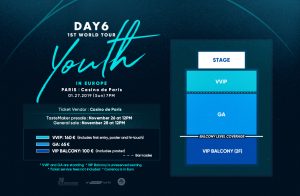 Amsterdam
When: 29th January 2019, 7:30PM
Where: The Box
Ticket Vendor: Ticketmaster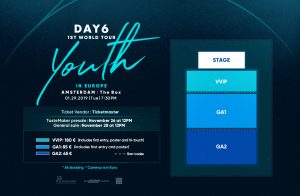 TasteMakers who had requested DAY6's European tour can enjoy the benefit of 10% off two tickets, plus participate in an exclusive presale on 26th November. General ticket sales will commence on 28th November.
As well as this, the Top 10 TasteMakers will be rewarded with two VVIP tickets!
Make sure to find out more information on MyMusicTaste's Facebook post.
DAY6 are a fix member group under JYP Entertainment that debuted in 2015. The band consists of five members after Junhyeok's departure in 2016: Jae, Sungjin, Young K, Wonpil and Dowoon.
You can check out their latest track 'Beautiful Feeling' below!
We hope MyDays enjoy the tour!