January 13th 1999 marked the debut of g.o.d. Twenty years later, the group have celebrated their anniversary with a trip to Spain, a series of concerts, and an album of original tracks and remakes of old classics. 
g.o.d, an acronym for Groove Over Dose, is formed of leader and rapper Park Joon Hyung, rapper Danny Ahn, vocalists Son Ho Young, Kim Tae Woo and Yoon Kye Sang.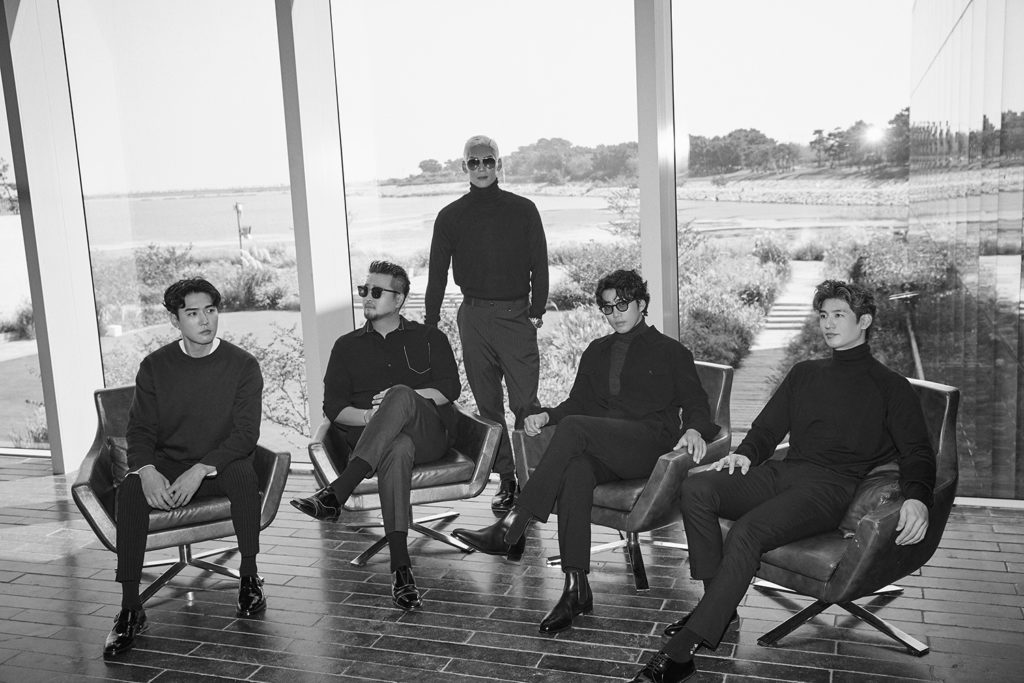 Left to right: Danny Ahn, Kim Tae Woo, Park Joon Hyung, Yoon Kye Sang, Son Ho Young
g.o.d's 2013 reunion inspired the return of numerous first generation groups since, including Turbo, Sechskies, NRG, even H.O.T. – though it is without doubt that g.o.d's return has been the most successful so far. Dubbed the 'Nation's Idol' the group is beloved, and it shows.
To mark their 20th anniversary, g.o.d released their 9th album 'Then & Now' on Friday. The album contains a number of rearranged classics, new music and a very special collaboration. Road, the title track from Chapter 4, has been remade by IU, Henry, Jo Hyun Ah (Urban Zapaka) and Yang Da Il. The remake keeps the sincerity of the original but presents a different beauty with the mix of vocals.
The album also contains remakes of member favourites I know (Chapter 4), So You Can Come Back to Me (Chapter 1), Why (Chapter 3), Not Knowing (Chapter 4) and The Place You Belong (Chapter 4), alongside recent release Snowfall, and new music.
The album can be purchased on iTunes.
But how did they get here?
Unlike the groups of SM Entertainment who begun the idol wave, g.o.d took a different approach to the idol group. g.o.d put together five more ordinary looking members, rather than having visual focus members, and debuted them with strong and meaningful lyrics in the hope that they would draw in a wider audience.
The road was rocky in the beginning. The 1997 Asia financial crisis hit the group's representatives hard and saw funding for rookies cut dramatically, though the persistence of g.o.d shone through, and Sidus HQ introduced the group to the person who would go on to work with them as songwriter and producer, JYP founder Park Jin Young.
Tales of their rookie days, without access to basic amenities such as showers and endless days of little to no food, filled media articles and variety tv throughout the group's career.
Their first release and album notably didn't make the waves they expected. Now considered a staple Kpop track, 'To Mother' broke the trend, it focused on solid vocals rather than visual appearance and energetic choreography, and it left audiences unsure of the group.
Though this wasn't a tale of things to come. By the end of 1999, g.o.d released their second album to a much better response, even earning them their first ever win on a music programme. Audiences noted g.o.d's different approach to lyrics and their ability to resonate with listeners personally.
Their lyrical content and diversity in style continued to be the reason their fan base grew. One Candle inspires people to stay strong when faced with a challenge and even today you'll still hear it covered regularly. Road is about the path you choose to take and whether it will lead to both your dreams in life and happiness. The genres the group covered span from love-themed ballads like their huge hit Lies to upbeat dance-pop tracks such as Report To The Dance Floor.
At the end of 2004, after promoting Chapter 5, Kye Sang left the group temporarily. In this time he chose to follow an acting career and do his mandatory service. Though he never returned to the group and continued to work as an actor.
As four members g.o.d continued and made two more albums though disbanded at the beginning of 2006 saying 'We do not want to use the word 'break up'. Even though we can't say when, someday we will get together again to play music.'
In their seven album discography, from 1999 to 2006, both Chapter 3 and Chapter 4 were million sellers, Chapter 4 twice over and 3 not far off, a feat not many could compete with. It speaks to their long journey and success that their music sales had to rely on physical sales rather than download and streaming – all of their albums even had cassette tape releases!
Successful careers as solo artists, radio presenters, actors, musical performers and entertainment company CEOs filled their hiatus, but was occasionally interspersed with smaller groups of members coming together to perform.
It was Kye Sang who brought the whole group back together in 2013 to reveal his true reasons for leaving, resolving bad blood with the members and fans, and returning to the g.o.d family.
Following Kye Sang's One Table reunion, the group returned in 2014 for their fifteenth anniversary. g.o.d stayed true to their roots with thoughtful lyrics, their loved brotherhood and familial attitude to fans.
The 'new' g.o.d, has a maturity and honesty to them that only enhances their original ethos. The members are even more candid about their struggles, physical and mental, more honest about their lives, more understanding of each other.
g.o.d have blessed the Kpop industry since 1999 with music that narrates relatable life experiences that span all walks of life and all emotions. Their journies as individuals and as a group have gripped the hearts of millions of fans who have found love, solace and companionship in their music. They paved the way for many idols and inspired countless individuals.
Here's to twenty years of g.o.d