In the UK, we don't often see Kpop mixed with serious issues.
Fandom culture, although misinterpreted at times, has led us to believe that we will only scream and chase after celebrities
.
However
, this isn't the case. In the past, Kpop fandoms have raised money for various causes and donated in their idol's names. 
This time, Twins Talk Kpop (TTK) presented an opportunity for Kpop fans to raise money and awareness for cancer
.
On Friday 11th October, TTK and SOKOLLAB kicked off their Keep Spinning Kpop Weekend event
. It was set ahead of GOT7's first London concert, but there was a lot more to it than that. The pop-up store, which ran all weekend, doubled as a campaign for Stand Up to Cancer.
I was fortunate enough to have
been invited by
Stand Up to Cancer for this event, and I was curious. I wanted to see how the twins would relate Kpop to cancer, as well as what kind of goods SOKOLLAB would have to offer.
The Opening
Although the pop-up store opened its door a little later, I could see the effort put into the event.
What had been an empty store turned into a sophisticated blend of kpop and cancer awareness, with GOT7 playing in the background
.
The first thing I spotted was a little chill-out space, with refreshments. This consisted of an artificial grass carpet, with a few beach chairs and stools. Although there wasn't enough space for every store visitor, I thought it was a lovely addition.
It allowed parents to sit whilst their children went shopping and allowed fans to relax and get to know each other
.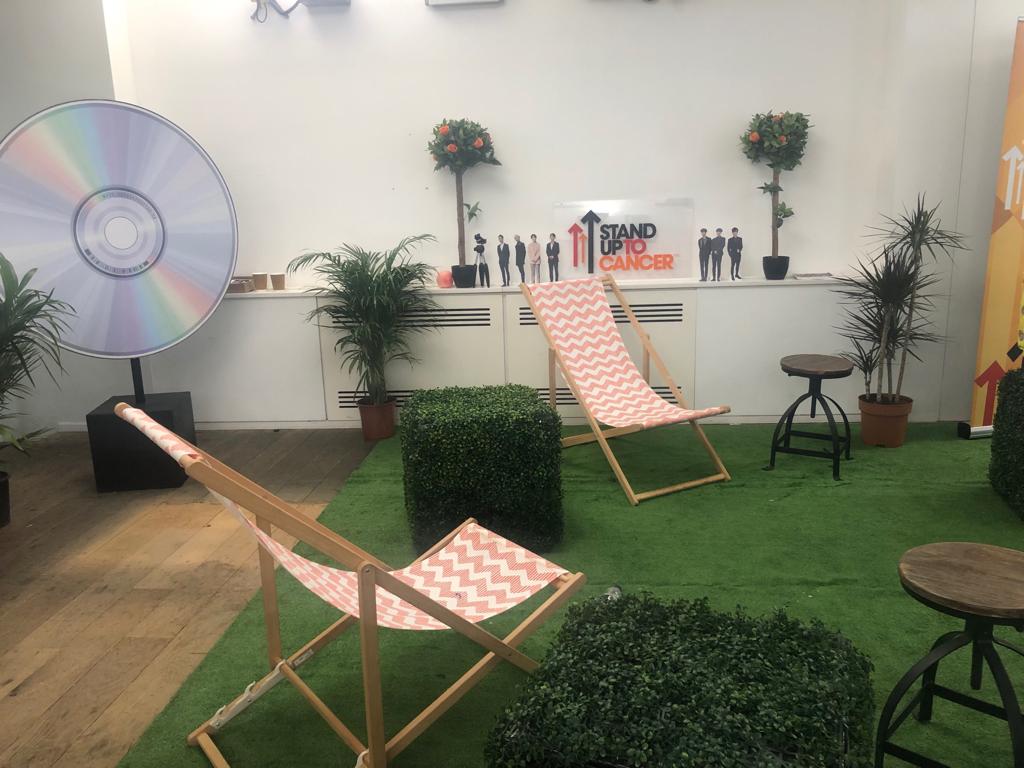 Looking around, it was impossible to ignore the area dedicated to taking photos. Cardboard cutouts of GOT7 stood tall in front of a Stand Up to Cancer backdrop. For fans unable to make the concert later that day, it was a suitable substitute.
Miniature cutouts also found their place on some of the shelves, appearing to greet each visitor
.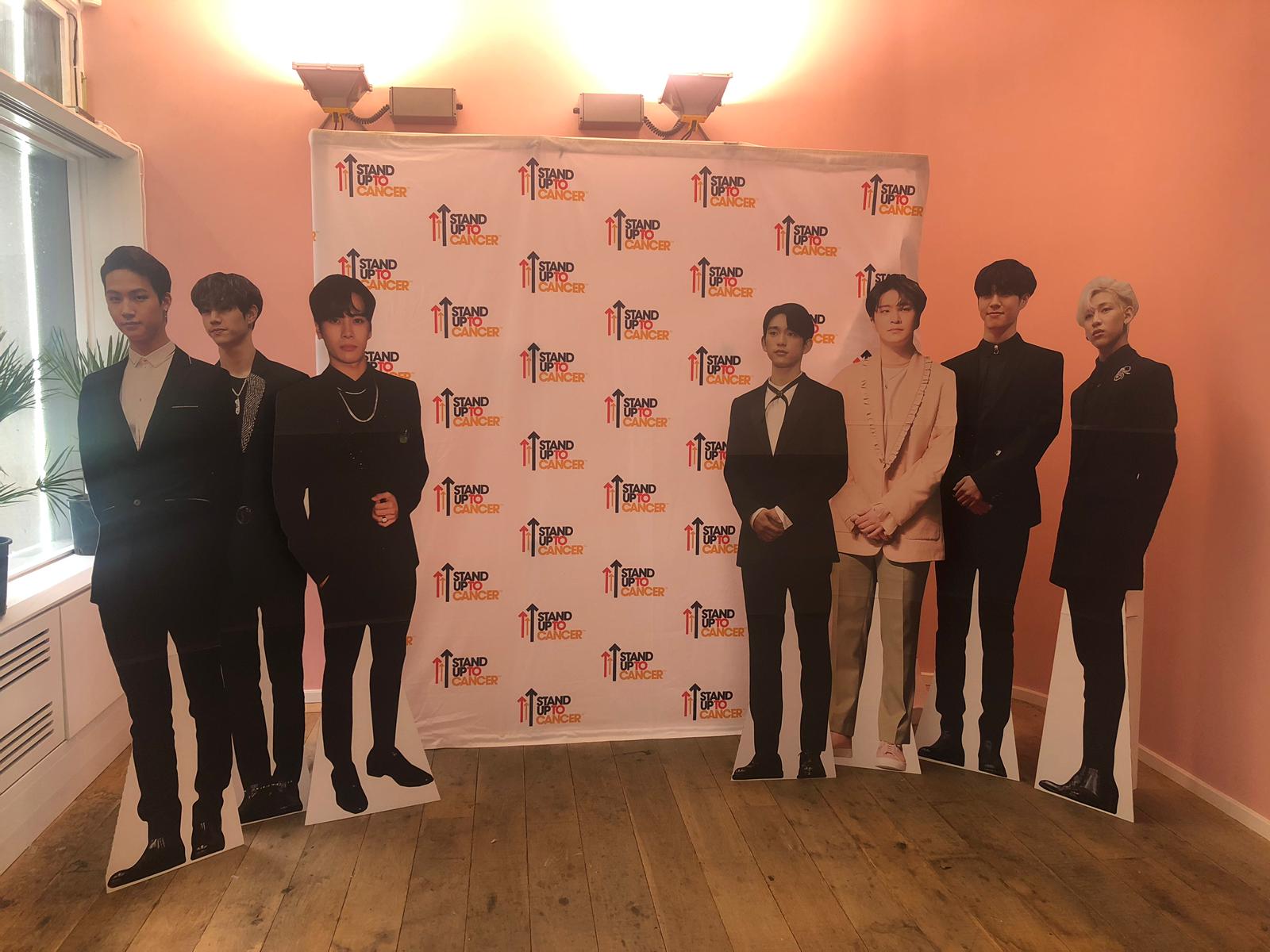 I had
been greeted by
TTK's Niki, whose immediate question was whether I would be going to the GOT7 concert later. Unfortunately, I wasn't. I saw Sammy interacting with another fan, but I would be able to speak to him later during the interview. Throughout the day, they mingled with everyone, vlogged, and took photos with fans. It was lovely to see how polite and friendly the twins were.
Later on, I spotted the giveaway hamper.
This hamper of goodies included two albums (GOT7 Eyes on You, and X1 Quantum Leap), MONSTA X's WE ARE HERE' tour DVD, a few skincare items, and a few TTK goodies (bags and t-shirts)
. People could enter by making a donation at the till, with the
minimum
being £1. This money went to Stand Up to Cancer. I'm not too sure how many donations
were made
through this, but it seemed that there would be quite a few.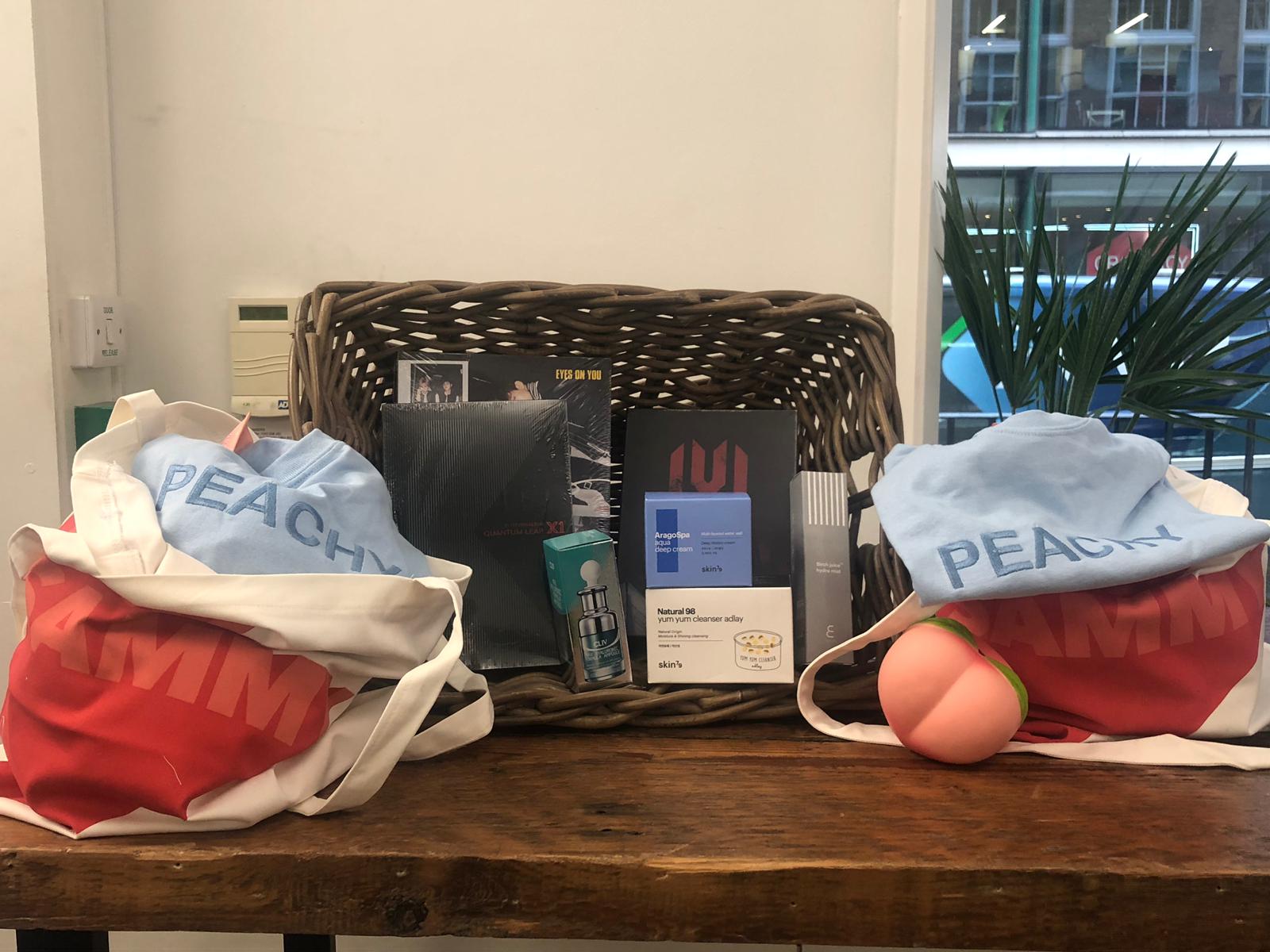 The Products
When it comes to kpop in the UK, the focus is usually on BTS.
However
, the products appeared to be quite vast.
Most products were albums and summer photobooks, with an average price of £20. SOKOLLAB also had the recently released tour DVD for MONSTA X's 'WE ARE HERE' tour in Seoul, priced around £50.
One shelf
was dedicated
to BTS, with albums dating back to 2014, as well as TXT's debut album. Two other shelves
were dedicated
to albums from other groups, and I have to say, I
was impressed by
the variety.
You had the more popular groups: TWICE, GOT7 (of course), MONSTA X (their latest album sold out
quickly
!), Seventeen, G-IDLE, Red Velvet, EXO, NCT, and BLACKPINK
. Then, you also had more recent groups, such as ATEEZ, Stray Kids, LOONA, X1, Pentagon, and SF9. Fans were spoilt with choice.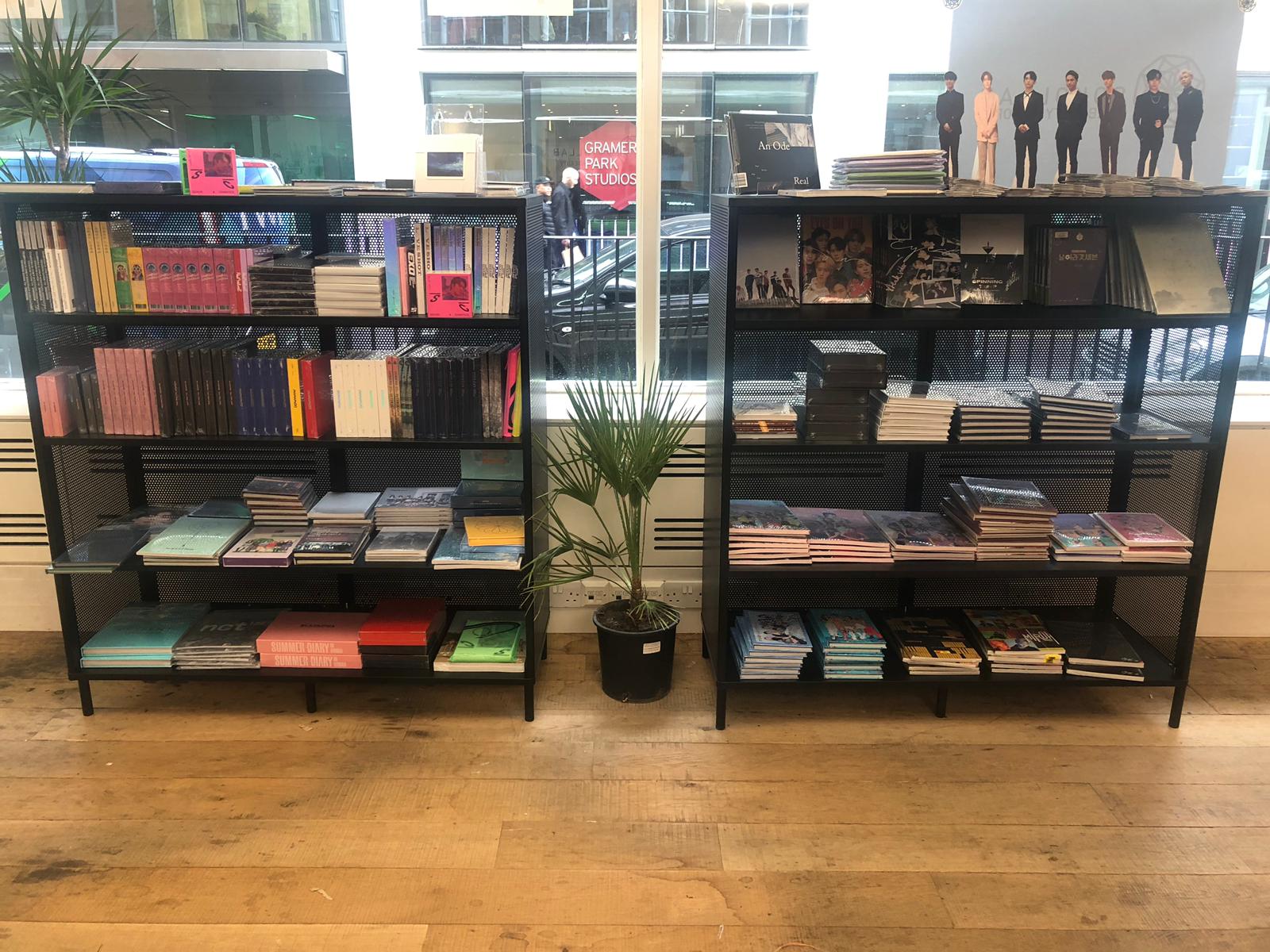 Personally
, I don't buy albums. I
just
about have space at home for the books I read – I'm a writer after all – and a lot of these albums cost a lot. Thus, I
was surprised
to see
multiple
fans spending over £100.
As well as this, there was a shelf of BT21 items. SOKOLLAB is the first official distributor of BTS21 items in the UK, so the inclusion of these items was a must.
The items
mostly
consisted of stationery – pens, notebooks, stickers, travel cards, lanyards, and a pocket mirror
.
The only downside was that these products were quite expensive, including around £13 for a folding card case
. This,
however
, didn't stop me from buying one. Okay,
maybe
I could understand why fans chose to spend so much.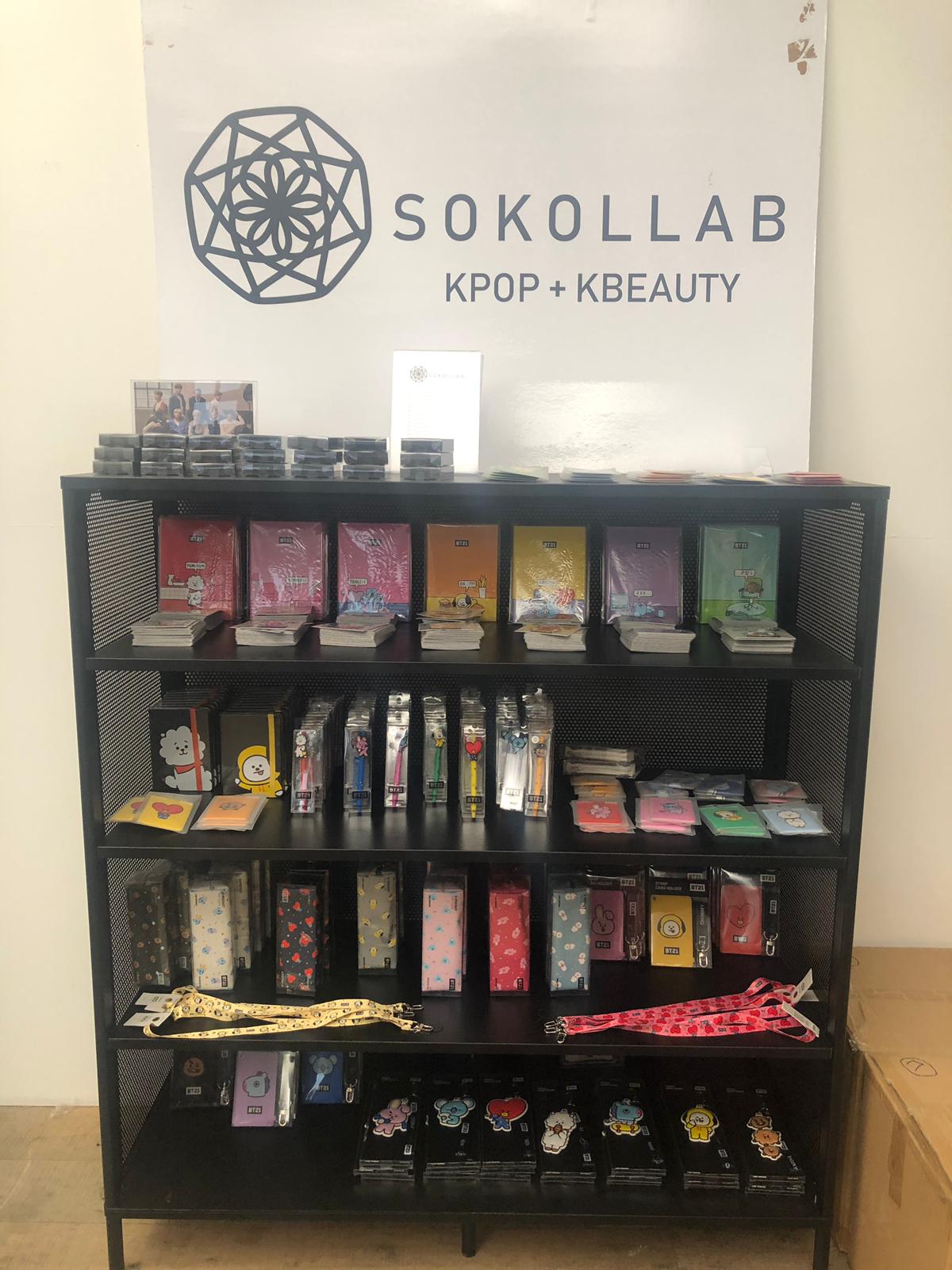 The money spent on these products went to SOKOLLAB rather than the campaign.
Nevertheless
, fans
were encouraged
to donate through the giveaway hamper or through text.
The Experience
Across the three hours, there was never a moment where the store was empty.
Although not much happened inside other than purchasing items, the store gained a lot of interest
. Fans bonded over kpop groups, and I saw how they took their time to browse through the collection.
It reminded me of something the twins mentioned: the Kpop fandom culture is different from other areas of pop music
.
These fans never crowded the shelves, spent time talking to each other, and took photos with the cardboard cutouts
. It was an atmosphere that grabbed the attention of others walking by.
SOKOLLAB's Victoria hopes that SOKOLLAB would not only be a retail space, but also a place for likeminded fans to enjoy themselves
. And it looks like it could be
just
that in the future.
In all, the pop-up store was a reminder that Kpop fans are more than the misinterpreted depiction of screaming teenage girls
. It proved that with a combined love for Kpop, we can help make society a better place. I hope TTK and SOKOLLAB are able to have more events like this in the future to encourage exactly this.
Although the event is now over, you can still donate to Niki and Sammy's campaign. You can text TTK5 and TTK10 to 70404 to donate £5 and £10
respectively
.