What happens when Korean culture enthusiast academics gather under one roof for two full days? And what if they all have another thing in common, namely being hardcore ARMYs?
The very first weekend of 2020 saw bright minds coming together from all over the world under the flag of BTS at Kingston University, London. 3 keynotes, 38 panel discussions, almost 100 presentations accompanied by dozens of new-found friendships kicked off the year in true Kpop fandom style, as members of academia, working professionals, community organisers and creators from the fandom joined forces.
With its interdisciplinary take, the event promoted a forward-thinking attitude in the academic world, which often is on the receiving end of criticism for not opening up the gates of its ivory tower. It could not have been the opposite however, as the members of the subculture graciously shared their incredible knowledge and analysed research already in their arsenal.
Following the footsteps of the highly successful, and press-coveted 'BTS Insight Forum – Beyond & Behind' held in August 2019, Seoul (full playlist available here), the London-based conference served both as the continuation and exploration of the topics moving Bangtan Sonyeondan's journey forward.
BTS Insight Forum / Arirang News
Full playlist of the BTS Insight Forum can be found here:
Fascinating talks and workshops followed each other in close order with participants having a real headache when trying to choose between which conversation to take part in.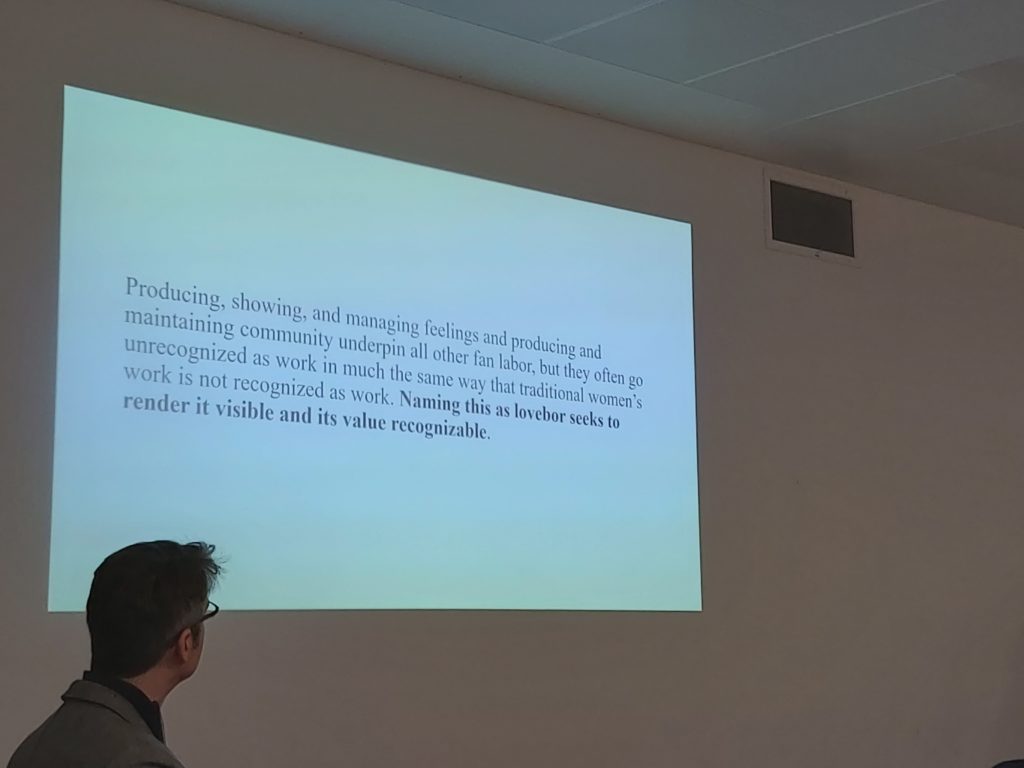 Full conference schedule can be found here.
Many who serve the community but had been in the shadows, or even looked down upon from general public who (more frequently than ever) rather enjoys writing about them, without including them – now were given a chance to talk and share the immense experience gathered while working within the community. The event was yet another opportunity to show the diverse nature of not only BTS, but Kpop fans in general and giving a platform to people behind the scenes, like Ashley Hackworth from the invaluable UKBTSARMNATION account, whose team was solely responsible the now (pop-)history-making Wembley performance banners.
With pop culture experts being in attendance, the team was able to skip the basics and go straight to the burning questions that are on the minds of those, who follow the development of the genre. It was a truly invaluable opportunity to discuss unresolved issues affecting the industry starting from the aspects of fan labour, the possibility of exploitation to the PR mazes of a global fandom, corporate intricacies or translation controversies. Many established scholars from South Korea also paid a visit to the conference, and quickly joining in both on the fun and on the debates, providing and in-depth addition to the line-up.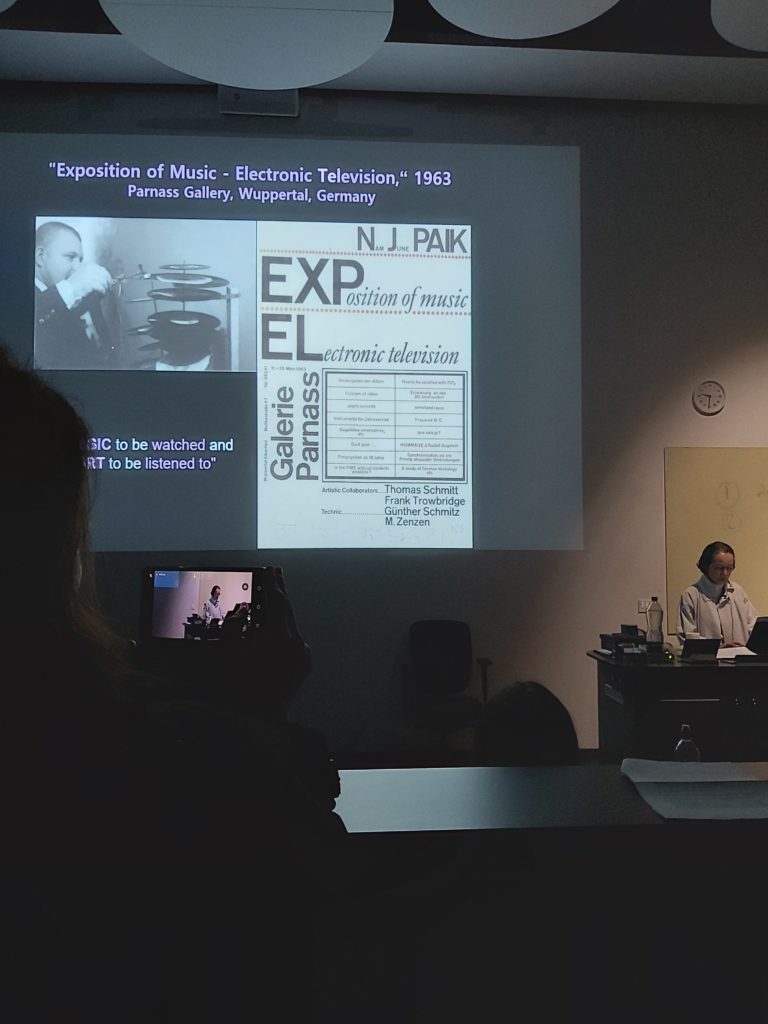 But one's concentration runs eventually out and even the most dedicated researchers need some time to loosen up. Lunch break chats were pretty to hard to break up, and while each and every conversation led to surprising revelations, the conference set-up lead to some pretty hilarious moments.
Just to mention one, once some alert members of the group found the correct Naver link to stream the Golden Disk Awards, the excitement coming from the fact that such an ominous event wasn't enjoyed in solitude, almost delayed start of a keynote speech.
Launa Sorensen (known for her detailed theory videos) tweets perfectly captured the mood, before the realisation kicked in about all the serious matters we needed to attend to.
When the academic conference is filled with ARMY things come to a stop for award shows and even the PHDs will dance. #BTSandKU pic.twitter.com/jd3cuksCbN

— Launa Sorensen (@launasorensen) January 5, 2020
Participants where also quick to point out the strikingly different vibe of the event compared to usual conferences, describing the event as 'generous and open, challenging without being confrontational, and empowering without centering academic egos.' It was exceptionally refreshing to be in a collaborative environment as content/storytelling professional as well. People were quick to offer help and support and cheered everyone on, instead of fiercely protecting their ideas.
Andrew Ty from Ateneo de Manila University and La Trobe University, who presented his research about 'Ekphrasis and Intermediality in the WINGS Short Films' pointed out another important aspect about the conference.
https://twitter.com/EnterDuration/status/1213827434690285568?ref_src=twsrc%5Etfw
Needless to say that the event left everyone emotional, overwhelmed with joy and an invigorated drive.
Éva Gajzágó, lecturer of The Tomori Pál College in Hungary who presented her research around marketing and advertising aspects of the BTS 'product' mentioned about how 'love and mutual respect was palpable' in the room.
Valentina Belmar from University of Leipzig echoed this statement. Despite being nervous about her first ever conference, she 'felt so much love and support. People coming over and giving you words of encouragement. I was surprised to always hear "we are all ARMYs here. You have nothing to worry about. We are here to support each other" and it was like this indeed. Inspiring in regard to see so many people, from different countries, different ages, and all researching about BTS. I was inspired by many stories, of how people became fans, how did they feel, how BTS has helped them. It was so amazing to see how we can work with one of the things we love the most (the boys) and also combine it with what we do in our daily life. It motivated me to keep on the academic life and keep on researching about BTS and soft power, even look for a Phd.'
As Dr. Colette Balmain, one of the main organisers whose vision called the event to light pointed out, this conference was 'only the beginning'. With fruitful relationships, cross-area research proposals being made constantly over coffee refills, the two-day conference also shed light to the potential of something more than research simply concentrating around one band.
'We just need the opportunity.' – says Valentina. – 'This event could work as a way to encourage others to keep on researching on other groups or kpop. It is indeed possible to combine what you love and what you do as your job. This will be definitely a precedent for future BTS/Kpop conferences and I'm glad I had the great opportunity to be part of it.'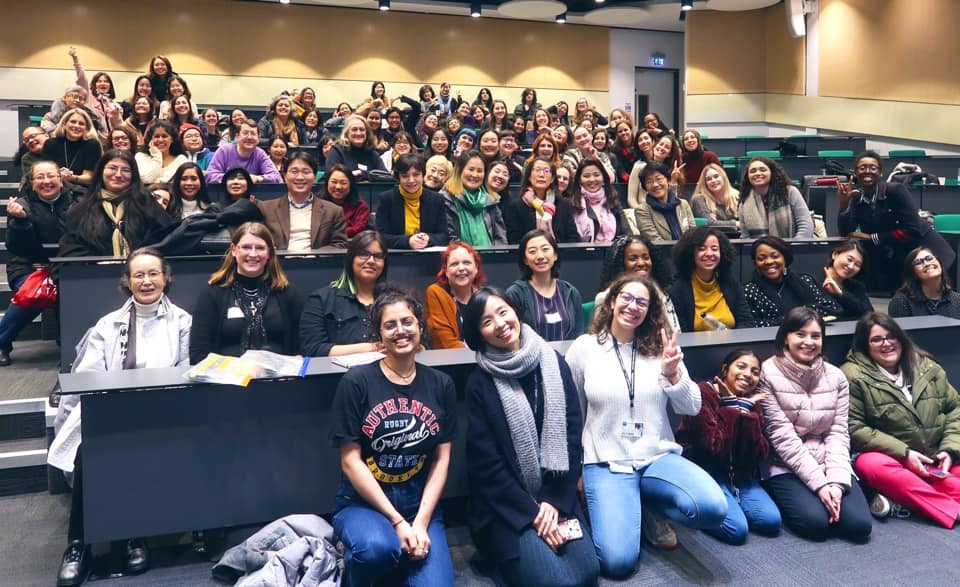 With the committee receiving over 200 abstracts, it's safe to say that the interest around the band and the cultural wave supporting it, only seems to be growing. In-depth and thought-provoking, the event showed this possibility prompted by the genre's the unique power to bring researchers together from fields as wide as from politics to architecture design.
As we are getting closer and closer to the comeback date, the now connected team behind the Seoul and London conferences is also gearing up and is currently working on the book proposal consisting selected papers from the conference.
We might take a break to reassemble (dry our tears, collect our wigs) after 'Map of the Soul: 7' comes out …. but the growing ARMY circle in academia will soon have its own little 'comeback' with gruellingly detailed, long-winded analytical pieces on every prop from the MV – in true academic style.
(The writer was a presenter at the conference with her research paper 'Factual entertainment in the service of fandom growth – BTS' short-form content and its effect on Kpop'.)
Curious about how the event went down?
Check out the Ildi's vlog about the conference:
And the tweets under #BTSandKU to get a vibe of the conference.
---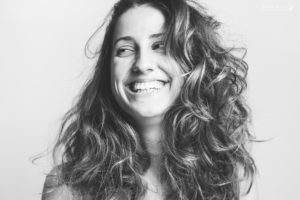 Ildi is a factual TV development graduate, working in content development. She is a student of the KCCUK's 12th Kpop Academy, and since then volunteered at the London Korean Film Festival's promotion team, was a judge at Keele University's Kpop competition as the winner of the UK vocal category for the Kpop World Festival in 2018. She also runs her own YouTube channel 'The Bubble Tea Squad' with former classmates discussing the genre's past, present and future creating an inclusive space without fan wars. 
Follow her on: Youtube / Twitter / Instagram  
---
Want to write a guest article for UnitedKpop?
Whether you're a company or an enthusiastic fan, we'd love to hear from you!