The opening harmonies of this track definitely reminded me of Charlie Simpson's 'Hold On', but the piercing female vocals and synth drum removed that comparison. If anything, it wouldn't go amiss at Eurovision Song Contest. RM's rap begins by almost being sung, which begs the question as to if this style will be incorporated into BTS's highly anticipated Map of the Soul: 7 which is set to be released next month.
The term 'winter flower' in itself is highly interesting as it in some ways suggests a contradiction; winter is typically associated with death and sleep, not with growth and living flowers. The image of this single flower surviving the winter cold is not just a symbol of resilience but is also indicative of the fact that Spring and warmer times are coming. The dark winter is nearly over, and it is time to wake up again.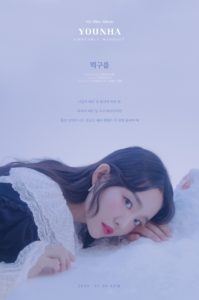 The new release from Younha marks the release of her newest mini-album Unstable Mindset, which explores the theme of mental health on its five tracks. It's undoubtedly prominent on 'Winter Flower', with Younha singing "hold on, hold on, hold on/I will take it away before you stumble" passionately in the chorus. With the recent passings of two iconic Korean entertainment stars, Sulli and Goo Hara, it's an immediate and urgent discussion that the fellow female idol is seeking to host. Mental health is unfortunately still deeply stigmatised in K-pop, but with the track reaching the number one place on the US iTunes chart, there is hope that it is something that will slowly become more talked about. With BTS currently being in a position of influence within the industry itself, I sincerely hope that RM speaks vocally about mental health in a way that is targeted towards his Korean audience as well as in this track which has done well in the Western market.
Listen to the track below, or download it on Spotify.