Last weekend, a new, exciting exhibition opened its doors, inviting guests from  all over the country to visit and take a look into Korean pop culture. Hallyu: The Korean wave is a powerful, dynamic exhibit, taking a look into many different areas of Korean culture, from k-dramas and kpop, to k-beauty and fashion. The multi room exhibit, curated by Rosalie Kim, aims to encourage  people from all walks of life to immerse themselves in everything Korea, which boasts a rich and thrilling history. The exhibit looks to focus more on recent history, and the country's rise from a war torn country in 1950, to a leader in many industries and media, and how the rise of Korean popular culture has come to be. Rosalie Kim told UnitedKpop that South Korea's popular culture is what many know most about and show interest in, despite no other exhibit focussing on that, presenting the perfect opportunity for this exhibit to come to life. 
Upon entering the exhibit, we were met by the almost comfortingly nostalgic sound of Gangnam style, one of the first kpop songs to take the world by storm back in 2012. Along with this, Psy's very own iconic pink suit from the music video is proudly displayed, welcoming everyone to their journey into Korean pop culture.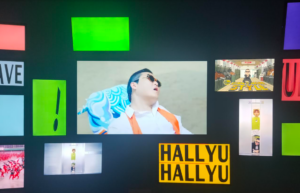 After admiring the display for a little while, we headed further inside, lost for words as we took in the artfully crafted displays. The first section took a look at Korean history, including their influence on the technology market. A display of mobile phones showed off how prominent Korean brands have been in the furthering of technology and media. A large display caught our attention just after, made up of an entire wall of televisions. It was impressive, and a little intimidating to see.
The next room took a look into kdramas. Included were a multitude of iconic shows and movies, including Squid Game (2021), Full House (2004) and the Handmaiden (2016). Merch, clothes from the show and screens showcasing the media filled the room, each capturing our attention more than the next. The iconic pink jumpsuits from squid game stood proud beside a range of hanboks featured in many dramas. A slightly hidden away passage took us to a showing of a famous scene from Oldboy, and even the wig worn by Choi Minsik in the film.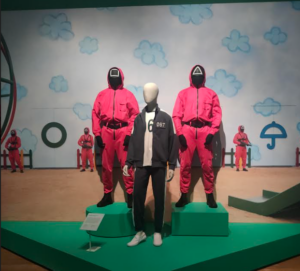 Most impressive though, was the recreation of the basement room from the 2019 hit film Parasite. Claustrophobic and desperate, even looking at the room conveys all the feelings of the family in the film, with every detail carefully considered and designed in order to do just that. It was truly incredible to be able to get up close to a room seen on the big screen, and get a better look at everything that had gone into it, especially as this is likely the first and last time it will be displayed. 
Next was the room I was most excited for- Kpop. These rooms displayed everything from fan made banners, to outfits actually worn by celebrities such as Ateez, Aespa and G-Dragon. One wall showcased stunning cinematography from kpop music videos, whilst the room was filled with music from many groups, such as NCT 127 and Blackpink. Aespa and Ateez's outfits stood proudly in the centre of the room, stunning and awe-inspiring. Alongside the exciting exhibit, was the chance to learn dance just like your favourite idol. A video teaching That That by Psy and Suga of BTS, at three levels (trainee, rookie and idol), provided a fun experience, which is then added to a video alongside all the other visitors that chose to learn the dance too. The big screen makes you feel like you're watching your very own music video.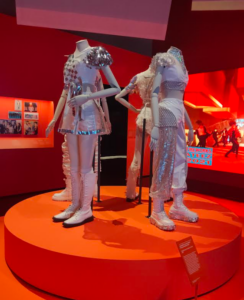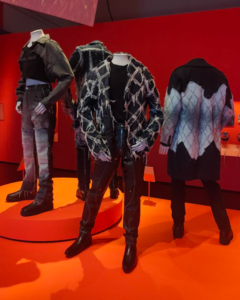 The final section of the exhibit explores the ever expanding industry of k-beauty and fashion. The k-beauty section tells of the story of how Korea has become a leading influence in skincare and how it was developed. Alongside this, Korean makeup brands and advertisements line the walls, showing off the beauty. Similarly, the striking k-fashion section displays many pieces, from a hanbok worn by Jung Wooyoung of Ateez, to clothing designed in collaborations with brands such as Adidas, and even for the runway. Much of the fashion shows huge influence from traditional Korean culture, with a number of modernised hanboks decorating the room.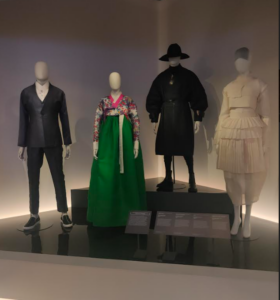 Overall, the Hallyu: The Korean wave exhibition does an incredible job of showcasing all areas of Korean pop culture, helping to both educate on the history of the country and encourage fans to engage in their favourite parts. It was exciting to see all areas of the exhibit, and to be able to see the impact South Korea has had on many mainstream industries, from technology and media, to fashion and beauty. The exhibit takes on a different perspective than other exhibits, which tend to focus on the Joseon Dynasty or Goryeo Dynasty, giving a new, fresh insight into the country's modern history.  
'Each section has a special highlight object, for example, Psy's bubblegum pink suit worn in the Gangnam Style music video, the colossal Mirage
Stage sculpture by artist Nam June Paik, costumes from Squid Game, Parasite bathroom, dance
interactive developed together with Google Arts and Culture, a monumental sculpture of G-Dragon
made of photographs by Gwon Osang together with costumes worn by G-Dragon, ATEEZ and aespa.' 
The exhibit truly creates an exciting atmosphere and shows off many areas of popular Korean Culture. Whether a veteran fan or someone with just a passing interest, this exhibition has something for everyone. 
The Exhibit is on until June 2023, and we at UnitedKpop cannot recommend it enough. It's perfect for all fans of Kpop, Kdrama, film, fashion and art! 
You can learn more and book here. 
'Hallyu! The Korean Wave' at the V&A, London, 24 September 2022 – 25 June 2023. Supported by
the Ministry of Culture, Sports and Tourism Republic of Korea, and Genesis, with additional
support from the Bagri Foundation, LG Display, LG Electronics Business Solutions Company, and
Netmarble Healer.B.