Announced on October 3 through their official social media pages. K.Flex has announced its second festival after its previous festival held in Frankfurt in May.
https://twitter.com/i/status/1576890042189873153
It was shortly announced after the festival their plans to bring it over to London as well as in Frankfurt going forward. And after days of teasers, it was confirmed that the festival would be heading to London on November 20.
The festival is set to be held at the O2 with the line-up set to feature WINNER, Pentagon, AB6IX, Younite, VIVIZ, Weekly and Billie.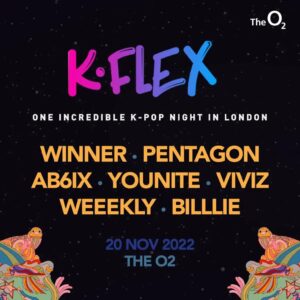 This will be the first K-pop festival since the success of HallyuPopFest and MIK in the summer.
Tickets are available live and going on sale this morning with full details on ticketing available here. And for more updates on K.flex keep up to date on their official Twitter here.