Military style in the world of fashion is not exactly something new, but it is a style that will clearly always hold a firm place as a solid trend in clothing style. Anyone can see from casting a quick look over British High Street shops over any year-long period that Military style will pop up in some shape or form. It is a style that the UK does so very well and it really deserves to be exploited for its full potential. It is incredibly versatile, suiting males and females equally well and I really believe it is a look that absolutely anyone can pull off.
It is one of my personal favourites, simply because adding even one item of it to any outfit will smarten it right up and really make it pop. K-pop fans will know it is a frequent style used in many concepts. Here are a few examples and some suggestions on how you can tailor the look for yourself from British fashion outlets!

CNBlue's main vocalist Yonghwa showed us a very different side of himself for this particular photo shoot. He is not someone who usually sports the 'high fashion' look, usually favouring comfortable and simply smart clothing that he can rock out in freely. However, this style matches him very well and he exudes a tonne of charisma even while just sitting there!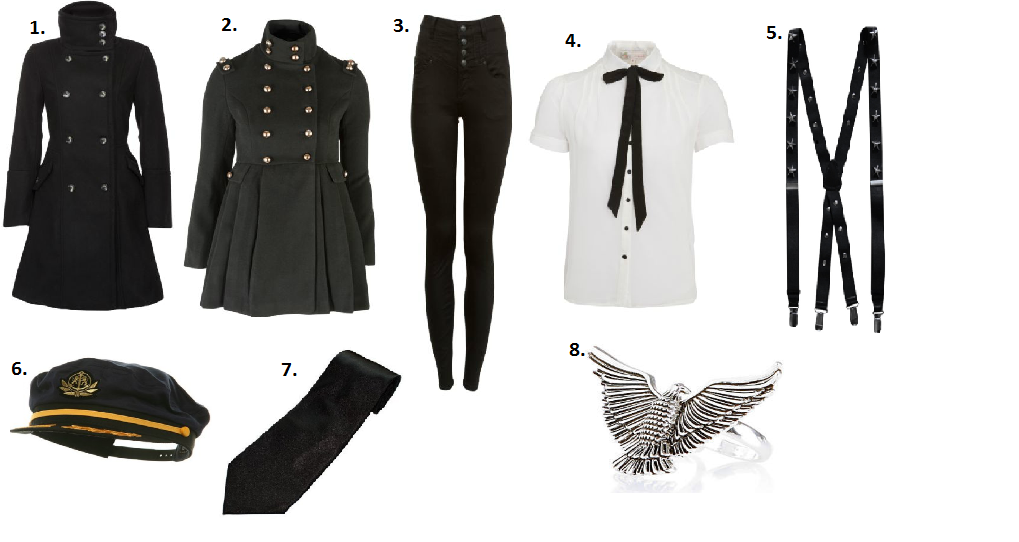 Firetrap Black Double Breasted Melton Coat – New Look: £90
Jumpo Black Military Swing Coat – New Look: £30
32in Black High Waisted Super Soft Skinny Jeans – New Look: £22.99
Cameo Rose White Bow Tie Blouse – New Look: £16.99
Star Stud Braces – attitudeclothing.co.uk: £5.99
Adjustable Captain Hat – Navy Flagship W39S25C Broner – amazon.co.uk: £9.99
Plain coloured Men's Ties (in Black) by SUPGOD – amazon.co.uk: £3.29
Silver Tone Over-sized Eagle Ring – River Island: £8.00
Don't panic! I am not suggesting for a minute that you go around wearing nothing but a bulletproof vest on your top half like 2PM did for the army-inspired performance of "I'll Be Back". While Chansung is looking incredibly sexy here, please do try to focus on the pairing of baggy-legged combat trousers and big black boots! This is obviously a very classic military combination that packs a lot of authenticity in its punch.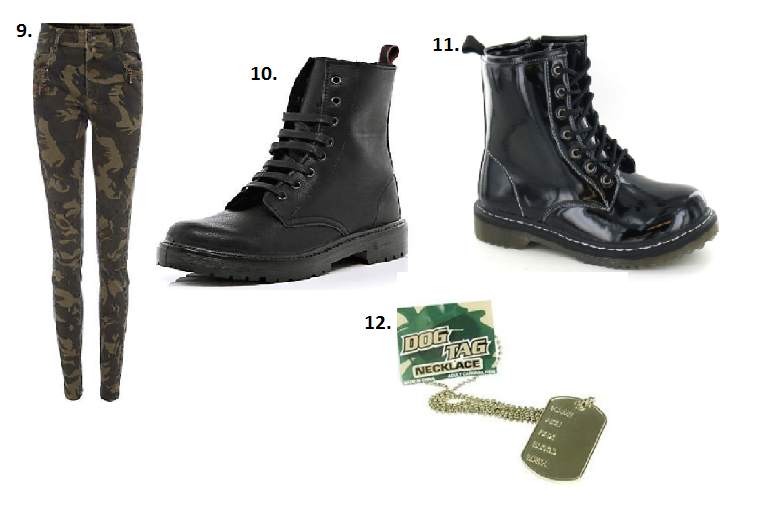 9. Khaki Camo Print Skinny Trousers – River Island: £35.00
10. Black Worker Boots – New Look: £40
11. Black Patent Worker Boot- attitudeclothing.co.uk: £26.99
12. Dog Tag Necklace (Novelty, Fancy Dress) by Home and Leisure Online – amazon.co.uk: £2.45
"Ah!" I hear you say, were you all waiting for this one? SNSD's Navy uniform wear for their "Tell Me" promotions has probably become one of the most iconic K-Pop concepts in recent years and proves that the army isn't just for the boys. It gives of a very dominant, yet feminine vibe and is perfect for any ladies reading that are not fond of venturing too far from girly comforts in their fashion.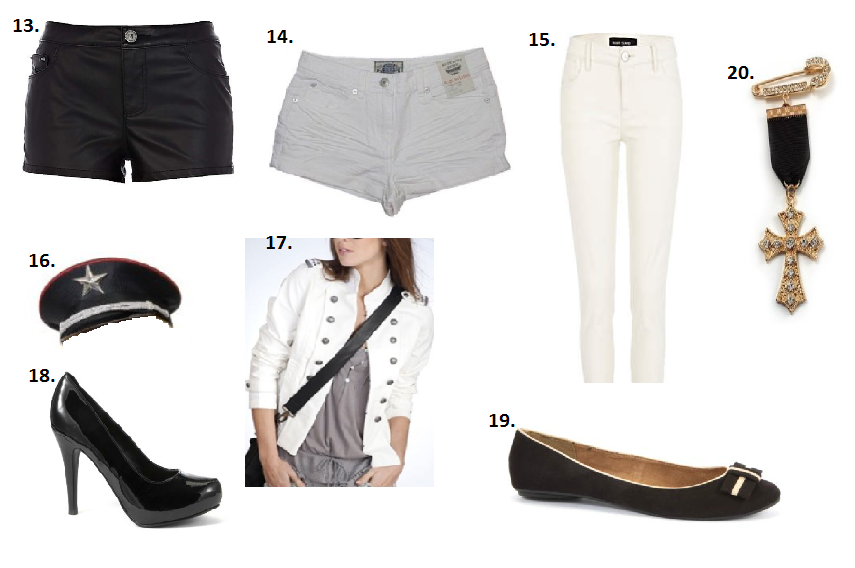 13. Black Leather Look Studded Shorts – River Island: £30.00
14. Women's White Shorts by Love Lola – amazon.co.uk: £15.90
15. White Leather Look Olive Superskinny Jeans – River Island: £45.00
16. Military General Cheryl Style Peaked Hat by Struts Fancy Dress – amazon.co.uk: £17.99
17. Cotton Canvas Military-Style Jacket in White – laredoute.co.uk: £49.00
18. Black Mid-Heel Patent Court Shoes – New Look: £19.99
19. Black Cream Trim Ballet Pumps – New Look: £12.99
20. Medal Style Diamante Cross Charm Brooch (Gold Tone) by Avalaya –amazon.co.uk: £13.50
Being the unashamedly TOP-biased person that I am, I think that BIGBANG's T.O.P is the absolute King of Military style. He had many fans squealing with his chic and eye-popping ensemble for "Bad Boy" released early last year. (What do you mean it was only me squealing? Well, this is awkward…)
Something I adore about K-Pop fashion is that they never take the safe route. Even here TOP sports a ridiculously giant skull necklace over a rather standard military jacket and it makes all the difference. This just shows that you don't have to be boring just because you are dressing smartly, you can use your accessories to spice it up! (The bright blue hair is an optional addition though, of course).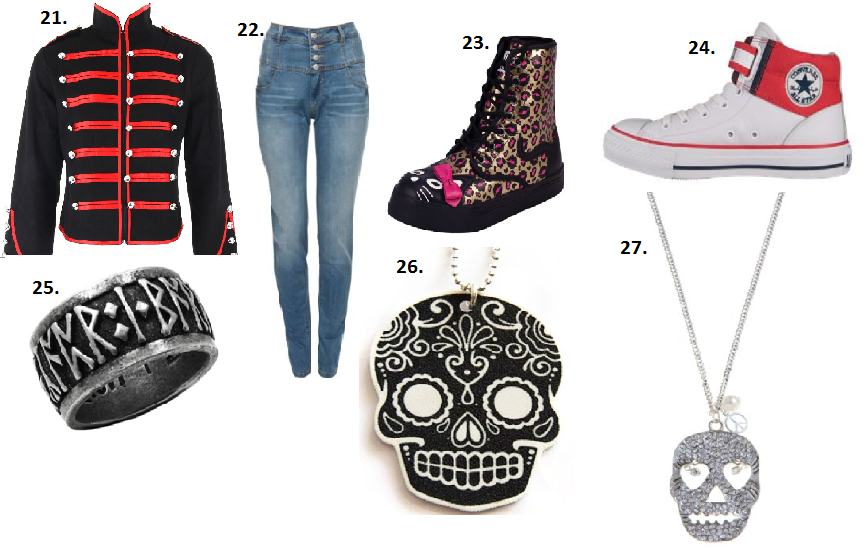 [NB: Item 21 has slightly longer and more extravagant sleeves than shown, I couldn't get a decent screenshot of it, so had to cut some off!]
21. Banned Military Jacket (Black/Red) – bluebanana.com: £39.99
22. 32in Dark Blue High Waisted Shaper Jeans – New Look: £22.99
23. TUK Kiss Leopard Kitty Sneaker Boot – attitudeclothing.co.uk: £74.99
24. Converse Padded Collar 3 Loop Back – footlocker.eu: £29.99
25. Alchemy Metal-Wear Runeband Ring – attitudeclothing.co.uk: £10.99
26. Short and Girly – Black Sugar Skull Necklace – attitudeclothing: £9.99
27. Silver Embellished Skull Pendant Necklace – New Look: £3.00
Some items that the Military style calls for, such as the jackets and big boots can be quite expensive. However, if you are willing to spend the money then you will definitely get the quality.
I have had a particular Military jacket for a few years now and some Doc Marten boots that I put through complete hell on a daily basis and they are still going strong. These items are also, as aforementioned, very versatile so you can really make them last.
[All suggested items are currently available on the official websites of these highstreet chains, so just type them in the search bar to find them! 😀]
[Sources: Google Images, newlook.com, riverisland.com, attitudeclothing.co.uk, amazon.co.uk, footlocker.eu, bluebanana.com, laredoute.co.uk].