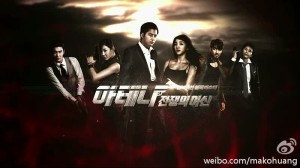 Athena is a spin-off from the popular drama Iris, starring Jung Woo Sung as the leading protagonist Lee Jung Woo.
This espionage drama follows the South Korean President's interest in advancing a nuclear energy program to mark his homeland as the leading country in the global energy race. As a result, a new counter-terrorism agency known as the National Anti-Terror Service/NTS is created. Among the agents is Lee Jung Woo who is growing restless from the mundane routine his work provides. His dull life changes when he encounters Son Hyuk and the shadowy organisation known as Athena.
The good
* Like with Iris, Athena showcases various locations to cover international ground. Japan, Korea, Italy and New Zealand to name some examples.
* The action scenes involving car chases, gun fire and savage hand to hand combat are fantastic.
* Romance is not over the top. Quite a bit of lust seen between two characters, which made their UST rather hot.
* Jung Woo Sung has the same level of charisma as Lee Byung Hun and I could see why he was chosen to be the leading male in this drama. He's caring towards the ladies but can be brutal when he is on the job and shows why he's a skilled agent in NTS.
* Kim Gi Soo and Lee Jung Woo's "bromance" is hilarious. When Gi Soo is in trouble over small matters, Jung Woo has to help him out a lot.
* BoA's cameo in one episode and having Jung Woo as her bodyguard. Lucky girl.
* Choi Siwon – this is the second time I've been introduced to a Kpop idol via a Kdrama. The first being TOP in Iris and now I am greeted with Siwon from Super Junior. I think Siwon is a great actor, able to show Jun Ho's youthful mind compared to Jung Woo's experienced field work nature. Jun Ho has his secrets, much like how Jung Woo's romantic interest Yoon Hye In does.
* Soo Ae and Cha Seung Won have this lovely chemistry together. Hye In fondly calls Son Hyuk Oppa and Son Hyuk's care for her is touching, a complete contrast to how dangerous he is with his enemies. It shows how complex his character is. Hye In also has a complexity of her own.
* I started watching this because of Jung Woo Sung but I also became a fan of Cha Seung Won after remembering he was the main 'hero' in the period film "Blood Rain." Son Hyuk is the kind of villain who often appeals to me in fiction. Complicated and suave.
* TVXQ fans, don't expect Changmin to show up till much later on. I can definitely say he was rather cool in his brief appearance here.
The bad
* Wasted potential in an interesting dynamic between Son Hyuk and Jae Hui. Well, there's always fanfics to fill in that "What if?" gap.
* Changmin's character should be given a background story if he was introduced in earlier episodes. I would have liked to see how he knew Siwon's character from the past.
* Would have liked more background story or extra scenes to show more of Jung Woo and Jae Hui's previous relationship. You only got flashbacks of their old romance before the credits started rolling at the end of the episode.
Overall: It might be down to my slow pace viewing but I found this drama far more disjointed than Iris. It also did not have the same kind of slick storyline movement as its predecessor and I was close to giving up watching completely. The beginning of Athena takes place around the same timeline as Iris where Hyun Jun (only mentioned by name) is on the run from North Korean agents, however you do not really need to watch Iris for the sake of the North Korean agents who pop up briefly.