First up is Central Saint Martins graduate Jackie Lee with her label J.JS Lee. This Seoulite is no stranger to the London Fashion Week programme as it is her third time to feature in the official schedule. Her grey-and-white graduate collection won the coveted Harrods Award in 2010 prompted her to start her own label, which she still humbly regards as her best work so far.  A fairly quiet designer, who was told to speak up more during class, is now climbing up to the top and making some noise in the fashion world.
Jackie first started as a pattern cutter at Kisa London before taking up her MA degree, thus her collections' main points are clean lines and shapes that provide the beautiful structures to a strict colour palette, which is one of the most wearable and sometimes androgynous designs that strut down the catwalk.

For Autumn/Winter 2013 a unique interpretation of the unexpected tribal theme, went on show in a modern and minimalistic chic way only J.JS Lee knows how by stepping away from the cliché's of African prints and citing "nomads and weave" as her main inspiration.
[youtube id="XV-H1OiUGSo"]
The collection features boxy outerwear and tops, high (turtleneck-like) neckline dresses, relaxed knee-length shorts and high-low skirts, which have knitted and woven textures and subtle artisan touches. Rich solid fabrics in white, cream, black, pale blue-ish mint, and dusky pink give a feminine forward-thinking twist to the beautiful silhouettes for the season. Classic loafers were given a playful makeover with fluffy faux-fur and traveller sandals becoming oh-so-chic once more.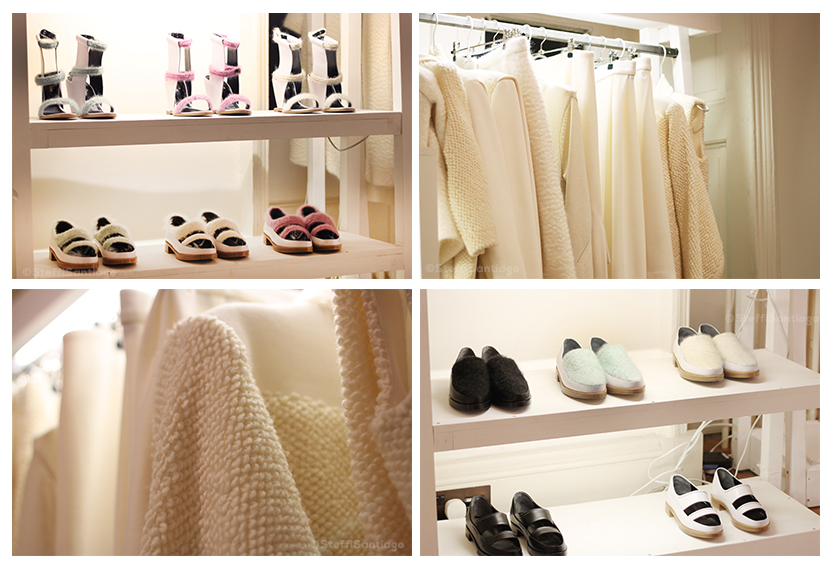 The J. JS Lee aesthetic of minimalistic and chic modernist tailoring does not hop on trend and stays as a modern classic that will last you a lifetime and may be passed down to many generations thereafter without it ever being out of fashion. However, Jackie has stated that she would love to collaborate with someone opposite of her style- maybe one day we will see some crazy prints and unexpected materials and fabrics used in a future collection.
J.JS Lee will be showing at 12pm on the 13 September – Friday at the BFC Courtyard Show Space and you can tune in to a live-stream of the show here.
Jackie Lee leaves us one clue – "Jellyfish". With this little hint, what are you expecting from this collection?

 Supported by the Korean Cultural Centre UK
photos:  © Steffi Santiago, © Jackie Lee / J. JS Lee, © Dorothea Gundtoft