To continue this week's 'Thursday 13', we look at 13 idols with tattoos. While some idols comebacks feature fake tattoos, we list those that have permanently inked their skin. Continue reading to see who made the list!
1)      BIG BANG's G-Dragon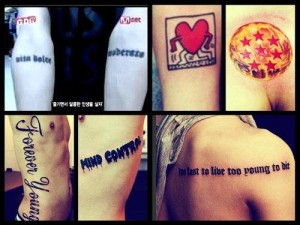 BIGBANG leader GD is an obvious choice, with his plethora of tattoos. From his meaningful quotes to the dragon ball on his shoulder, G-Dragon's tattoos are certainly representative of who he is; stylish and quirky. Not to mention his lyrical skills.
2)      BEAST's Junhyung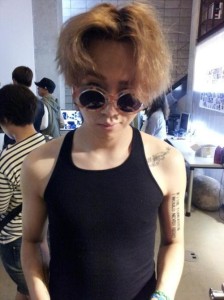 BEAST's Junhyung currently has 3 tattoos. Two on his left side (shoulder and forearm), and the infamous full 'Carpe diem' quote across the inside of his right arm. Or as parodied by Yoseob; 'Carwash self customer is king'.
3)      4minute's Hyuna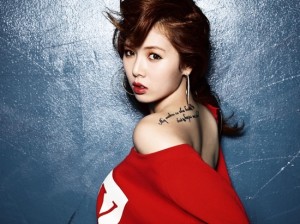 One of the few females in K-pop with a tattoo, Hyuna has a tattoo on the back of her left shoulder which says 'My mother is the heart that keeps me alive'. She has also revealed she has two other tattoos, one on her right inner arm and another on her lower back.
4)      JYJ's Jaejoong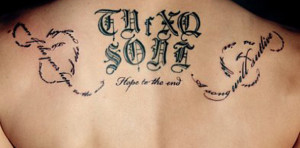 The TVXQ boys' tattoos of their bandname are well known in the K-pop community, to fans and non-fans likewise. Though no longer as five, now JYJ member Jaejoong has kept his tattoos, along with a few newer additions.
5)      EXO's Kris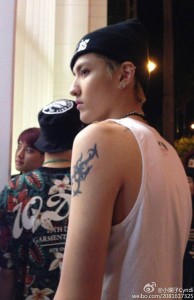 Kris' tattoo was a topic of speculation for a while amongst EXO fans, having caught a glimpse of it during a performance. Now revealed, Kris has a tribal tattoo on his left shoulder.
6)      Jay park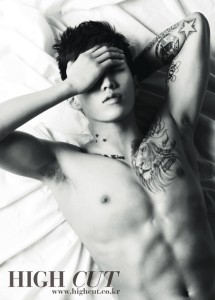 Another obvious choice for our tattooed idols list. Jay Park is likely the most tattooed idol in K-pop, and he takes much pride in being so. He has countless tattoos, with the stars on his neck, the lion on his chest and his tattoo dedicated to Jaywalkerz being most notable.
7)      Kahi
Another tattooed lady in K-pop, Kahi has tattoos on her neck, wrist and lower back. Her neck tattoo says 'Born With Your Blessed', whilst her wrists both bear stars.
8)      BoA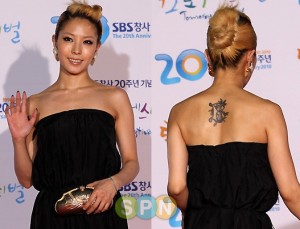 Legendary SM soloist BoA has a large decorated B between her shoulders – which we assume to mean BoA. Simple yet pretty.
9)      Se7en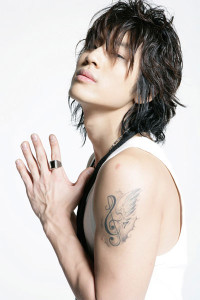 Though recently under fire for military antics, Se7en's shoulder is tattooed with a pretty musical note and an angel's wing. Ironically, Se7en also has a song called Tattoo.
10)   B.A.P's Yongguk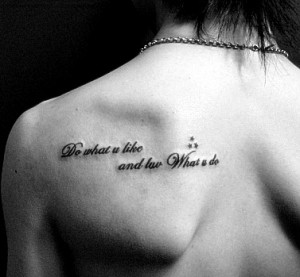 B.A.P's Bang Yongguk is known for spouting off inspirational quotes, and it so happens that he also has one tattooed on his back. 'Do what u like and luv what u do' rings reminiscent of the Confucius quote "Choose a job you love, and you will never have to work a day in your life."
11)   BIG BANG's Taeyang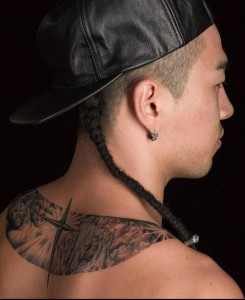 Taeyang has gone tattoo crazy in recent times, going from zero to decking out his neck and side with ink. His neck depicts a biblical scene, whilst his side sports a large cross. Like member GD, his tattoos represent who he is, but as a religious person.
12)   f(x)'s Amber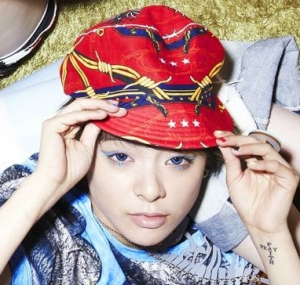 The last lady on our list, f(x)'s Amber's wrist bears the words 'PRAY' and 'FAITH' in the shape of a cross. Like BIGBANG's Taeyang, Amber has also chosen to represent her faith in her tattoo.
13)   BLOCK B's Zico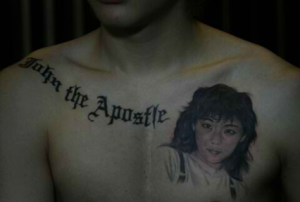 Finally we come to the end of our list with Block B's leader Zico. Zico pays homage to his family with a portrait of his Mother, along with his name of baptism.
—
Which ones are your favourites? Any idols not on the list whose tattoos you love? Comment below!