D-UNIT is a girl group that debuted back in 2012 with a very interesting premise – there would be a continuous addition and subtraction of members throughout the group's career. While this kind of rotation system is quite popular among some Japanese artists such as Morning Musume, and AKB48, it is quite unusual for the K-Pop scene.
The group originally debuted with the track "I'm Missin' You" – for this Style Steal particularly though, we will be focusing on their second MV release "LUV ME". Though the group now only consists of Ram and Zin, "LUV ME" was released with additional member UJin. You can take a look at the MV below:
The girls are known for their quite tough and slightly tomboy-ish image. They frequently wear black attire with a bold style. For their "LUV ME" concept specifically, a lot of leather is featured. This look is one that can transcend gender boundaries in that both men and women can easily get what they need in order to mimic it.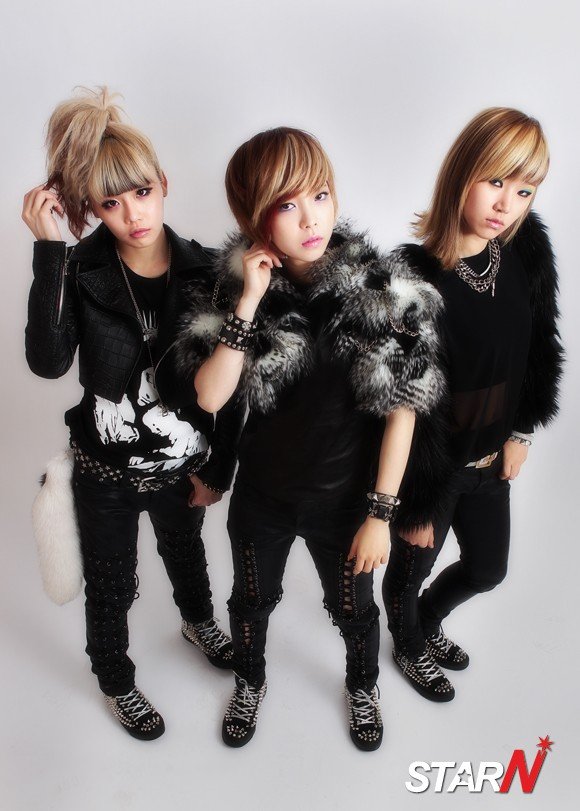 The main themes here are incredibly simple, black, leather, faux fur and studs. If you can get your hands on any of this, then you are pretty much there! As has been said in previous UKP fashion posts, leather jackets are not cheap. Unfortunately, if you want a good quality jacket, you need to be prepared to make an investment. Faux leather/leather-look jackets are often marginally cheaper though, and might be the preferred choice for some of you for ethical reasons anyway.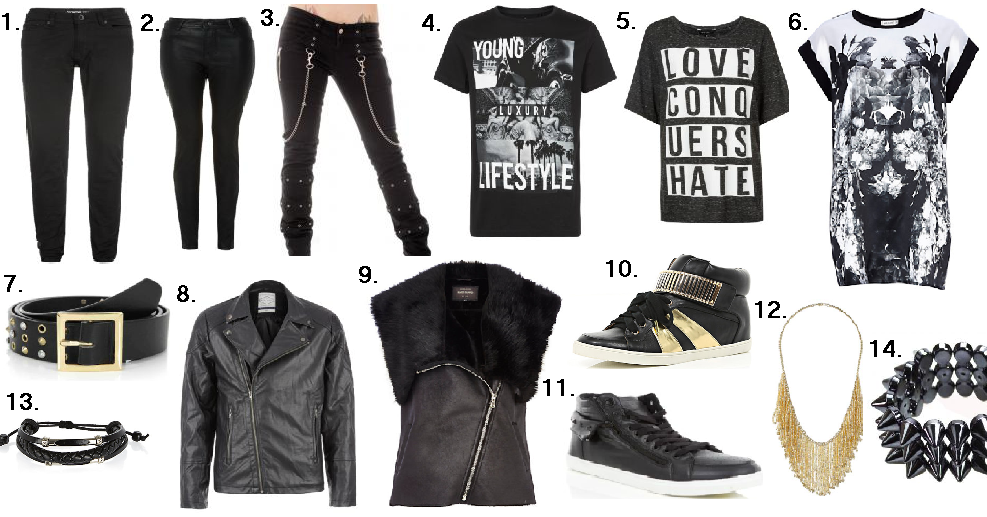 1.       Men's Black Skinny Jeans – New Look: £17.99
2.       Women's 34in Black Leather Look Skinny Trousers – New Look: £24.99
3.       Jist Chain Women's Jeans – attitudeclothing.co.uk: £33.99
4.       Men's Black Young Luxury Lifestyle Photographic T-Shirt – New Look: £9.99
5.       Women's Black Love Conquers Hate T-Shirt – New Look: £14.99
6.       Women's Black Floral Print Woven Front T-shirt – River Island: £20
7.       Women's Black and Gold Stud Eyelet Belt – New Look: £4.99
8.       Men's Black Leather-Look Asymmetric Biker Jacket – New Look: £39.99
9.       Women's Black Faux Fur Lined Gilet – River Island: £60
10.   [Limited Edition]  Women's Black Metallic Trim Hidden Wedge High Tops – River Island: £45
11.   Men's Black Studded Hi Tops – New Look: £12
12.   Women's Gold Bead Tassel Necklace – Topshop: £15
13.   Men's Black Medley Woven Leather Bracelets – River Island: £10

14.   Women's Poizen Industries Glam Bracelet (Black) – attitudeclothing.co.uk: £3.99
Of course, plain black converse trainers would also work really well with this look if you haven't got the money to be buying new shoes right now, but make sure you get the metal/stud look (or at the very least, some gold or white detail) in there through your other items. This will help break the outfit up a little and prevent you from looking like a ninja!
Statement jewellery is also shown here, so get out anything chunky, gold/silver or spiked to finish the look off well.
N.B. – It is best to look for all the suggested items in this article in the online shops as opposed to the physical stores, as many items are only available on the websites!
What do you think of this look or this article?
Will you be trying this one out for yourself?
Please let us know in the comment section!
[Image source: kpop-mangas.centerblog.net. Other Sources: New Look Website, attitudeclothing.co.uk, River Island Website, Topshop Website].