Orange Caramel debuted back in 2010 and are a sub-unit of the girl group After School. The group is made up of members Nana, Raina and Lizzy. They are known for a concept called 'Candy Culture', which means that they are always very cute and colourful with their style. The girls have made a comeback with their third single this month called 'Catallena'. As with many of their past songs, this is a very bouncy dance number with a very prominent disco vibe. This particular song is actually inspired by a Punjabi folk song called 'Jutti Meri'. The video is incredibly surreal, consisting of the girls as sushi pieces on a rotating buffet. As you can imagine, the fashion is equally unusual. If you have not seen the MV it yet, watch it below:
As you can see, the three main themes of this fashion style are polka dots, lace and bows. These are well-known in the world of female clothing but, rather surprisingly, there are quite a few polka-dotted pieces available for men on the British high street too. The suggestions given in this article are almost a bold as what we are shown in the MV, but if you wanted to tone it down a little, just a polka dot shirt would work of course!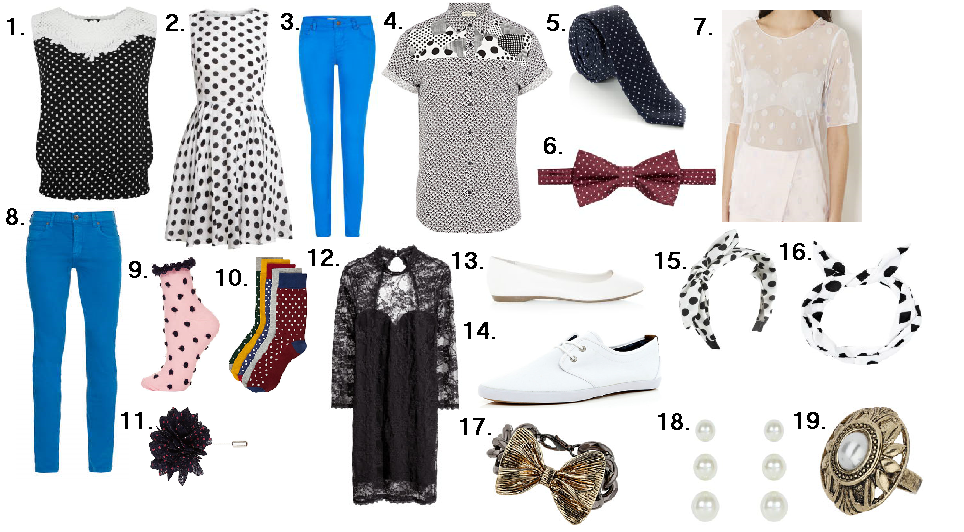 Women's Black Crochet Panel Polka Dot Bubblehem Top – New Look: £14.99
Women's AX Paris White Polka Dot Skater Dress – New Look: £10
Women's Blue Skinny Jeans – New Look: £19.99
Men's Black and white fan print colour block shirt – River Island: £12
Navy Polka Dot Classic Tie – New Look: £6.99
Burgundy Polka Dot Bow Tie – New Look: £5.99
White Iridescent Spot Tee – Topshop: £18
Dr. Denim Bright Blue Snap Skinny Jeans – Topman: £50
Pink Risen Polka Dot Lace Trim Socks – Topshop: £3.50
Men's Mixed Polka Dot Ankle Socks Pack – River Island: £12
Men's Navy Polka Dot Flower Lapel Pin – River Island: £5
Lace Dress – H&M: £14.99
White Pointed Plain Pumps – New Look: £12.99
Men's White Lace Up Plimsolls – River Island: £18
Monochrome Polka Dot Bow Alice Band [Also available in Black and Red] – New Look: £2.99
Monochrome Shapes Wire Bow Headband – New Look: £3.99
Bow Chain Bracelet – Topshop: £3.50
3 Pack Cream Pearl Stud Earrings – New Look: £3.99
Engraved Pearl Ring – Topshop: £7.50
There is also quite a 70s flavour to this concept, which is to be expected with the disco sound of the song. The bright blue jeans might not be to everyone's taste, but it is certainly a fun concept for the bravest amongst us to try. Anything is better than those mermaid tails, right?!
Once again, the group show their great sense of humour as they continue the fish theme through their inclusion of pearl jewellery and crazy, fish bone hair fascinators. Whether you want to pair a cute dress with lace layering or just rock a polka dot top, this style is certainly bold and unusual – just like Orange Caramel themselves!
N.B – If you like any of the suggested items, please search for them on the respective online stores!
Do you like/dislike this style?
What do you think of these [Style Steal] articles?
Please let us know!
[Sources: New Look website, River Island website, Topshop website, Topman website, H&M UK website].