Welcome back to another Travel Thursday!
Today, I'll tell you a bit about one of the restaurants I was lucky enough to visit while in Seoul: D'asti Plate!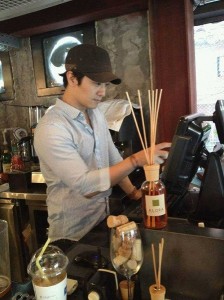 This Italian gem is owned by none other than Claziquai's Alex Chu. The 34-year-old bought the place, after a lead role in popular K-Drama "Pasta", which revolves around the employees of a popular Italian restaurant in Seoul. Alex himself had a job working in a restaurant in Canada before debut, and it has been a long term dream of his to open his own place.
The restaurant is a small scale place off the main road in the Shinsadong area, serving authentic Italian cuisine along with some fine selections in wine. The recipes themselves are said to have been created by the Alex, and he reportedly frequently spends time in the kitchen cooking or taking care of the restaurant.
My company and I had known about D'Asti Plate before going to Seoul, and had talked about checking it out, but had not made any plans for it when he happened upon it one day while walking around the Garosugil shopping street. As it was rather late, and in the middle of the week, the restaurant had only one table taken, and we were welcomed inside by a lovely young waitress. We were shown to a table looking outside into the streets, and the entire experience that followed was calm, relaxing and absolutely orgasmic in the food department.
Let me just tell you right away: I enjoy my pasta. I love Italian food in general, but to me few things beat a good Pasta Carbonara. And when I had my first taste after that plate was set in front of me – I only wished I wasn't as small as I am, because if I could fit it, I promise I'd have eaten the entire restaurant at that point. I don't think I'm far from the truth in saying I had starry eyes – and not because of Alex!
Lush creamy sauce and just enough flavour made this very close to the best food I had the pleasure of eating during my 3 weeks in Seoul. My friends tried the Pizza, and it did not disappoint. A nice crispy crust and obviously home made tomato sauce, with a lovely rocket salad on top.
The interior is rustic, with a bar lining the room and a view into the kitchen through an open door. It creates a nice homely and relaxed atmosphere, while the service and food still makes you feel as though you have certainly entered one of the finer restaurants in town.
The prices were nothing less than what you'd expect from this end of Seoul. Shinsadong and the Garosugil area is certainly where the high-enders and celebrities roam, and the prices are accordingly. However, the food is well worth the price, and I would highly recommend D'Asti Plate for any celebration, or even just to spoil yourself a little…. you deserve it!
Who knows, you might get lucky and be served by this guy: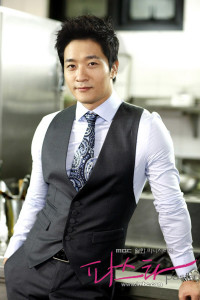 Don't mind if I do…..
Check out Sung Si Kyung and actor Joo Won when they visited D'Asti Plate during one episode of 2 Days 1 Night above!
A wonderful choice if you are looking for something other than Korean food while making your way through Seoul.
Only minus is Location - a bit off the main road you will either be searching for a while... or simply stumble upon it like we did!
User Ratings (

0

Votes)