Our latest resource review this time focuses on Sweet and Tasty TV which you may also know as Professor Oh and Friends.

Sweet and Tasty TV is run by one person named Professor Oh. She introduces the readers and viewers an entertaining approach to Korean culture and the Korean language. How so? Through the power of genius video-making and a variety of costumes, Professor Oh plays numerous characters during the lessons which makes the learning more fun and hilarious. I particularly like how she shows you how to write Hangul slowly as well. It's always useful to see how a character is written.
There are two culture shows which you could take note of when you go to Professor Oh's Youtube channel – KWOW (pronounced K-WOW) which is "Korean Word Of The Week" that covers key Korean words. In the case of the current season of KWOW it is a vlog tour around Korea. The other culture show is Food Tub Korea which is perfect if you're a foodie like myself.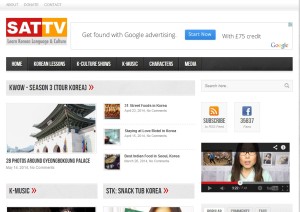 In addition to the brilliant videos, there are also plenty of articles on the website that cover the important areas for tourists such as travel, food (e.g. the post on where to find the best Indian food in Korea) and dissecting Kpop songs from their lyrics and their MVs.
I think this is what makes Sweet And Tasty TV a joy to explore as a resource. Because it doesn't just cover the necessities of typical travel and language sites, it brings a lot of light-heartedness in one's learning through some of the pop culture references and the use of lesson worksheets that are available for download.
Much like my other recommended website Seoulistic, Sweet and Tasty TV is a fantastic resource for all your needs when it comes to learning about the Korean language and the rich culture. The layout is simple so the website loads fast and it is definitely easy to navigate to the video playlists and general articles available to read. Just use the headers at the top of the site to work your way round.
Brilliant and user-friendly
User Ratings (

0

Votes)