Shopping in Seoul can be pretty hectic; the masses of other shoppers swarm the streets of the most popular shopping areas… and unfortunately, there isn't much you can do to get away from it. However, there are a number of different areas you can visit depending on what you're looking for and where you'd like to go!
EDAE
Situated just outside Ehwa Women's University, this maze of streets is lined wall to wall with cheap clothes. If you're on a budget (or even if you're not!) Edae is a fantastic place to shop, with most items marked up at ₩5000 (£3) and ₩10000 (£6) – nothing more than £6 here! Whilst the obvious simple and basic items can be found here, you can also find more unusual clothing and so…many…shoes. You're also bound to see the same clothes sold in more than one place and those same clothes worn by a number people – if something's trendy, everyone wants it! There's also a cluster of cosmetic stores around here too. But if you're after cute style clothes, Edae is the place to be.
DIRECTIONS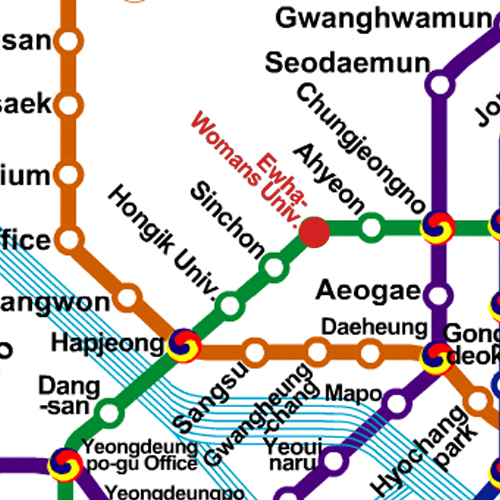 Get on the green subway line to Ehwa Womens University/Edae/이대. Regardless of which exit you come out at, you'll see the shopping area. The station is just 2 stops from Hongdae, too – another shopping hotspot!
MYEONGDONG
We're talking your Oxford Street of London, your general high street, albeit more spread over a few streets. Myeongdong is BUSY. The streets are probably more narrow than they could be, and this makes shopping here quite a battle. Having said that, you'll find what you want here with there being a lot of global/major shops (UNIQLO, SPAO, at least one of every Korean cosmetic store, if not more). There are a number of places  to eat at around here, including the famous Myeongdong Gyoja. The Myeongdong branch of the Shinsegae department store can be found by walking to the end of the shops and crossing the road.
DIRECTIONS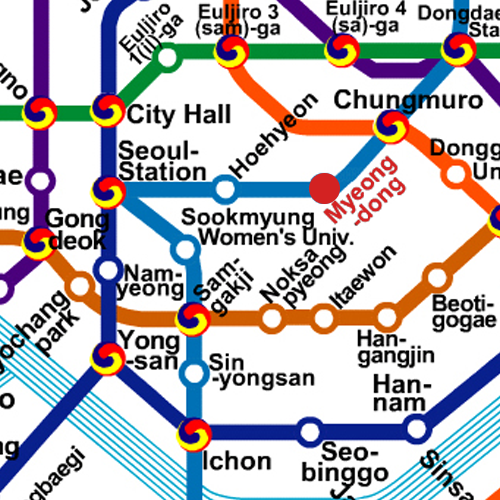 Take the blue line to Myeongdong station to bring you out right by the shops, you may also enjoy the shopping centre in the station itself! Exits 5-8 will take you out to the side Myeongdong is on. Another quick subway hop and you can find yourself at the center of Seoul – Seoul Station – or Itaewon, touted to be the 'foreigner zone', which has it's own high street for shopping. 
DONGDAEMUN
Five glorious buildings of clothes, clothes, and some more clothes. And even more clothes. Dongdaemun is a shoppers paradise; you could spend an entire day here just shopping. While the convenience of not having far to go between stores is great, you can find many of the clothes here for cheaper prices at Edae shops and in subway stations.
DIRECTIONS
You can get to Dongdaemun station via the Line 4 (blue) or Line 1 (dark blue). It's only 3 stops north of Myeongdong on Line 4 (the blue line), so you could easily visit both in one day for a shopping extravaganza – provided you don't get lost in all the clothes!
GANGNAM/GAROSU-GIL
If high-end brands and luxury goods are what you're looking for, Gangnam is your shopping haven. Here you'll find the most expensive global brands and some lesser known – but still expensive – Korean shops. Don't get your hopes up about a plethora of dancing PSY lookalikes, though. The youths of Gangnam are stereotyped to be spoiled rich kids, and the adults not much better but whilst everyone in Gangnam definitely looks loaded, people are very helpful if you get lost. You may also be a little overwhelmed by the plastic surgery adverts in Gangnam – there's even a whole street of clinics! 
DIRECTIONS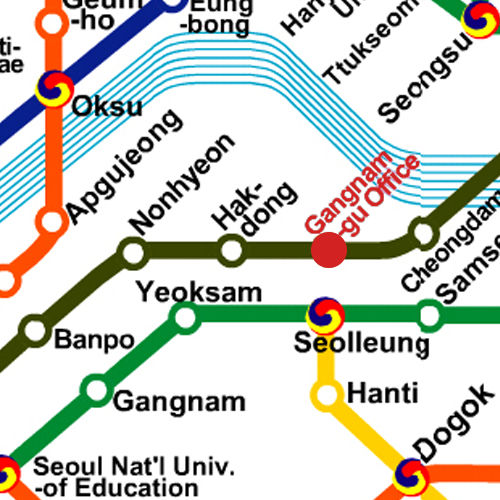 The station you want is Gangnam-gu Office, reachable by subway Line 7 (dark green). It's also not far from central Gangnam and Apgujeong. A little further out is Jamsil on Line 2 (green), but may be worth the trek for Lotte World!
INSADONG
You won't find so many clothes here but you can find many arts and crafts type shops and more shops selling traditional Korean goods and clothes. Not forgetting all your favourite Korean cosmetic stores, again. The multi-storey coffee shops around here offer quiet and relaxation, a world away from Seoul's packed streets. This area can be busy but the tempo feels a bit slower and the overall area has a calm atmosphere.
DIRECTIONS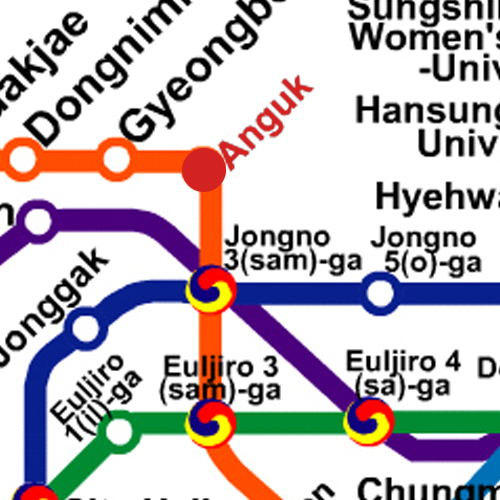 Insadong can be reached by heading to Anguk station on the orange line and following the street signs. You can also get to Insadong from Jongno (3-ga) station but this is further away and not as obvious. However, if you're in the area, Insadong is only a short walk.
Your Seoul Shopping Guide is complete! Each district has its own feel and flavour, so if you feel like heading to more than one, go for it!
Anywhere else you like to shop in Seoul? Let us know in the comments below 🙂