Welcome back to Fun Story OTW! This week features a rather quirky and talented girl group with a comeback you wont want to miss.
MAMAMOO hit stages once again with their second mini-album and hilariously entertaining title song 'Um, Ah, Oh, Yeah' after releasing a series of wacky teasers promoting the crazy music video released 18th June. Being considered as one of the best groups to debut in 2014, the talented girls of MAMAMOO do not disappoint.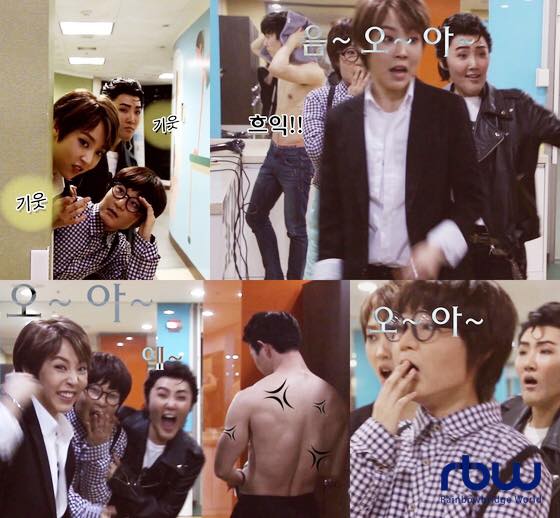 Earlier this month, MAMAMOO released a short teaser promoting the video entitled 'Episode in Sauna' where three of the four girls – Hwasa, Hyeein, and Moonbyul are seen disguised almost unrecognisably as men, and are planning together to sneak in the men's changing locker room.The girls pass men around the locker room while exclaiming 'Um!, Oh!, Ah!, Yeah!' to emphasise their title song upon seeing the men change, unknown to them that they are really girls and MAMAMOO members.
Check out the funny teaser below:
If you liked this, the music video is even better. With the same three crossdressed members and the vocal member Solar all roleplaying different personas, the girls' antics are up to all kinds of crazy mayhem with each other as they tease and playfully fight together as each member's 'love' interest is each other! The crazy music video as well the member's talented vocals proves the song to be just as amusing and fun as its anticipating teasers.
Check it out below!
The girls also surprised fans with a 'Bathroom lipsync version' to which the members are seen playing around with each other while singing to their song in a quirky manner. Check it out here:
If that didn't entertain viewers, the girls released a dance practise or performance version, where the girls performed their song dressed in their crossdressed outfits! Check it out:
What do you think of 'Umm, Oh, Ah, Yeah?'
What do you think of the music video?
Let us know in the comments!
Until next week for another fun story!