KARA member Gu Hara debuted as a soloist last month, and we are taking on her sweet MV for 'Choco Chip Cookies' (featuring Giriboy) for this edition of 'Get the Look'!
Hara has been a prominent member of the girl group KARA since their beginning, so it might be somewhat unsurprising to fans that she is now testing the water as a solo artist. Here is her MV for 'Choco Chip Cookies':
As the sugary title suggests, the concept for this MV is very sweet and girly. Hara wears mainly pastel colours, with shades of pink often making an appearance. The look is very summery, with loose fitting shirts, denim shorts and swimwear.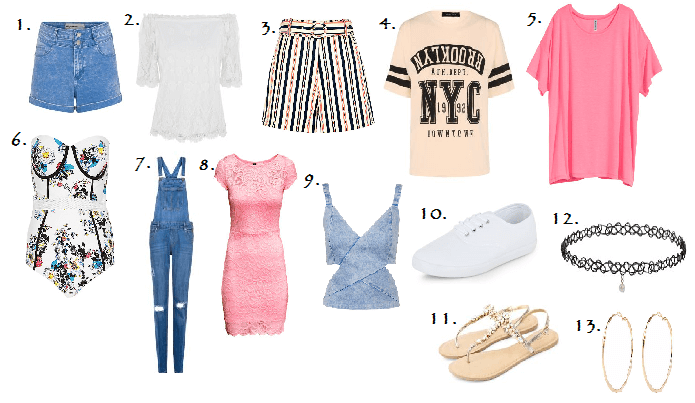 1) Pale Blue Denim High Waisted Roll Hem Shorts – New Look: £11
2) Parisian White Embroidered Bardot Neck Top – New Look: £11
3) Cream Stripe Belted High Waisted Shorts – River Island: £32
4) Orange Brooklyn Baseball T-Shirt – New Look: £6
5) Oversized top [in Neon Pink]– H&M UK: £4
6) White Floral Print Mesh Insert Swimsuit – River Island: £17
7) Navy Busted Knee Full Length Dungarees – New Look: £26.99
8) Lace Dress [in Pink]– H&M UK: £19.99
9) Light Denim Crop Top by WYLDR – Topshop: £28
10) White Basic Lace Up Plimsolls – New Look: £6.99
11) Gold Leather Floral Gem T-Bar Strap Sandals – New Look: £16
12) Pearl Drop Tattoo Choker – Topshop: £6.50
13) Gold Tone Medium Flat Bottom Hoop Earrings – River Island: £5
This is a great look for those of us who are about to go off on their summer holiday and chill out somewhere hot. It is a very feminine look, but manages to not come across as juvenile. So hopefully you won't feel silly wearing the more girly and cute pieces.
Hara finishes off the look with an ever popular 90s-style choker necklace and hoop earrings. This is also a look that with go well with both sandals and trainers.
A few of the high street shops are having sales right now, so be sure to get in quick is you would like to buy some last minute summer outfits!
-| Interested in any of the suggested items? Be sure to search for them in their respective online stores! |-
[Sources: New Look Website, River Island Website, H&M UK Website, Topshop Website].