With October 31st fast approaching, we have a 'Get the Look Unisex Halloween Special'! Yes, it's time to get spooky with some fashion inspiration from a selection of creepy K-Pop MVs!

The 3 music videos we are drawing our inspiration from are:
Sunmi 'Full Moon'

Narsha 'Bbi Ri Bba Bba'

VIXX 'VOODOO DOLL'

Hopefully, you will agree that all these MVs showcase some excellent gothic-style fashion that helps encapsulate the spooky and gruesome ethos of Halloween. Incidentally, gothic romance is also a big trend for this Autumn/Winter, so why not embrace your darker side and get in on the act?!
SEE ALSO: [Song of the Week] Halloween Special: Part One
In Sunmi's beautiful vampiric concept for 'Full Moon', we see her show off various lace ensembles. Lace is a great way to show off a very feminine, sexy and risqué style. It is something deceptively revealing, as many lace outfits tactfully cover you up whilst still showing hints of flesh. It is easy to see it as something that is reserved for women with 'perfect' figures and bucket-loads of confidence, however, you can likely find something lace that you will be comfortable in no matter of your size, body shape and confidence level. Part of the seductiveness of the fabric is its ability to allude to showing skin without actually doing so.
Boohoo.com in particular have a lot of lace items at very affordable prices. I personally have a black lace dress from the outlet that I reserve for more formal events. It has lasted me a few years already and I feel very classy and feminine when I wear it.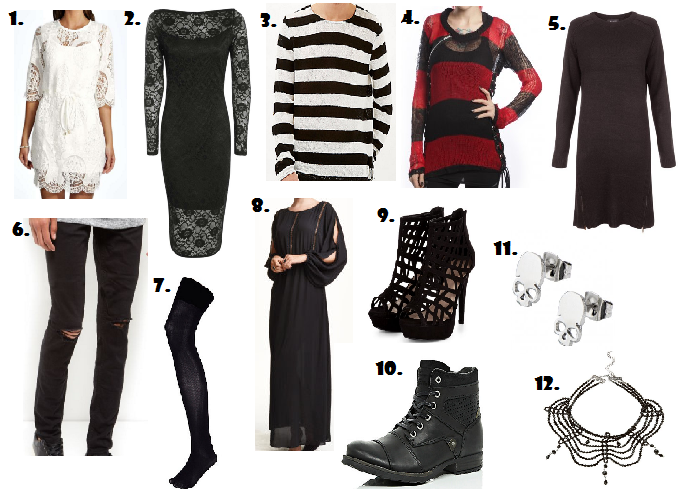 Boutique Ria Lace Skater Dress [White] – boohoo.com: £12
Clara Lace Slash Neck Midi Dress – boohoo.com: £20
Men's Black Stripe Zip Side Stepped Hem Jumper – River Island: £8
Heartless Miss Krueger Top – attitudeclothing.co.uk: £25.99
Black Ribbed Zip Hem Tunic Jumper Dress – New Look: £22.99
Men's Black Ripped Knee Skinny Jeans – New Look: £19.99
Pretty Polly Black Ribbed Over the Knee Socks – River Island: £7
Black Maxi Dress with Hemstitching – H&M UK: £39.99
Black Cutout Peeptoe Platform Heels – New Look: £34.99
Men's Black Leather Military Boots – River Island: £56
Inox Jewelry Skull Cut Out Stud Earrings – attitudeclothing.co.uk: £4.99
Black Beaded Choker – New Look: £12.99
In Narsha's very unusual 'Bbi Ri Bba Bba', there is a reference to horror film 'Nightmare of Elm Street''s character Freddy Krueger with the inclusion of red and black horizontally striped jumpers (no, we are not considering Beano's 'Dennis the Menace' right now – he's not scary!). Red and black or white and black stripes work really well with this style, plus, it is sure to keep you warm!
In VIXX's quite gory MV, we see the members sporting mainly black and grey clothing in keeping with the voodoo concept's very dark feel. A lot of their clothing is also quite ravaged, and as we wouldn't advise you to take a pair of scissors to your clothing unless you were very confident in your snipping skills, a pair of already ripped jeans is a way to instantly achieve the raggedy and cool style.
SEE ALSO: [PLAYLIST] Creepy K-Pop Concepts
To complete the look, you could go for skull or cross accessories, maybe even a choker and some chunky silver rings or bracelets. Black, statement high heels or big black boots would also finish this look off beautifully.
So, if you are too old to go out trick or treating (curse you, adulthood!) but you still want to embrace that Halloween feeling, why not try out these looks for yourself? It may sound cliché, but the real key to a look like this is confidence, so don't be afraid to push the boat out and go bold with your dark and creepy fashion!
Let us know if this is a look that you would like to try out!
|| If you would like any of the suggested items, you can find them in the respective online stores! ||
[Sources: boohoo.com, River Island Website, attitudeclothing.co.uk, New Look Website, H&M UK Website].