This week's Hot Picks bring us two impressive debuts, and a beautiful wedding. Why not check out our favourite stories on the poster below, and if you have the time you can read on to find everything you'd need to know about our Hot Picks!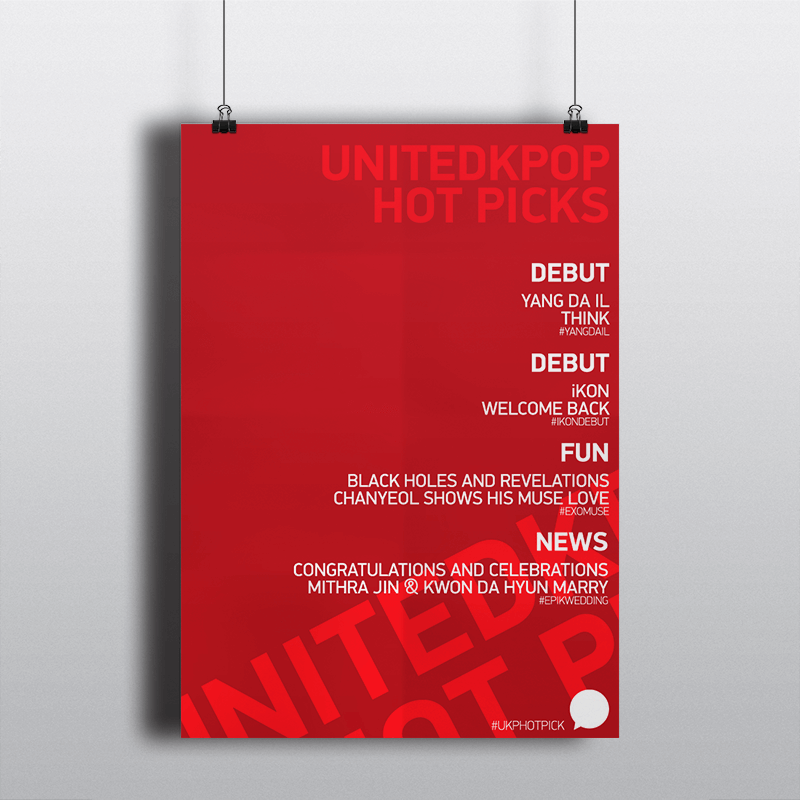 DEBUT: Yang Da Il – Think
#YangDaIl
BrandNew Music have made quite the name for themselves with their R&B artists, such as PHANTOM's Sanchez, and soloists Bumkey and Taewan aka C-LUV.
Their latest debut comes from soloist Yang Da Il, and he may just be one of the best vocalists to have come from the company. A music and performance student at the Seoul Institute of the Arts, Yang Da Il was found through company auditions this time last year. Twenty-two is arguably a little old to become a company trainee but from his first appearance at BrandNew Live shows (singing Bruno Mars' When I Was Your Man) to his debut release this week his hard work is obvious.
This is a debut not to miss!
DEBUT: iKON – Welcome Back
#iKONDebut
iKON have released the first half of their debut album, with the lead track Rhythm Ta. Many believe it has fallen short of expectations, but there are still a whole host of tracks to come in the second half of their debut, so maybe we should reserve judgement.
Rhythm Ta sees Bobby take a pop at idols, (maybe he needs reminding he's debuting in an idol group, at YG, a company noted for its idols),  in lyrics written by Bobby and B.I.
One plus is that this EP shows a possible promising future for B.I as a YG composer. Rhythm Ta has all the makings of an impressive Hip Pop track, it's just missing a little something, maybe as he grows as an artist B.I's self-written tracks will find that 'something' that makes him stand out amongst the K(hip)pop crowd.
FUN: EXO's Chanyeol shows his Muse love
#EXOMuse
UK rock band Muse played the Olympic Gymnastic Arena in Seoul last week (30th September) for their Drones World Tour. EXO's Park Chanyeol showed his love for the group on his Instagram, as he posed for a photo outside the venue, his outfit complete with a Muse hoodie. Other famous Korean fans of Muse include g.o.d's Son Ho Young; CL; and Nell.

NEWS: Mithra Jin & Kwon Da Hyun marry
#EpikWedding
Epik High's Mithra Jin and actress Kwon Da Hyun tied the knot on October 2nd. Guests included Tablo and DJ Tukutz (of course) as well as YG artists Lee Hi, Akdong Musician, and 2NE1's Dara; and long time Epik High friends such as Younha & Super Junior's Kim Heechul.
Epik High's schedule is currently full, appearing at iKON's debut showcase the day after the wedding, and tour dates lined up this month, so the newlyweds will be taking their honeymoon at the end of October.
——–
You can use the hashtag #UKPHotPick to join in our conversation about this week's hottest topics, or use one of the topic hashtags to share your thoughts on our favourite stories.