Dynamic Duo's Choiza and Gaeko have just released their MV for their single 'Jam' from their new album 'Grand Carnival' on Youtube and guess which major K-Pop group appears parodied in the video? The boys from Big Bang!
Although Choiza and Gaeko appear in bee costumes through most of the video, there is a part in which they dress up as G-Dragon, Taeyang, T.O.P and Daesung (all with bee tails, of course) and even convincingly imitate their mannerisms.
For those who know Big Bang fairly well, the impersonations are completely unmistakeable, with fake Daesung sporting his latest hair style, a long fringe that covers his eyes, Taeyang in his iconic blonde braids and G-Dragon with the looks from 'Fantastic Baby', for example.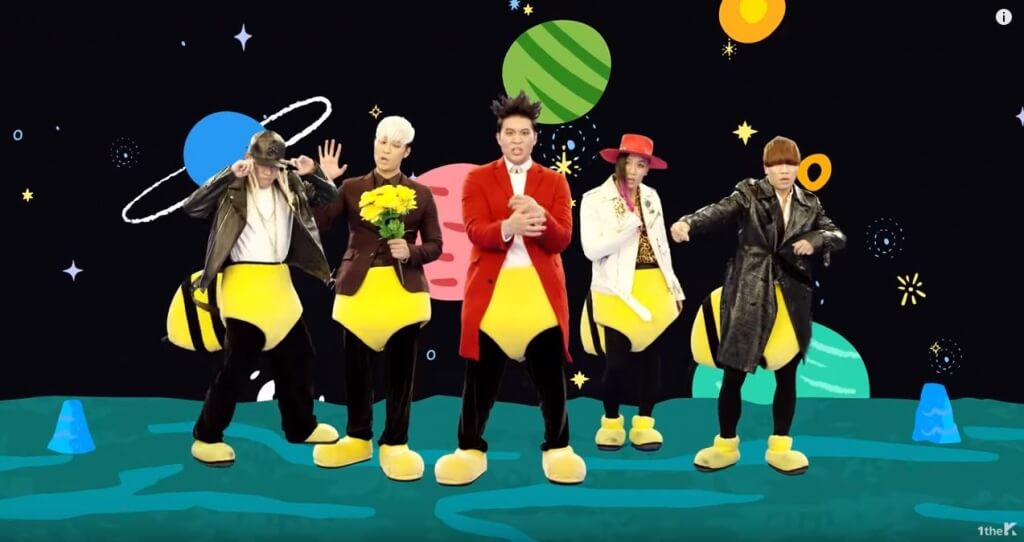 The lyrics also refer to the group directly, in particular these lines:
"Now I'm looking at you
The sun's (Taeyang) far
We're feeling like we're on top (T.O.P)
Run the night well, we're in for a huge win (Daesung)
My heart breathes fire like a dragon dragon (G-Dragon)
Tame me and grab victory (Seungri)
Our feelings for each other grow and blow, a big bang"
During a recent press conference the duo explained why they parodied Big Bang, mentioning that it was 'out of respect' for the group. As Choiza put it, 'We like them so much that we parodied them. Honestly, we do not resemble them at all even though we parodied them, but since they are such famous friends, [people]probably noticed.  I think Big Bang would have had fun watching it.'
Watch the video below and tell us what you think of it! Was the parody on spot or not?