This week's Hot Picks review takes a look at some of the best mvs released in Korea this week. We've already looked at Zico's Eureka, but what other gems were revealed?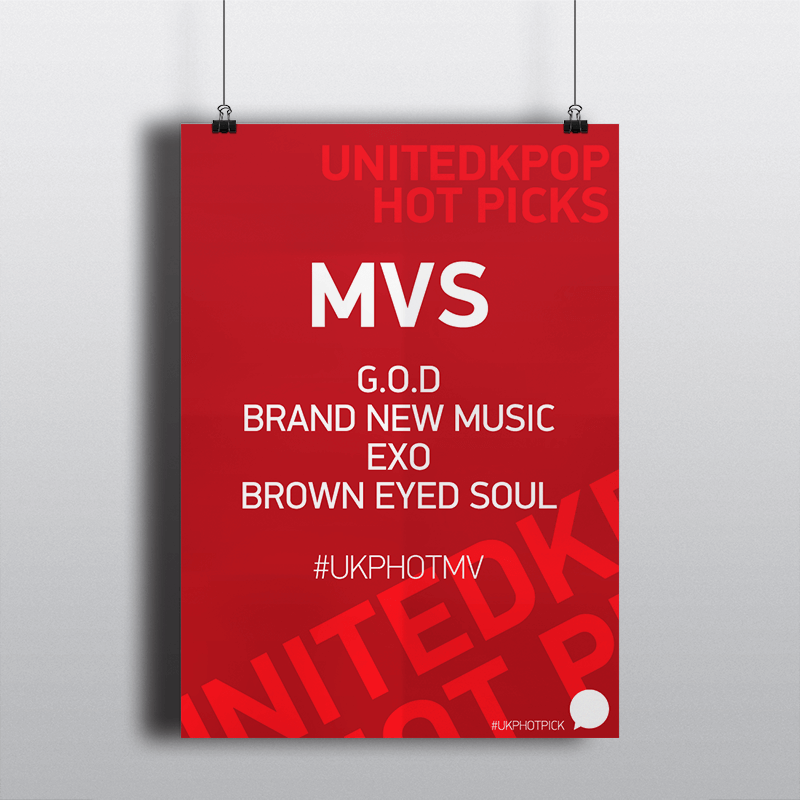 g.o.d – A Funny but Sad Day
There's shock and emotion in g.o.d's A Funny But Sad Day. We see all the members gathered together in a car which Kye Sang loses control of. As we wait to find out the fate of the members we see each of them consider a moment they'd regret, or something they'd miss if they were to die.
Each is a family oriented moment: Joon would miss his wedding; Danny would regret choosing his friends over his mother; Ho Young would regret letting the relationship with his father grow weak; Tae Woo would miss the birth of his son; and Kye would regret not being there when his parents needed him.
The narrative tool used to move this mv forward could be considered a little questionable, but it is a stunning mv with great impact.
Brand New Music – Heat It Up
The BrandNew Music family mv features San E, Verbal Jint, Bumkey, Hanhae, Kanto, Kang Min Hee, Yang Da Il and Candle.
The mv shows the work of BrandNew throughout the past year, including those without vocals on the track such as P-type, Sanchez, and MC Gree; and even introduces their newest signing KittiB.
With 2015 seeing Yang Da Il join BNM and Bumkey return after hiatus the family sound is further diversifying from the expectations one might have for the 'hip hop company'.
EXO – Sing For You
EXO have released their christmas track. The ballad style brings a much needed maturity to their sound, and there is some impressive symbolism in the mv. With many references to loneliness as the narrative progresses we see the mv end with an astronaut and a whale.
There are well known references to the loneliness of space travel, and there's a very famous whale of unidentified species know as the 52 Hertz Whale described as the 'world's loneliest whale' as it is the only whale known the be emitting a whale call at that frequency.
The whale and the spaceman are characters that have met before, finding a solution to their loneliness together, in stores such as Joe E.B's The Astronaut's Whale. It's an interesting symbol to summarise their mv.
Brown Eyed Soul – Home
Brown Eyed Soul look back on their entire career in their new Home mv. In that narrative of a seemingly lonely man we see him immerse himself in the stories and performance of many Brown Eyed Soul music videos; and the ending is well worth the wait.
Do you have a favourite mv from this week? Let us know what it is with the hashtags #UKPHotPick and #UKPHotMV