Christmas is right around the corner! And without a doubt, there'll be plenty of opportunities to get dressed up and go to lots of fun events. So, if you're stuck for ideas on how to do your makeup why not check out my Christmas inspired makeup tutorial?
I've decided to create something gold and shimmery to fit the festive season, with a classic cat winged liner, and even added some rhinestones to give the whole look an extra Christmas touch! The look is perfect for parties and every other occasion around the month, plus this look suits a variety of skin tones too. You can even alter the lip to something more subtle, or even darker, depending on your own preferences.
1) Begin by filling in your brows and tidying the shape. And tidy up with concealer if necessary.
2) Apply an eye primer and shimmery pencil to the inner corner, set this with a similar shade eye shadow.
3) Taking a taupe shade, apply this to the crease and darken up in stages with darker browns- add some black if you want an extra dramatic touch.
4) Now taking a gold pigment, I applied this over the lid area and darkened the outer corner with a brown eye shadow to add some extra dimension. Repeat this step on the lower lash line too.
5) Apply your eyeliner in your desired shape and thickness. I went for a thick cat eye. And then curled my lashes and applied mascara to my top and bottom lashes.
6) To complete the eyes apply some flash lashes for an extra touch of glamour.
7) After primer, apply your foundation of choice and a peachy warm tone blusher to compliment the golden tone in the eyes.
8) Taking a red lipstick I created a subtle ombre lip by applying concealer around the edges and blending with a nude lipstick.
9) (Optional) Using some eyelash glue, I applied some rhinestones to my cheekbone area. And you're finished!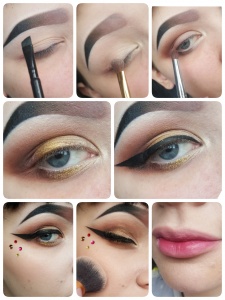 So that's the completed look! What are your thoughts? Let me know in the comments below, and don't forget to tell me how it went if you re-created this on yourself!
Have a wonderful Christmas everyone!
[Product List: Makeup Forever aqua brow (light blonde) Lime Crime Venus pallet, Urban Decay Primer Potion, Dollywink Highlight pencil liner (Cream), Sugarpill Goldilux loose pigment, Maybelline gel eyeliner, NYC Mascara, MAC prep and prime, Missha B Perfect cover BB cream, Stargazer pure white powder, Etude House Dear my Blooming Shimmer blusher (Coral Spectrum), Tony Moly Cat chu wink lipstick  (05 Red cat), MAC lipstick (strip poker)]