AKMU shot back into the k-pop scene last week with their upbeat and catchy track, 'How People Move' the music video features a bold and bright colour pallet with a splash of cute accessories, perfect for making those sweet summer coordinates. And luckily, they're the feature of this 'Get the Look' so if you're interested in emulating their style; keep reading!
If you haven't had a chance to check out their new video, take a look below.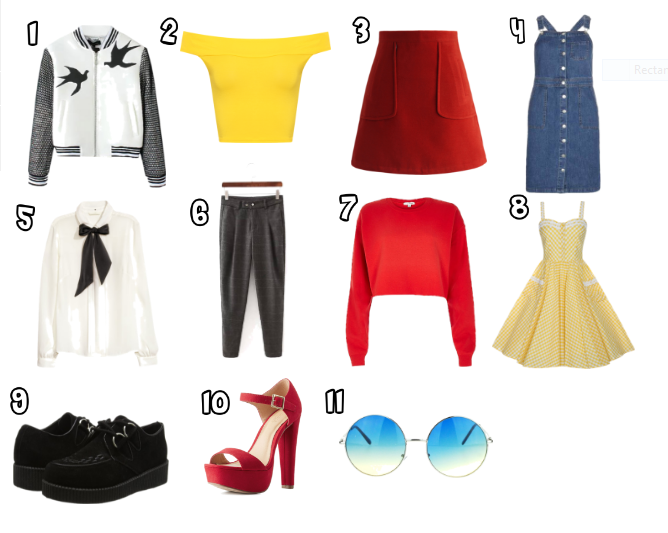 Swallow Applique Varsity Jacket- £20 STYLEMOI.nu
Lois Off-Shoulder Crop Top- £9 WearAll.com
Pocket of Charm Bud Skirt in Red- £35 ChicWish.com
Denim Pinafore Dress- £29 DorothyPerkins.co.uk
H&M Chiffon Blouse- £20 HM.com
Plaid Woolen Tapered Trousers- £23 Yoins.com
Red Cropped Jumper- £15 RiverIsland.com
'Corrina' Yellow Gingham Swing Dress- £34 LindyBopUSA.com
Ladies Lace up Platform Creepers- £6.47 Amazon.co.uk
Platform Chunky Heel Sandals- £15 CharlotteRusse.com
Retro Gradient Oversized Circle Sunglasses- £7 Amazon.co.uk
The style worn in the video is bright and bold, with the daring combination of red and yellow- if you're not as much of a colour fanatic you can start with one and slowly work in more as you get confident with the brighter tones. Chanhyuk's style is also great if you're a fan of more urban and sporty looks- as you can pair the varsity bomber jacket with shorts to make a comfortable and cool outfit throughout the changing seasons.
All of the pieces make for great mix and match outfits too, and ones that'll work into your most worn pieces in your wardrobe! The varsity/souvenir jackets are extremely popular this season, as well as the cropped tees and jumpers so if you're after clothes similar to their style there'll be plenty available in high street stores at the moment!
What do you think of AKMU's style in 'How People Move'? Let us know from the comments below!
[All items listed can be found from their sites listed above]