The travel industry in Southeast Asia, including China, is seeing a leap towards independent tourism. Tourists are becoming more independent, not shuffling around the countries in big groups. However, the tourism industry in Korea is ill-equipped to adapt to this change. Many agencies post travel activities, tourist attractions, and postings about local culture mostly in Korean. Even if you understand Korean, you can't book the activities with Paypal on many websites. Above all, Korea lacks tour programs through which foreigners can learn diverse aspects of Korea.

To meet the needs of independent tourists visiting Korea, an online travel agency titled NADOYO was recently launched in Seoul. Lucy Lee, the director of NADOYO said:
I was shocked when my Chinese friends told me that there is nothing to do in Korea but shopping. At that time, I felt that I must discover unique tours, arrange cultural events by ourselves, and work on digital content giving cultural knowledge. That is why I joined NADOYO.
As you may expect, you can search tour programs all across the country at NADOYO in English and Chinese. You can also buy tickets at cheaper prices with Paypal, Alipay, or other overseas payment services. Moreover, it is planning to launch an all-in-one service for independent tourists from flight tickets, transportation, and accommodation, so that they can customise their trips here all at once.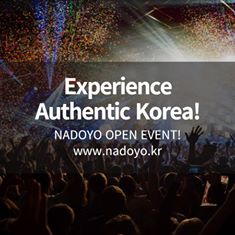 Right now, NADOYO is running an open event, with prizes including round trip airfare to Korea for 2 people; free accommodation for 6 people; and gift card for Shinsegae Shopping Center for 100 people. If you are interested in entering, you can find details here. Application is simple:
1. Join nadoyo.kr,
2. Answer two questions by commenting at original post
3. Announcement of winners will be made on July 8th on the NADOYO homepage, SNS pages, and emails will be sent to the winners!
Website | Facebook | Twitter | Instagram | Weibo | Youku
Jeong Eun is a Cultural Content Promoter based in Seoul, South Korea.
Promoting South Korea, Jeong Eun has worked for the Korea Foundation, British Council in Korea, and the Ministry of Gender Equality and Family.


As well as being a part of the Seoul hub of Sofar Sounds, an indie music initiative that brings gigs to intimate spaces around the world; Jeong Eun is also involved in Nadoyo, an online travel agency that aims to show tourists the diversity of Korea.