When we watch k-pop music videos, we cant help but notice the fashion and the outfits that the idols wear which matches their style and concepts they are trying to achieve. In particular, fashion within music videos and on stage outfits are key for idols in looking glamorous and bold. Many groups and their outfits become quite the trend with fans noticing and commenting on various looks with mixed responses.
Here are some inspired looks based on the some groups mentioned and all popular concepts, which we notice a lot in music videos and some ideas which you can try out yourself ,  this is also ideal for cosplay too.
Hip hop style
Street wear or urban clothing has dominated many music videos in both male and female groups like BTS, 4minute, 2NE1, Big Bang and many more. The style screams baggy shirts, oversized jackets, jeans or even leather trousers for that edgier look and sneakers with some bling. Usually the concept is quite dark with the blacks and odd few bright colours; it can be pulled with bright colours like what Girls Generation did in their I got a boy music video , going for a cute yet hip hop sort of look.
Male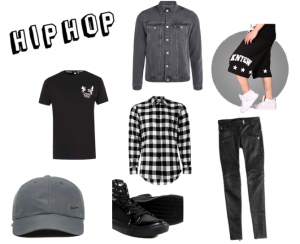 Female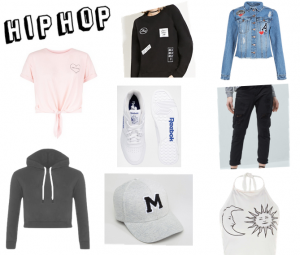 Cute Style
When we think of the cute concept, it usually applies to girl groups and their bright colourful clothes like dresses, skirts and frilly tops. As for boy group's , the cute concept is not as noticeable but the occasional bright pastel tops or shorts could be seen as a cute look for a guy. Girl groups like GFriend or Apink have been going for that sort of theme since debut. As for boy groups, GOT7 in their just right music video presents a cute concept and recent debut group Astro seem to also follow a similar style.
Male 
Female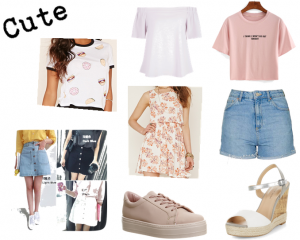 Retro style
Some k-pop groups who bring out music with old school melodies and give off the retro vibe tend to dress to match the theme. The clothing styles will give off a 70`s-90`s style bringing back the old school feel. The baggy trousers, turtleneck tops, bandanas ect… Seems to sum up the style pretty well. Music by groups like Spica with you don't love me, T-ara – Roly poly or Shinee– view represents this well, especially with their choices of clothing.
Female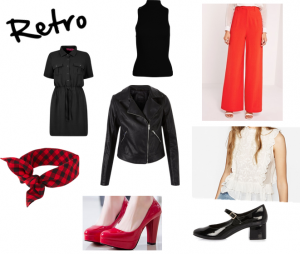 Male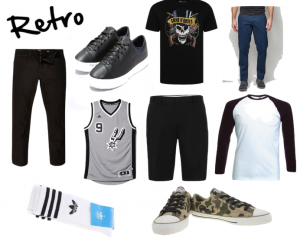 Uniform style 
This concept has been used lots of times especially the school type, although it may sound boring, there are so many types of uniforms that can be dressed however you like. It can be dressed up or down, casual or smart and is a great idea for cosplay or you can dress it casually. The typical type of uniform would be a tie, shirt, trousers/skirt, blazer, but kpop videos really go all out trying to make uniforms look more stylish and bold. In particular, a brand called Skoolooks advertises stylish uniforms with pattern designs and bold colours. Groups like Beast modeled for this and F(x) in their music video Rum Pum Pum Pum also presented their quirky designs that suited well with the uniform concept.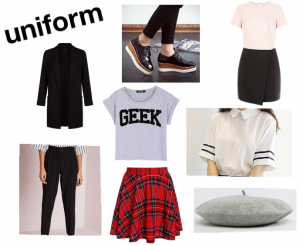 Female

Male