It's summer time! But it won't be around for much longer (can you believe that it's September next month?!) So, let's enjoy it while we can and get some style inspiration from 9Muses sub unit group 9Muses A and their recent MV release for 'Lip 2 Lip'!
Check out their fashion in the MV below:
As you can see, the theme involves a lot of stripes, which is a great style that can suit everyone. You could go for a multi-coloured choice, or stick with your favourite colour against white. Stripes are a very simple pattern that can still really catch people's eyes, and aren't a pattern that you should be scared of. Some say that certain stripes can make people look bigger or be generally unflattering to your shape; however, I think everyone should give them a try and see what they think for themselves. Try not to be influenced by others' opinions in certain styles, just give them a go and see how you feel!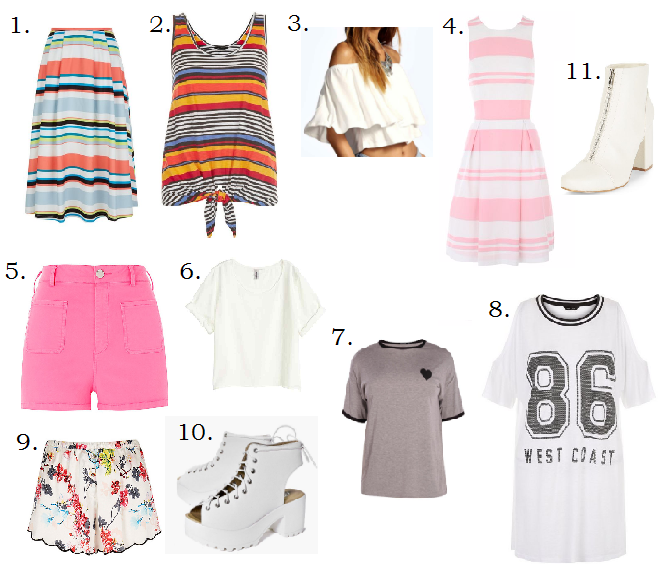 Multicoloured Stripe Midi Skater Skirt – New Look: £24.99
Yellow Stripe Tie Front Sleeveless Top – New Look: £3
Off The Shoulder Frill Crop Top [Cream] – boohoo.com: £10
Jane Norman Paint Stripe Pleated Midi Dress – House of Fraser: £30
Fluro Pink High Waisted Shorts – River Island: £10
Ladies Cropped Shirt [White] – H&M UK: £12.99
Plus Elle Tipped T-Shirt with Heart – boohoo.com: £12
White 86 Cold Shoulder Baseball T-Shirt – New Look: £12.99
White Floral Print Pyjama Shorts – River Island: £14
Violet Peeptoe Lace Up Cleated Shoe Boot – boohoo.com: £25
Cream Zip Front Block Heel Ankle Boots – New Look: £29.99
Another focal point of 9Muses A's look is the colour pink. This colour is certainly not for everyone, but it's worth mentioning that there are many shades of pink that give out different vibes. Baby pink is often associated with a soft femininity, whereas fuchsia pink has a very statement, bold look.
The girls also show off some loungewear, in the MV. Of course, when you are in lounging clothes, the last thing you need to consider is how good you look. However, there are some very cute pyjamas and t-shirts around that would be perfect if you still wanted to make a good impression. You might want to break out the nicer set of loungewear when you are, for example, staying round a friend's house for the night and feel that your dad's old t-shirt and holey pyjama trousers just won't cut it!
To finish this look, the 9Muses A members wear some white block heels and ankle boots. This look would equally work with some white trainers, sandals or flip flops though. Keep the accessories to a minimum to maintain that chilled out, summer feel.
[Sources: New Look Website, boohoo.com, House of Fraser Website, River Island Website, H&M UK Website].