It's make up article time again! And, after looking at some of the best lip tints last week, we've put together a list of 5 of the best Korean primers that'll give you the most long-lasting and flawless base ready for foundation.
Using the right primer can really make or break how your foundation is going to apply and sit for the rest of the duration that it's on, for me- I have the WORST oily skin, so I have to make sure I have something with sebum control or a matte effect to keep everything oil free throughout the day. If you're interested in taking a look at some of the best, keep reading below!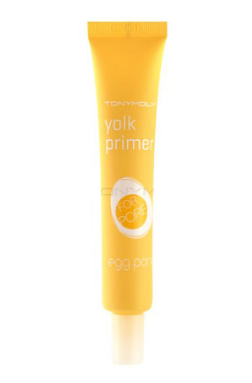 TonyMoly- 'Egg Pore Yolk Primer'
Previously featured in one of our make-up reviews, where it lacks in pore coverage this primer gives a wonderfully smooth and even base before you apply foundation. For oily skin- this primer keeps the skin shine free for a long time so you don't have to worry about frequent touch-ups.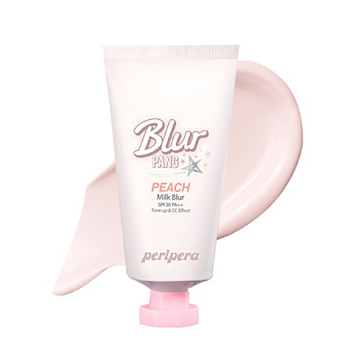 PeriPera- 'Blur Pang Peach Milk Blur'
One of 3 different formulas, PeriPera's milk blur primer is packed with Jeju goat milk, 10 different vitamins and SPF30 PA++ specifically with the Peach formula the primer will give a slight coverage to the skin before you even apply foundation, as well as nourishing and keeping your skin healthy. As a bonus- the primer works great for every skin type!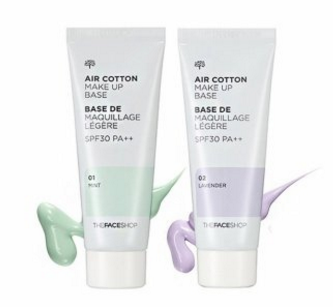 The Face Shop- 'Air Cotton Face Base'
Yet another primer containing SPF30 PA++  The Face Shop's 'Air Cotton Face Base' has two different versions; a mint tone to correct redness or a lavender tone to brighten the skin. The primer has a non-sticky finish and gives you an incredibly flawless final look- thanks to the correcting properties!, and it gives a youthful slightly dewy finish.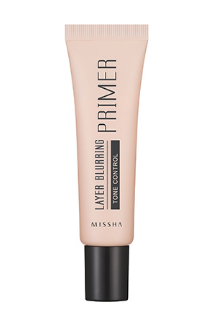 Missha- 'Layer Blurring Primer [Tone Control]'
This Missha primer will condition skin and give an airbrushed finish. This primer has a more silicone type texture like the TonyMoly primer- this gives a completely even finish to the skin and smooths the whole base before foundation. This also gives incredible staying power to the rest of your make-up, too!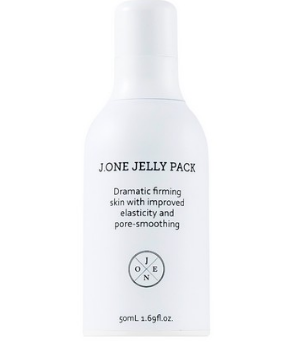 J. ONE- 'Jelly Pack'
The showstopper of the list, the gel textured Jelly Pack not only smooths but firms the skin and has a special ingredient to 'grip' the foundation and keep it on all day. The primer was formulated with different ingredients to also give anti-ageing properties when used often enough too which makes for an amazing product to use after skin care.