Popular Korean make-up brand Holika Holika recently collaborated with Sanrio to create a new beauty range featuring their incredible lazy egg character, Gudetama!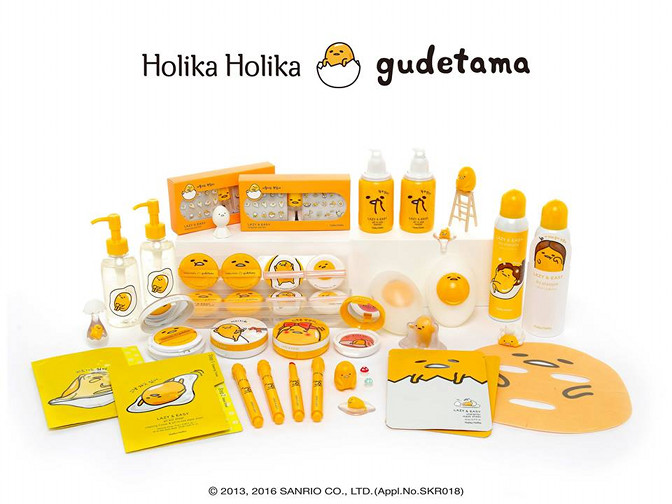 Since the collection has been announced and released- both Gudetama and Holika Holika fans alike were going crazy over the adorable packaging and great product selection, which really makes this a range to check out. Actor Jin Soo, known for his work in Descendants of the Sun is even a model for the collection. In total there are 11 products in this range and additional colour variations for select products so take a look at our overview down below.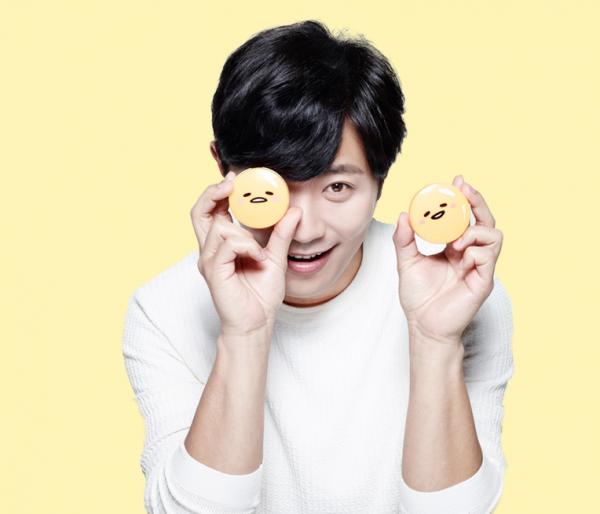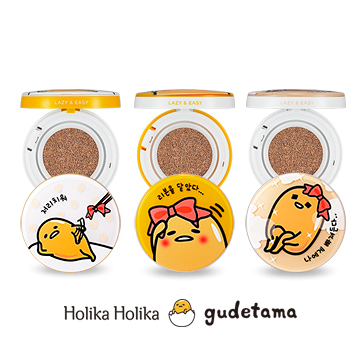 Meting BB Cushion (2 Shades)
Within the collection, Holika Holika produced 3 varying designs on their 'Melting BB Cushion' each featuring Gudetama in a different pose. The cushion itself not only has great coverage but two different shades- unfortunately the only problem is that the colour choices aren't very diverse and makes the best match to Light/Medium skin tones.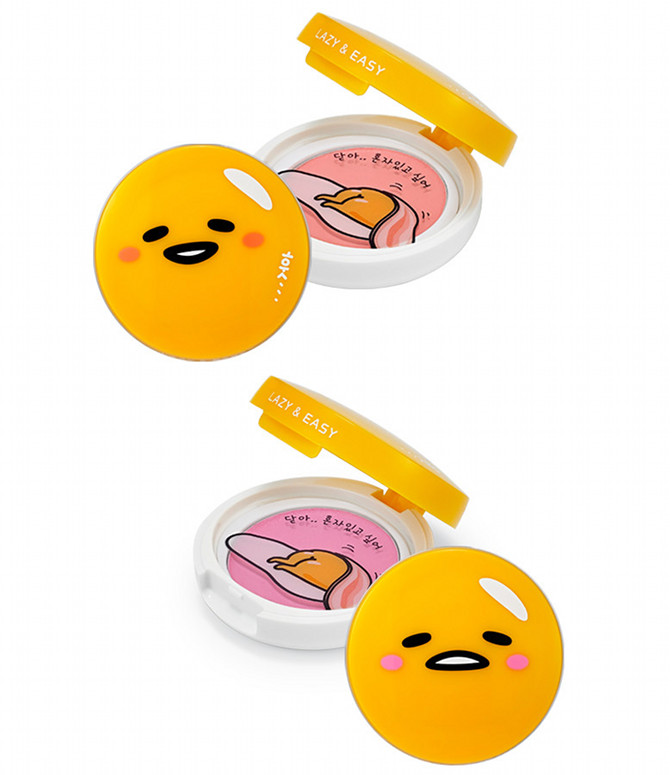 Jelly Dough Blusher (2 Shades)
After applying your Gudetama BB Cushion what better way to finish the look that with the Jelly Dough Blusher? Similar to the BB Cushion, there are also two shades to pick from there's a pink tone and a more coral/orange blush. These work great on most skin tones and can be applied on the lips for a subtle hint of colour.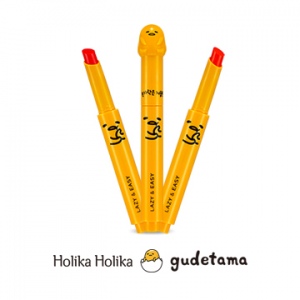 Melting Lip Button (2 Shades)
Possibly a personal favourite from this collection, the Gudetama Lip Button! The packaging is impeccable; Sanrio really did a great job with Holika Holika on this collaboration. Following the same colour types as the blush, the Lip Buttons come in two shades, one a pink/red and another orange. Perfect for autumn!
From here, the collection branches off into more skincare products which are listed below again.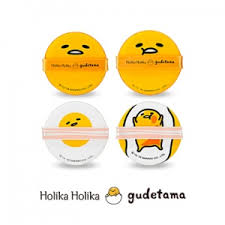 Set of 4 Colour Puffs
While not a makeup product in itself, they added a four back of make-up puffs to this collection! Personally I'd find it hard to use in case I messed them up, but they're a great tool to use when applying foundation.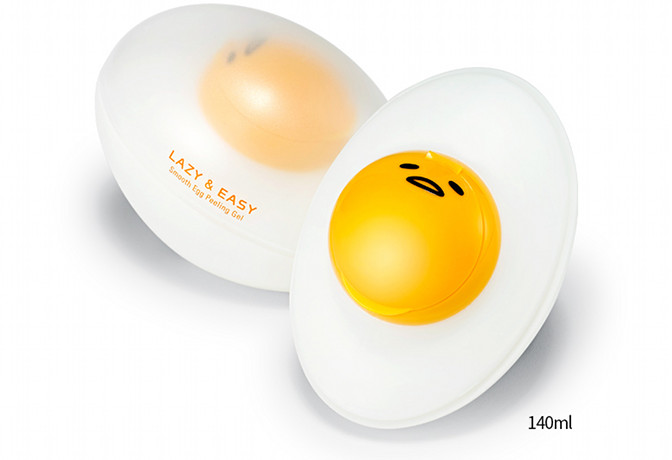 Egg Peeling Gel
This peel is great for cleaning out your pores! It takes away any dead skin cells, sebum and dirt that may collect throughout the day and improves the overall skin tone to give a brighter finish with regular use.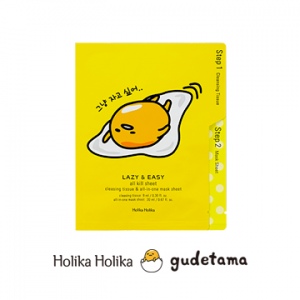 All Kill Sheets
The All Kill sheets may look like your average sheet mask, however these contain a two-step process to completely clean and improve your skins quality. The first mask will cleans and clean the skin, and the second is actually a face mask that'll keep your skin in top condition.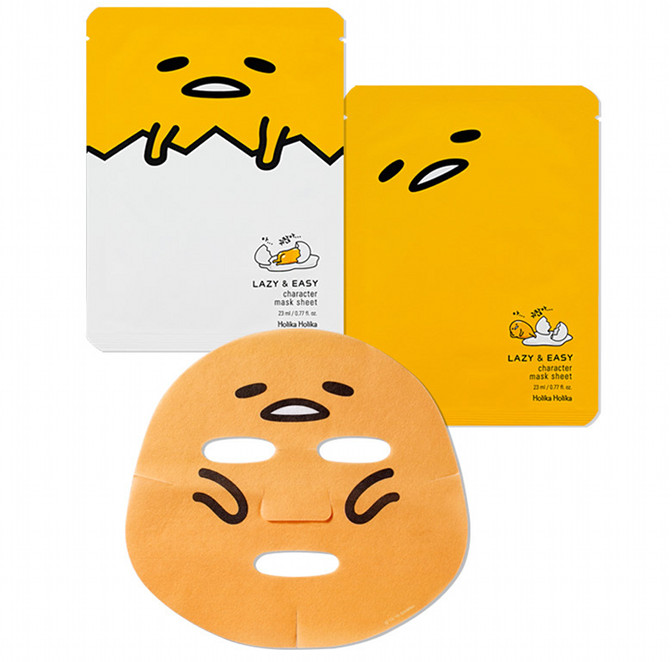 Character Mask Sheet
While this is just a traditional sheet mask, the design is adorable! (And there can never be too many sheet masks, right?) The mask itself will rejuvenate and moisturise the skin all while looking like your face has transformed into Gudetama himself.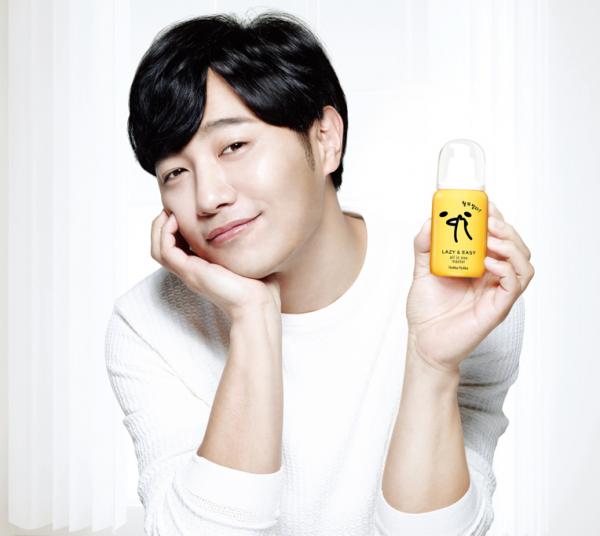 All-in-One Master
Similar to some of their current permanent collection, the All-in-One master is a lightweight and non-sticky essence. The formula will completely hydrate and soothe your skin whilst improving fine lines and any dry areas on the skin.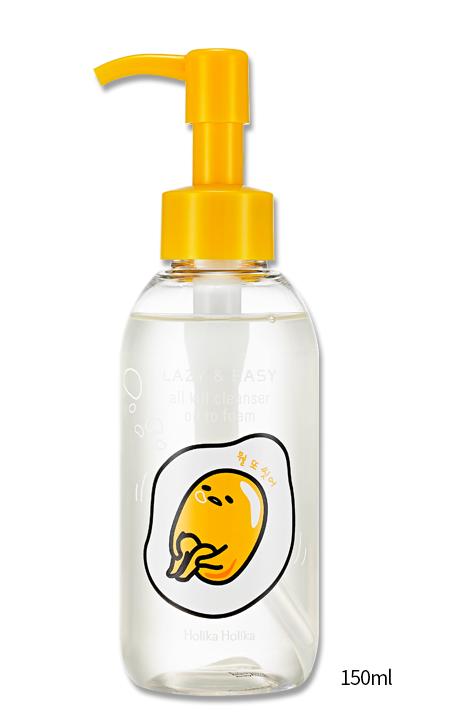 Oil Cleanser
After a long day wearing all of these Gudetama products, the sad reality is having to take all of it back off again. But fear not! Removing all of you hard work on your make-up is less of a chore when the oil cleanser is once again adorned with Gudetama. This is a great one for refilling after if you just wanted to keep the bottle!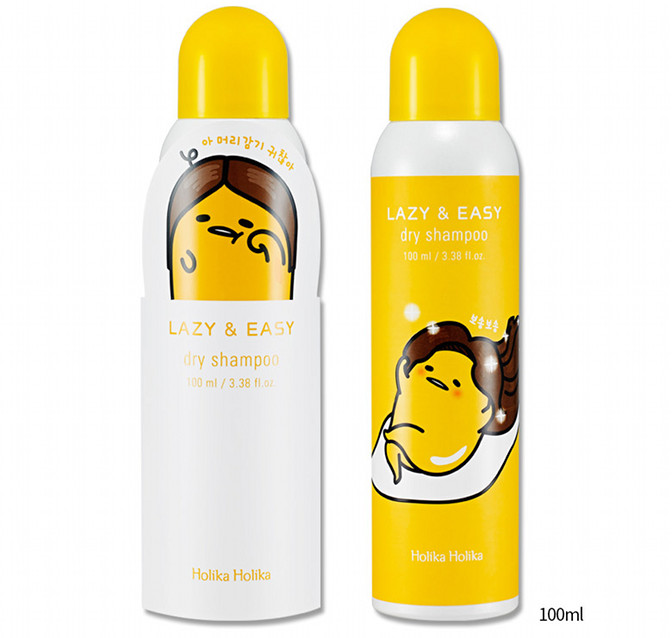 Dry Shampoo
Dry shampoo can really be a lifesaver for your hair, and it can add an impressive amount of volume too! What better type to use than one adorned in Gudetama wearing a wig?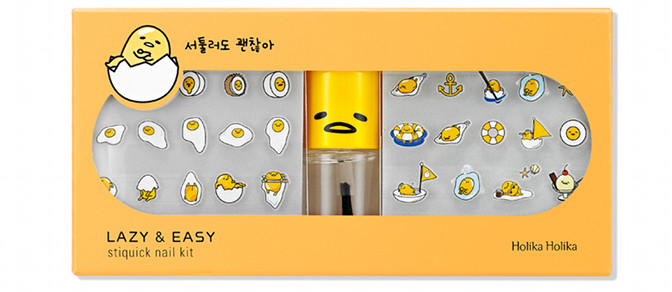 Nail Kit
The nail kit itself is absolutely perfect for you if you love to have fun nail art! You get a wide range of nail stickers which are easy to apply, as well as a top coat to hold them all in place.