We're back this week with another '5 products to try' installment for you- we've slowly worked our way through an array of different make-up products so far and this week the spotlight is on mascara's! After you've spent your time creating a perfect eye make-up look, getting your lashes right really frames the whole thing together, it can be difficult to find the perfect formula so below we've gathered 5 great mascara's to try; all with different lash effects in case you prefer a more lengthening, volumizing or curling effect.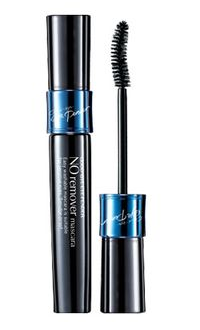 VOV- 'Good Bye Eye Pender NO Remover Mascara'
There are two different formula types in this mascara, No.1 Volume Curling and No.2 Volume Lash we'll be focusing on the No.1 formula, as it really creates and impressive curl to the lash. It's perfect if you find your lashes need a good curl, and the product really holds them in place! The product is formulated to be removed with water so you won't damage your lashes taking it off after, either!

Etude House- 'Dr.Mascara Fixer for Perfect Lash'
This is a perfect mascara to use on top of your current favourite! The transparent mascara will actually prime the lash and when applied on top of your mascara, will make the formula completely waterproof. It doesn't affect the finish of whichever mascara you apply it on top of it either, which makes it a great product to add to your collection!

Innisfree- 'Soy  Essence Volume Mascara'
Applying a healthy layer of this mascara from Innisfree will lift and thicken every lash. It gives an intense volumizing effect, while promising not to weigh down or clump up your lashes. This particular mascara also gives a long lasting wear and control again sebum or oils on the lashes.

Skinfood- 'Almond Volume King Mascara'
Another volume lash effect mascara made it onto our list! This great formula from skin food is enriched with almonds, giving a perfect easy-to-remove and non-damaging formula. This mascara not only adds volume but it'll also improve the longevity of your lashes curl too.
Secret Key- 'Perfect Curling-heel Mascara'
This secret key mascara will give the perfect long-lasting defined curl, plus with the narrow brush on this applicator it makes it incredibly easy to coat each and every lash to get that desired curled and dark lash effect. It also makes it incredibly easy to apply mascara on your bottom lashes without getting clumps, or even getting excess product on your lower lash line.