During the colder winter months, when skin is prone to be drier and more sensitive, it's important not only to adapt your current skincare, but also your makeup products. For example, using a compact powder on a dry, cold day would only accentuate fine lines and pores. This is where the April Skin Magic Snow Cushion White comes in.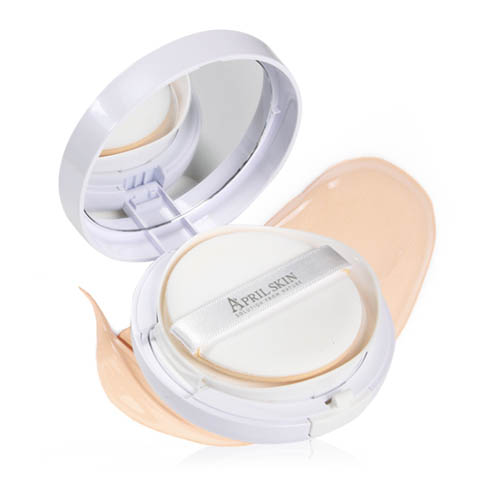 What is it?
It's a cushion compact with a 'three-in-one' formula comprising UV ray blocking, whitening and wrinkle improvement. The moisturising yet lightweight formula ensures a smooth, natural-looking coverage. It's available in three shades: #21 light beige, #22 pink beige and #23 natural beige.
Packaging
The cushion comes in a white plastic case that is slightly bigger, but also lighter than cushions from Sulwhasoo or Hera. The cushion contains 15 grams of product and does not come with a refill.
Performance
According to the description, the cushion contains over 60% water-based serum and ingredients such as Iceland glacier mineral water extract, blueberry, Indian gooseberry, aloe vera leaf and acai extracts. The formula is meant for dry, flaky skin. The cushion has a creamy, yet not overly thick formula and a faint, clean scent. Upon application, the cushion feels cooling and, despite being quite creamy in comparison to some other popular cushions, it doesn't feel heavy on skin. The first layer provides a light, natural coverage with a medium dewy glow. The cushion is quite buildable and more layers can be added to cover acne scarring or redness, however the results are not quite as natural looking. The Magic Snow Cushion White has a slightly tacky feel, which means flyaway sometimes stick to the skin. It does, however, last quite a while. People with oily skin will probably have to use blotting paper or powder after a few hours because of the rich, moisturising formula, and a light touch-up is necessary on most days. Nonetheless, re-applying the cushion doesn't make it look cakey and the colour adapts pretty quickly, so you won't be left with an awkward white cast or mismatched tone.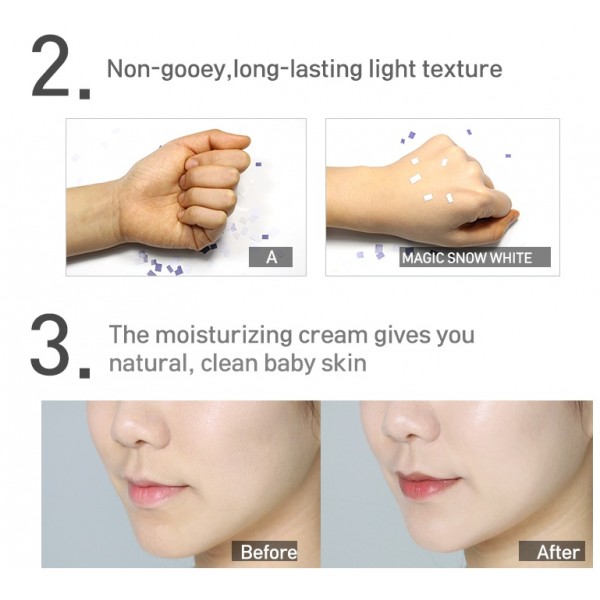 Verdict
All in all, this is a pretty solid cushion. The creamy, moisturising formula makes it a good option for those with dry skin and those who live in cold, dry climates. It doesn't accentuate pores or lines and blends nicely. The coverage is buildable but a lighter finish provides a natural, dewy finish. However, it can feel a bit tacky on skin and does require touch-ups / occasional blotting.
Rating: 4.0 / 5.0