Today, we are exploring how you can get TWICE's look from their latest MV, 'KNOCK KNOCK'!
As you can see, the overall fashion style of this MV is very casual. It's almost as if the ladies of TWICE have been allowed to wear whatever they want for this video – quite unusual for K-Pop, as concepts are usually very strict in their themes.
There is a mix of skirts, shorts, dresses, jackets, crop tops and oversized jumpers. All of these looks have either a cool or cute vibe, so there is definitely something for everyone here. Some interesting focal points include a souvenir jacket (which could also be an embroidered bomber jacket for a more affordable option), bodycon dresses and cool baseball shirts.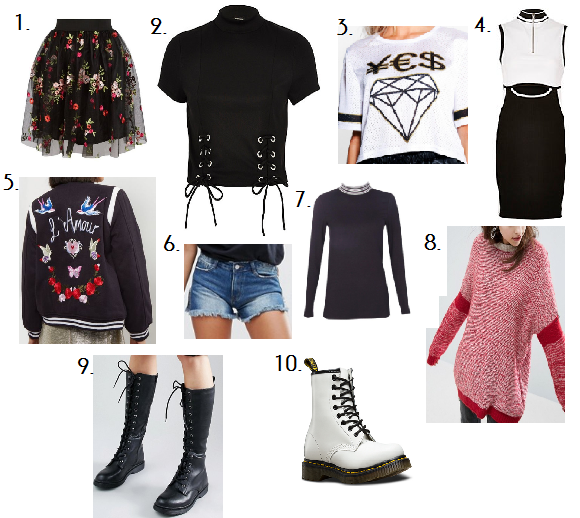 Black Premium Floral Embroidered Mesh Skater Skirt – New Look: £24.99
Black Tie-up Turtleneck Crop Top – River Island: £24
Lola Printed Baseball T-Shirt – Boohoo.com: £5
Black and White Sporty Panel Dress – River Island: £7
Black L'Amour Embroidered Bomber Jacket – New Look: £13.50
Missguided Side Split Denim Shorts – ASOS: £22
Elsa Roll Neck Long Sleeve Top – Boohoo.com: £10
ASOS Chunky Jumper In Oversized And Sports Blocking – ASOS: £32
New Look Leather Look Lace Up Biker Boots [Black] – ASOS: £18.50
Women's 1460 Smooth Dr Martens [White] – drmartens.com: £135
Another good thing about these looks is the fact that they can be suitable for both winter and summer depending upon how many layers you add and how you dress them up.
SEE ALSO: [NEWS] TWICE's 'Knock Knock' enters UK iTunes Chart!
The girls finish their looks with black, lace up biker boots and some white, chunky boots. You might not have the funds for this kind of footwear, and some cheaper ankle boots could also work. However, investing in some more expensive shoes is often a good choice, as if you care for them well, they can last a long time!
On a side note, lots of high street shops are holding sales at the moment in order to make way for new lines, so now is a great time to grab a bargain!
[SOURCES: New Look Website, River Island Website, boohoo.com, ASOS Website, Dr Martens Website].