At last, we have a new project group to look forward to after the success of I.O.I and the first season of Produce 101, but with the show coming to a close and the line up now confirmed, everyone seems to be asking the same question; What does the future hold for NU'EST?
After the live season finale, both domestic and international fans are both angered and confused with the aftermath with multiple popular trainees not making the cut for WANNA ONE. However, more focus has been on the unfortunate story of NU'EST, as only main vocalist, Hwang Minhyun ranking 9th and making the cut. Kang Dongho (Baekho) and Kim Jonghyun (JR) just missed out on the 11th spot, while Choi Minki (Ren) was ranked the lowest among the finalists.
Immediately after the results, fans were in uproar over the results and felt like the members were cheated out as they built a gathering once again over the course of the show. Some also feel like as idols of five years, the group should never have been on the trainee roster in the first place and stating that their company, Pledis held preference over their junior group, Seventeen. From a personal stance and following their development since debut, it is indeed a shame that they were placed in such a situation and you can tell that being on Produce 101 meant multiple things to them but now that Minhyun is confirmed as a WANNA ONE member until mid-2018 and Aron now back from what appeared to be hiatus; what could all this mean for Pledis' first boy group? What could have been the real intention behind their participation and how can they go forward from this?
Before delving into the history and the possible reasons why, I must stress; this article will only focus on the inclusion of NU'EST in Produce 101. The second season has been littered with controversies throughout the course of production, both before the first episode even aired to the up-coming concert. Many comments have been made toward the mistreatment of the unsuccessful trainees and the upsetting impact on them as fans feel that MNET will only use them post-production to mainly spotlight WANNA ONE who will make their first public appearance as a group in this concert.
Furthermore, during the course of writing this, there were several accusations made towards the members, the most prominent being the claim that Baekho harassed a girl from his school days. Although a lot of these posts were soon revealed to be made up in order to tarnish character, these theories will not include them. Instead, this article will only focus on the thought process of Pledis as a company and how they can go forth promoting the group post-Produce 101, considering how the K-Pop industry operates as a whole while also questioning the reasoning behind this choice.
Looking at their discography, it is hard to understand why this came to be. Their debut single. "Face" has gathered over 60 million views on Youtube after five years, making it one of the most viewed debut songs in KPop with Twice's "Like OOH-AHH" surpassing them. In their debut, they promoted catchy songs with meaningful messages that touched on bullying and standing up for yourself. With follow-up tracks, "Action" & "Yeobosayo (Hello)", they seemed to be gathering a steady fan-base but still considered under-rated by some. However, what seems to be the peaking point is how these promotions and on-going tracks were put into place. "Sleep Talking" touched back into their unique image but is lower ranked in views in comparison to the others at only one million on Youtube. Following this, there has been multiple transitions into other countries with their Japanese singles and also their Chinese project, NU'EST-M alongside Jason (Fu Long Fei). Their Chinese promotions seemed to fall through almost immediately as Pledis' contract with Yuehua Entertainment was dissolved and Jason left the group towards acting projects – notably including web-drama Intouchable, alongside Seventeen's Jun.
Their Japanese promotions seemed to gather some pace and success with multiple releases including "Shalala Ring", "NA NA NA Namida" and "Bridge The World" but during this time, there was very little focus on their domestic promotions. Japan can prove to be make or break for idols to further their chances of success; which many small companies getting lucky. Such case includes Starship's Boyfriend who has continued their successes before finally returning with a Korean album this year. In NU'EST's case, there were similar signs of them doing well with continuous singles and even movie roles in Japan – with Ren representing the group with his starring role in "Their Distance". Things seemed to be looking up and after much waiting, they finally returned in 2016 with two mini-albums, "Q is" and "Canvas", much to fans' delight.
So how on Earth did NU'EST get from what seemed to finally be steady promotions to practically being placed back at the start? There has been multiple sources stating that Pledis was in financial trouble which limited their artists from coming back – something that has frustrated both fans and idols as stated in this article. With top soloist, Son Dambi leaving the company and also losing Hello Venus to their past partner, Fantiago, it did seem Pledis was struggling until Seventeen burst onto the scene and brought the attention and finance they desperately needed. Things do certainly seem to be looking up with the thirteen member collective going on their world tour this year and also debuting Pristin as their new girl group – yet, no mention of their first generation groups. Surely with the attention and money, the company could give both After School and NU'EST the explosive comebacks they desperately needed. It did seem to be the case for NU'EST in 2016 but fans were soon heartbroken and angered when MNET confirmed Minhyun, Baekho, Ren & JR's addition to Produce 101.
To this day, I question this decision in many ways. As a fan, I am upset that the group could finally work hard in what were solid comebacks and then be embarrassed as they walk out as trainees once again, after five years as Idols. Even their first appearance on the show is sickening to watch, as we have to watch the boys step out in front of widely known mentors as they look on in shock. Emotions already run high, particularly with mentor Kahi, who watched the boys grow from trainees to NU'EST when she established Pledis with Son Dambi and Han Sang Soo back in 2007. These emotions seem to be ten-fold now with the reaction of Minhyun's selection into WANNA ONE. In multiple videos, Minhyun seems upset and even ashamed as he is on his own while the other chosen trainees celebrate together and his own members comfort each other. Although he later thanked fans and NU'EST on social media, he walks to the side and begins to cry after the finale, despite many of the contestants cheering him up.
However, there could be an ulterior motive behind Pledis' decision and to do so, we need to look back as WANNA ONE's ancestors, I.O.I and specifically their members. Since their debut into I.O.I, they have brought immense popularity to not only themselves but also to the groups they were either already in or were placed into both during and after their year-long run. Chaeyeon was already part of DIA, which sparked the question behind placing already debuted idols into a trainee survival show. As idols, it could spark a "silver-spoon" debate as they already have gone through the process and are limiting the chances the genuine trainees have of finally getting the opportunity they long for. However, in turn Chaeyeon's involvement brought attention directly to DIA themselves, with music video views suddenly spiking to the millions mark and their song "Mr Potter" doing fairly well in the charts. Other groups have also highly benefited from I.O.I; Mina & Sejeong joined Jellyfish's gugudan in 2016 and have already received offers of acting gigs in the highly-anticipated School 2017. Yeonjung also became the thirteenth member of Cosmic Girls during their "Secret" promotions and the group has recently topped sales with their full length album, "Happy Moment". Chungha & Somi have also made big names of themselves individually; Somi in variety shows and Chungha with her solo album, "Hands On Me". Doyeon & Yoojung are yet to debut in iTeenGirls but are highly anticipated with Fantiago's steady promotions. However, in this case, we are looking specifically at Kyulkyung & Nayoung who continued their careers in Pledis' second girl group, Pristin. "Wee Woo" already has over fifteen million views on Youtube and with talks of a comeback later this year, the hype for their group is certainly not slowing down.
With this in mind, maybe Pledis was hoping for the same effect with NU'EST. With a new generation of fans not knowing of them, it is plausible that they were added for them to be plunged back into the public eye on a grander scale and if nominated into WANNA ONE, they would be highly promoted not only as a member of the project but also part of NU'EST over all. Looking back at season two, it did seem to work with JR being dubbed as the "Nation's Leader" for his selfless acts as leader and the significant protests after he was revealed to be ranked outside the chosen eleven. This outrage in fact lead to a humongous surge in NU'EST's official fanclub, L.O.Λ.E, where numbers doubled after the season finale. Their songs have also shot up music charts in Korea; with hits such as "Overcome", "Love Paint" and "Thank You" taking up the majority of MelOn's chart the hour after the lineup was revealed. Their most-loved track, "Yeobosayo" also made a huge impact on Genie's real-time chart by charting at number one for eight consecutive hours.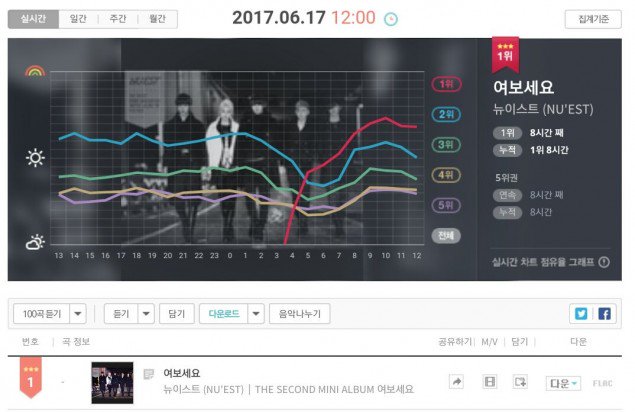 It seems that the Produce 101 impact is in full effect for the group and fans are embracing NU'EST as a hot topic at last as them and many other trainees are making haste to keep in the spotlight. However, there is another thorn to this tale which leaves many heads to be scratched. Days after the finale, Pledis Entertainment sent out an official statement concerning the future of their first boy group;
Hello, this is Pledis Entertainemnt.
We thank the nation's producers who have showed much love to Jonghyun, Minhyun, Minki, and Dongho during 'Produce 101' for the past four months, as well as the L.O.Λ.Es who have supported the road they took.
As you know, Minhyun will be seeing fans as a Wanna One member until December 31st, 2018. We will also do our best so Minhyun can give back to all the love he has received.
Also, Jonghyun, Minki, and Dongho will be preparing to meet fans once again with Aron, who has been waiting during the 'Produce 101' period. Jonghyun, Minki, and Dongho's break is first and foremost, so we do not have things in detail. But we will work hard so the fans who have been waiting for and supporting them can see the four of them soon.
We will all work hard so that the road that Jonghyun, Minhyun, Minki, Dongho, and Aron have walked for the past five years, no matter how difficult, was not for nothing, and so that their future road can be happy. And we hope everyone can watch over their road always. We once again thank you for the love you have shown the five members.
The statement continues to note the media and fans' demand to see NU'EST continue and in fact confirmed that a comeback will be on the cards for the second half of the year after JR, Ren and Baekho return from their brief hiatus after the show. In regards to the comeback, Pledis noted the following; "We are preparing a comeback for the later half of the year as a 4-member group with Aron." 
This means that Minhyun will not be part of this said comeback, as he will be promoting alongside WANNA ONE, who is confirmed for a August debut. YMC Entertainment, the label overseeing their activities has stated that Minhyun will not be allowed to promote with NU'EST and will focus only on WANNA ONE until their disbandment in December 2018. Looking back to I.O.I, this plan seems to be very disjointed. During their run as a group, I.O.I had a sub-unit promotion as Sejeong, Mina, Chaeyeon and Yeonjung were either making a comeback or debuting in their respected groups. The decision made by YMC seems to be very strange but there has been no statement as to why the group will not be following the same pattern to consider Minhyun and also Ha Seungwoon, who is a member in HOTSHOT. With the success of DIA, gugudan and Cosmic Girls during this period, it would be a missed opportunity to not let both members promote with their respected groups, especially with the nationwide and international following that the show received.
It also brings intrigue to how exactly will this comeback be mapped out. In NU'EST, Minhyun is the lead vocal, taking a fair chunk of line distribution in title tracks. Without his unique vocal tone and falsetto style, the song could differ a lot in comparison to their last two promotions with "Overcome" and "Love Paint". It could pan in multiple ways; Baekho could take both reins and be the main vocal throughout the project or another member could be stepping up. Ren has shown his mettle in Produce 101 and also in his group's songs, so there is no reason why Pledis would give him a little more opportunity to shine after the show. Aron also has a chance to take a lead position or join forces with JR, to create a comeback focusing more on rap, which would be a complete step away from their progressive, electronic style. With all of this still in the planning stage, it will be interesting to see how it pans out when the four members stand on stage again or if the dynamic will change.
When all is said and done, one thing still remains clear; NU'EST still remains as an underrated group who may finally be receiving the love they have worked five years for. Each promotion has brought forth a different style which they have pulled off in their own unique way and although it may seem a shame that their popularity came from such an unfortunate scenario, NU'EST may be a case of a group emerging from the ashes and rebuilding themselves as a force to be reckoned with. If their friendship on social media and Produce 101 is anything to go by, they will certainly continue to overcome their challenges and remain united as NU'EST.
If the show was your first time getting to know NU'EST, make sure to check out their entire discography and support the group on Youtube, iTunes and Spotify.
---
Disclaimer: Everything in this post is based off the author's own views and recollections. They do not reflect what UnitedKpop believes as a whole, nor can they be used to make any decisions about the artists discussed in the post. If you believe the information in this article has been altered post-publishing or include other arguments to the article, get involved with the conversation in the comments below.