A sub-unit of Gugudan have recently debuted, called OGUOGU, and they have treated us to a wonderfully colourful and surreal music video for 'ICE CHU'! Today we are exploring how to get their crazy look!
Check out the MV here:
The keys to this look are bold colours and fun prints. The members – Mina and Hyeyeon – go for pinks, red and blues. The girls also wear polka dots, stripes and other bold patterns, along with flared and ruched sleeves.
Topping of this look is a variety of equally adventurous accessories like big bows, bright headbands and even ice cream cone earrings! (Though, you will probably have to search online for such unique jewellery – I recommend Etsy and Sour Cherry).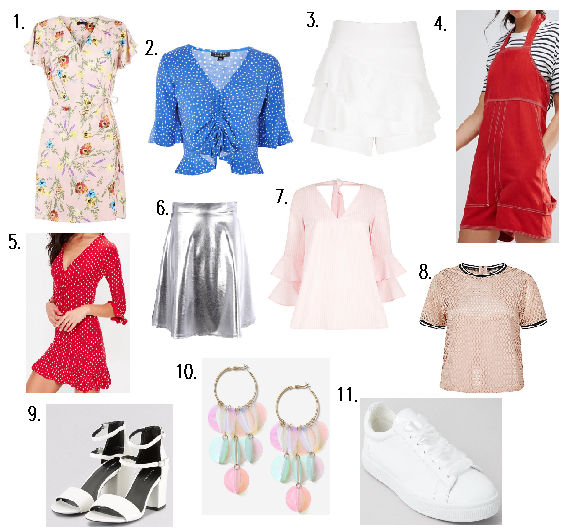 Pink Floral Print Wrap Front Skater Dress – New Look: £10
Polka Dot Ruched Front Top – Topshop: £29
White Rara Skort – River Island: £30
ASOS Pinafore Playsuit with Contrast Stitch – ASOS: £22
Red Polka Dot Print Frill Tea Dress – Missguided: £20
May Metallic Full Skater Skirt – boohoo.com: £14
Pink Stripe Print Double Bell Sleeve Top – River Island: £15
Pink Sporty Mesh T-shirt – River Island: £12
White Cross Strap Sandals – New Look: £10
Sequin Hoop Drop Earrings – Topshop: £16.50
White Patent Ribbon Lace Trainers – New Look: £22.99
The main idea is to embrace the fun and to go for the really eye-catching pieces. If you only incorporate one of these ideas into your fashion, you are sure to steal people's attention.
You can finish of the look with some white sandals or trainers. If you want even more colour, you could always add some bright laces!
[Sources: New Look, Topshop, River Island, ASOS, Missguided, boohoo.com, Recommended: Etsy, Sour Cherry].