More exciting news for rookie group, PRISTIN as they've entered the UK iTunes Album Chart for the second time this year! They secured a spot at number #72 as of the 23/08/2017 with 'Schxxl Out'. PRISTIN had a comeback showcase yesterday with a new, confident and fun image for their 2nd mini album.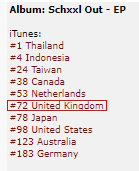 See more: [NEWS] Rookie group PRISTIN enter UK charts!
The girls participated throughout the whole song-writing process for the album and expressed the hard work they've put in for their comeback. PRISTIN's debut with 'Wee Woo' was one of the hottest debuts this year. The girls have definitely come back even stronger with 'We Like'.
Check out the MV below if you haven't seen it already.