Today, we are looking at how to get MONSTA X's 'DRAMARAMA' look!
This recently released track earned MONSTA X their very first music show win! Check out the video below:
The focus of this article will be on the members' red and black look. This is a really great look for winter, with jackets and big boots thick and durable enough to see you through the worst of the cold and rainy weather.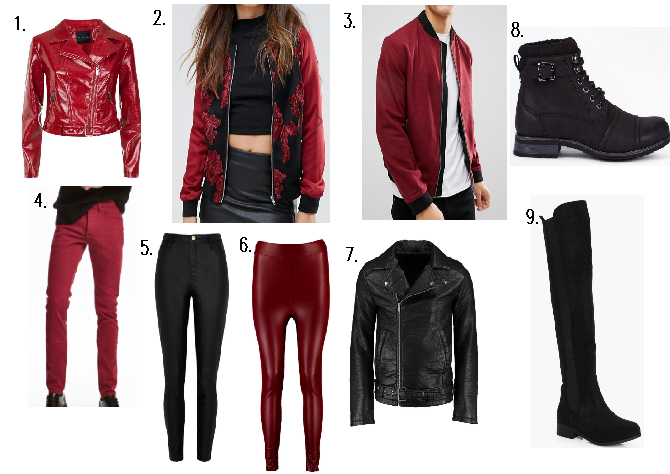 Women's Red Patent Leather-Look Biker Jacket – New Look: £29.99
Women's Goldie Drive By Embroidered Flower Bomber Jacket With Satin Sleeves – ASOS: £45
Men's D Struct Wool Bomber Jacket – ASOS: £50
Men's Skinny Jeans [Dark Red] –H&M UK: £24.99
Women's Black Faux Leather Molly Skinny Fit Trousers – River Island: £40
Women's Danielle High Waisted Leather Look Leggings – boohoo.com: £10
Men's Black Textured Faux Leather Biker Jacket – boohoo.com: £32
Men's Black Buckle Lined Military Boots – New Look: £34.99
Women's Jessica Flat Over The Knee Boot – boohoo.com: £35
These outfits are really easy to replicate for yourself, but still have an element of cool, statement style to them. Red and black are a well-known pairing that will never go out of style, so it's just a matter of having the confidence to give it a try!
Finish the look off with some black boots, and there you have it – MONSTA X's 'DRAMARAMA' style!
[Source: New Look Website, ASOS Website, H&M UK Website, River Island Website, boohoo.com].