This week, we are looking at how we can get SUNMI's look from her latest MV – 'Heroine'!
If you haven't already, you can watch the MV below:
SUNMI always looks super glamourous, and her looks for this music video are no different. She looks beautifully feminine in a range of bold colours.
The dresses she wears encompass a wide range of styles, from ruffle to floral to sheer. All are very eye-catching, statement pieces.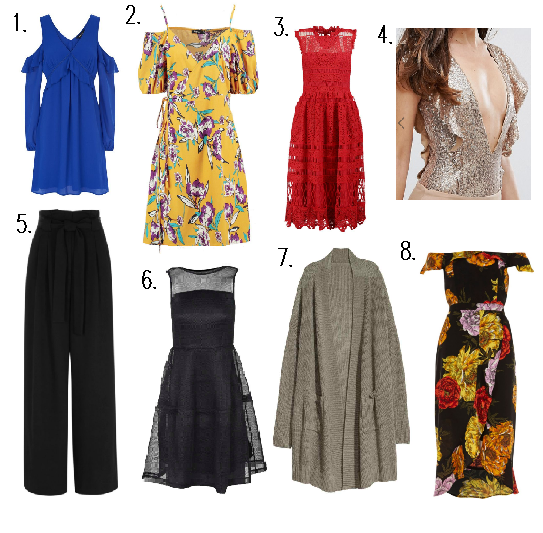 Blue Frill Trim Cold Shoulder Dress – New Look: £24.99
Lydia Cold Shoulder Floral Wrap Dress – boohoo.com: £10
Boutique Paula Lace Midi Skater Dress [Colour: Red] – boohoo.com: £35
Rare London Plunge Ruffle Bodysuit In 2 Tone Sequin [Colour: Rose Gold] – ASOS: £31.50
Black Paperbag Waist Wide Leg Trousers – River Island: £45
Larah Lantern Net Dress – boohoo.com: £7
Knitted cardigan [Colour: Khaki Green] – H&M UK: £24.99
Black Floral Print Bardot Wrap Midi Dress – River Island: £17
Of course, you can pair these with ankle boots, high heels, pumps or Converse. Thick tights or leggings would also work well to keep you warm. The knitted cardigan included (based off of the dressing gown the singer is briefly shown wearing) is also a welcome addition amidst this cold and rainy weather!
Hopefully this gives you some inspiration for outfits that you can wear to special occasions or nights out with friends and family. The good news is, a lot of high street items are still at cut prices because of January sales and upcoming spring season styles coming in – so see if you can grab a bargain!
[Sources: New Look Website, boohoo.com, ASOS Website, River Island Website, H&M UK Website].