BTS member J-Hope recently released a solo mixtape entitled 'Hope World'. It features 7 tracks, for 2 of which, he has released music videos. Today, let's see how we can get the look from his 'Daydream' MV!
Here is the MV:
J-Hope has quite a bold style, but it's also fairly casual. He likes to go for tracksuits and hoodies with some flashes of bright colour and patterns that help make them interesting.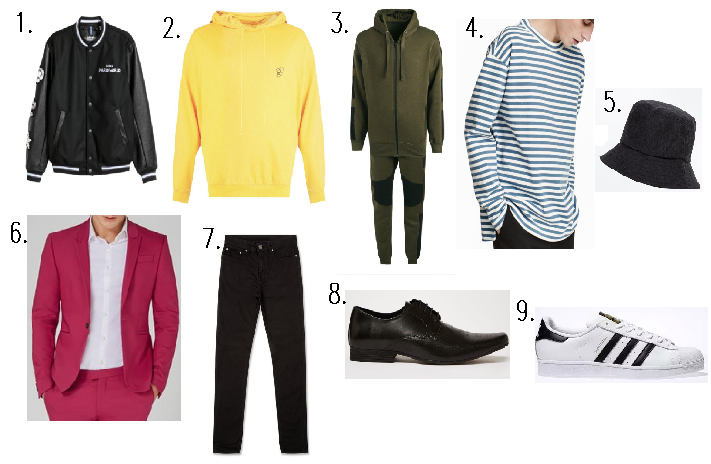 Baseball Jacket with Appliqués [Black/Super Mario] – H&M UK: £49.99
Embroidered Oversized Hoodie – boohoo.com: £18
Skinny Fit Zip Through Biker Tracksuit [Olive] – boohoo.com: £18.75
Long-sleeved top [White/Blue Striped] – H&M UK: £24.99
Black Bucket Hat – New Look: £6.99
Bright Pink Spray On Suit Jacket – Topman: £90
Black Skinny Jeans – New Look: £19.99
Black Leather Bloom Hatch Shoes – Topman: £39
Adidas White & Black Superstar Trainers – Schuh: £75
He has also been rocking a bucket hat for a while, which doesn't suit everyone, but can give any outfit a nostalgic 90s twist. Bucket hats have a surprise hit in K-Pop fashion over the past few years, so give it a go if you're brave enough!
He finishes things off with some smart shoes or some white trainers – keeping things simple and stylish.
(N.B. All suggested items in this article are Men's, except the bucket hat, which is Women's).
[Sources: H&M UK Website, boohoo.com, New Look Website, Topman Website, Schuh Website].